Anchorage Alaska

Discover Anchorage Alaska, a fascinating town rich in history, culture, and enjoy reading interesting stories from locals.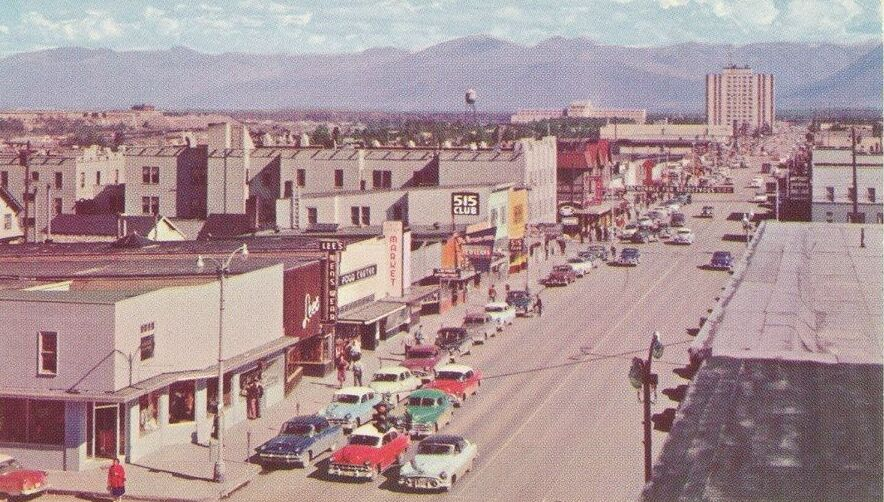 A long way from its days as a tent city
Did you know?
Most towns in Alaska were first settled by native tribes, or because of the discovery of gold nearby?
But Anchorage came about for a different reason.
The story of Anchorage Alaska goes back to 1914 when the U.S. government purchased the Alaska Northern Railroad and relocated its headquarters to the mouth of Ship Creek, where it feeds into Cook Inlet.
At that time, there was no settlement, not even a trading post.
But all that changed quickly because there was a railroad to build.
Word of a railroad coming to Alaska and needing workers spread quickly.
From April to August 1915, thousands of people from all over the world came to the area by steam ship, seeking employment.
Ships arrived at Cook Inlet, dropped anchors and lowered small boats into the muddy waters to transport exhausted travelers to shore at the mouth of Ship Creek.
It Began as a Tent City
Travel weary people looking for work, found no accommodations.
The area was nothing but wilderness and the only source of drinkable water was Ship Creek. Conditions were primitive and unsanitary.
They cut down trees, and a rugged tent city sprang up on the banks of the creek.
It was rough and crude, but it was the beginning of what would quickly become Anchorage, Alaska.
Town Site Auction

Andrew Christensen (seen at the podium in the above photo) worked for the U.S. Government and had the task with laying out the new town.
On July 10, 1915, Christensen auctioned off the town site lots for a crowd of about 2,000.
Lots sold for between 25 and 400 dollars each.
The auction was a bigger success than imagined, bringing in a total of 148,000 dollars in sales.
BONUS
Meet the man who created Anchorage.
In this edition of the Anchorage Memories VIP Club, you'll meet the man who laid out the town and auctioned off the first lots.
Meet Andrew Christensen.

Click on the following link:

Take a look at Anchorage Founding Memories and discover.
Naming the New Town
To name the new town that had sprung up on the shores of the creek, the town folk held a vote.
Names considered included:
Matanuska
Ship Creek
Homestead
Alaska City
Terminal
Gateway
The name "Alaska City" won the most votes.
Then the U.S. Post office stepped in.
Across Cook Inlet is the small community of Knik.
And the inlet next to the town was the boat "Anchorage" for Knik.
So, the Post Office decided that the name for the new town on the banks of Ship Creek would be Anchorage.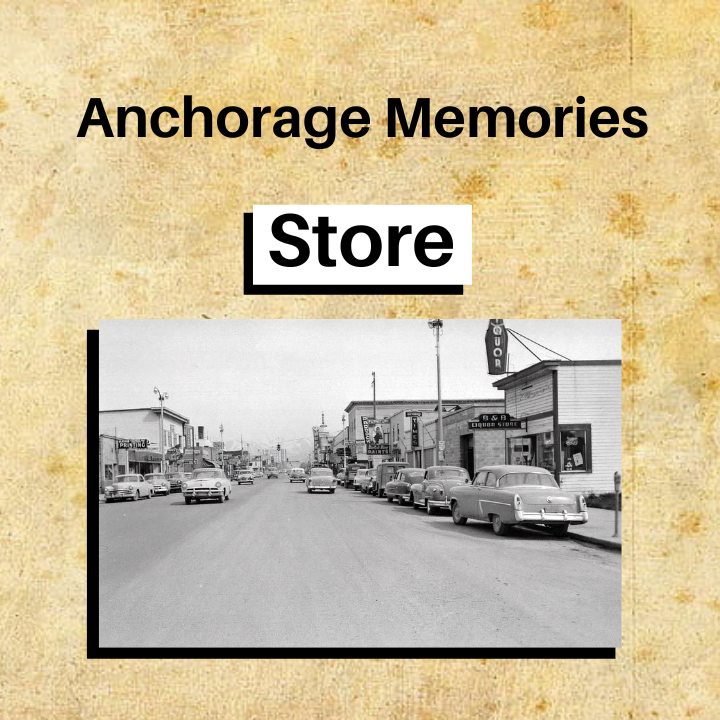 Find out what's in the store.
You'll enjoy even more Anchorage Memories in these nostalgic e-books and short stories.
Remembering the 4th Avenue Theatre
Dynamite and the Alaskan Outhouse

The Varsity Show, Anchorage's teen TV dance program
And much more.
click on the following link and discover

Anchorage Alaska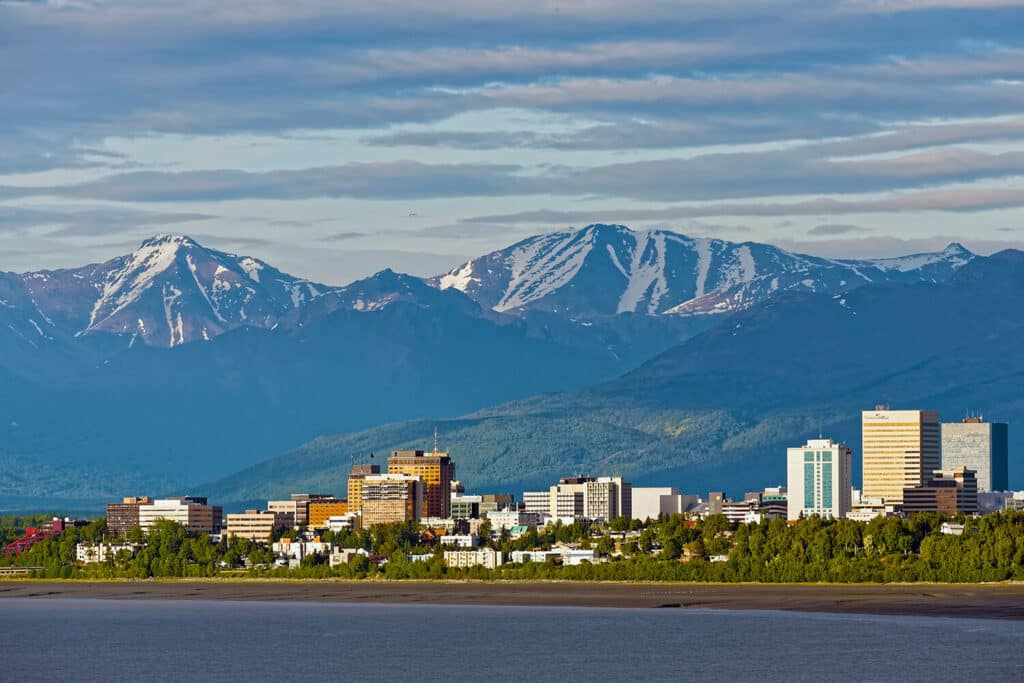 Today, Anchorage Alaska is a modern, thriving city with a population of around 292,000 which is about 40% of the state's population.

Weather

Anchorage has an unpredictable subarctic climate.
It features cool, cloudy summers and freezing cold, snowy winters.
Average temperatures during the year range from 13 to 68 degrees F. 
The highest temperature ever recorded was 90 degrees F on July 4, 2019
The coldest day on record stands at -34 degrees F which occurred on January 5, 1975. Yes, that's cold.
ANCHORAGE WEATHER
What Do Locals Say?
Below are stories about growing up and living in Anchorage Alaska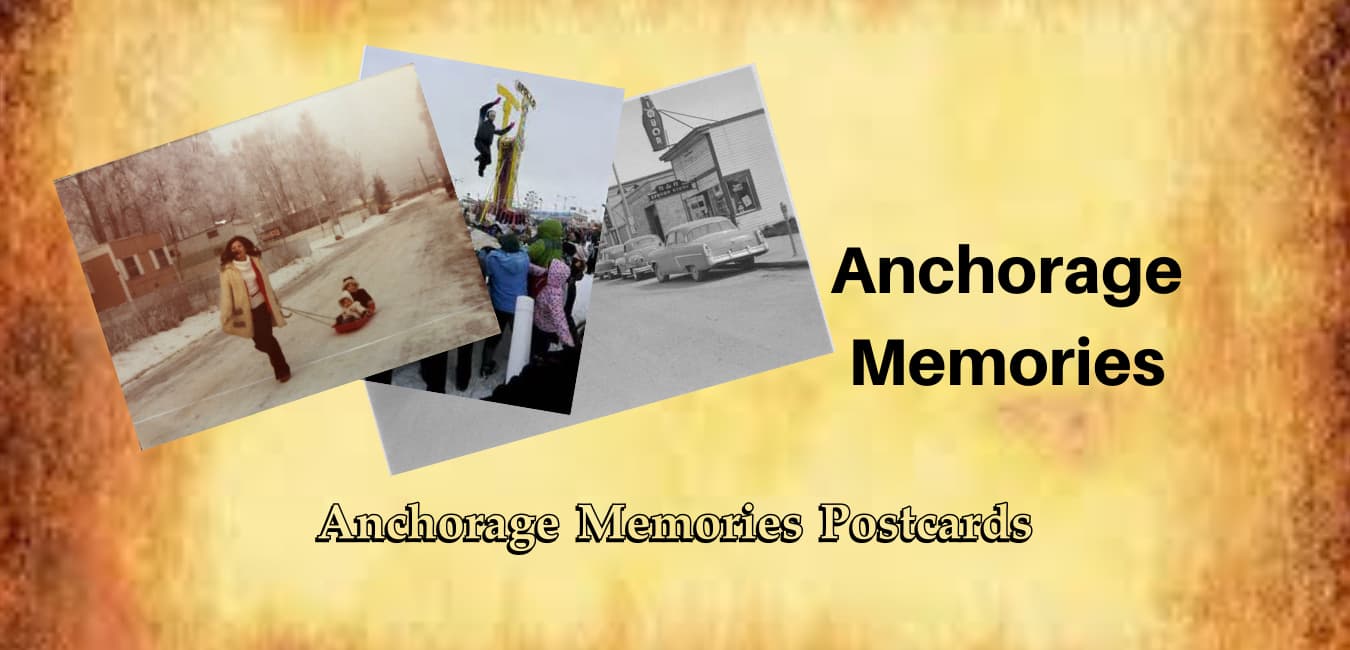 "Reading "My Beautiful Alaska"
(here on Anchorage Memories)

made me almost unbearably homesick
for Anchorage and Alaska"  Darragh

"Interesting stories,
love Anchorage Memories" Christine
"I've been wanting to write about my experiences in Anchorage for years. Now, because of Anchorage Memories I can." Marci
Do you have a story about your Anchorage Memories?
Share it!
Read Nostalgic Anchorage Memories Right Here
Click below to read interesting Anchorage Memories submitted by our website visitors.

Anchorage Memories VIP Club

"I've learned a lot about my hometown of Anchorage, and you've jogged memories of things I haven't thought about for years. I can only say YAY!"  Juanita.
BONUS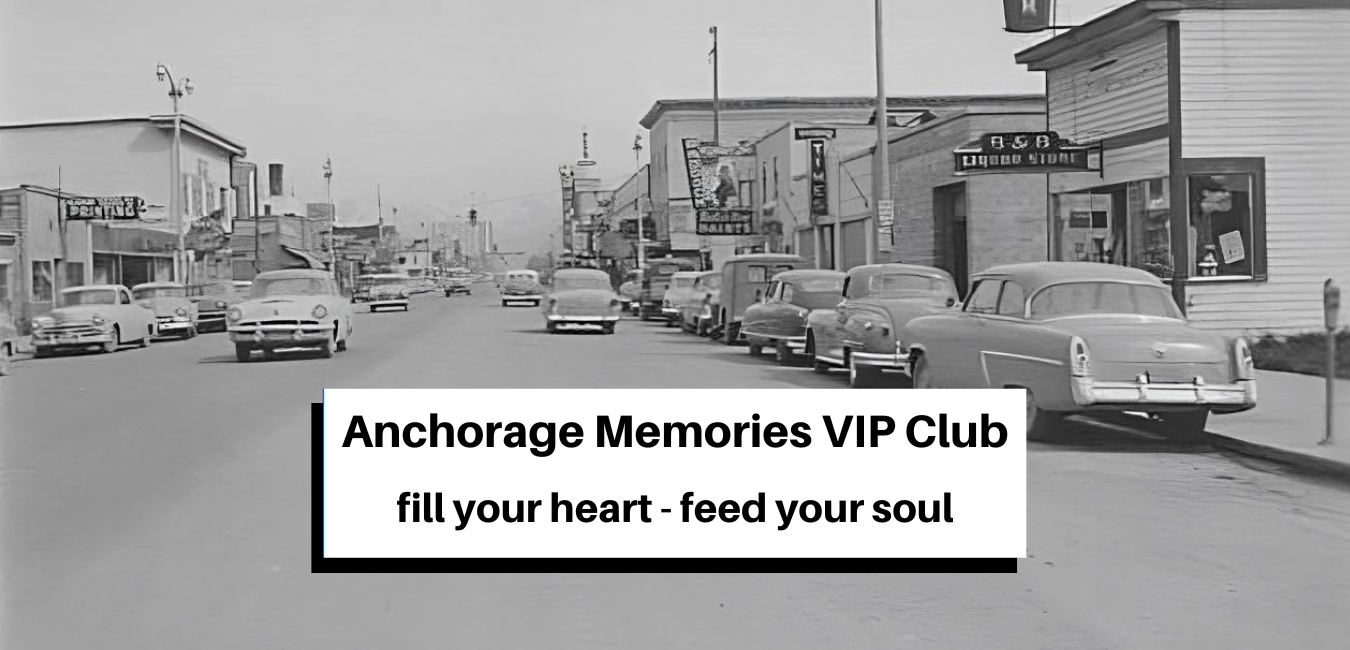 Join your free Anchorage Memories VIP Club

A treasure chest of precious Anchorage memories, delivered right to your email in-box three times each month.

Plus

Discover Alaska Facts and History
and

Meet Anchorage Pioneers
Plus, just for you:

Right after you join
you'll receive "Nostalgic Anchorage Stories"
as a special thank you

Click on the following link:

"I thoroughly enjoy Anchorage Memories,
it is absolutely magnificent" Robert
What Are Your Memories?

Were you living in Anchor town before Alaska became the 49th state?
Did you travel on the Alaska Highway to get to Anchorage?
Where did you go to school?
What were your favorite activities?
Do you still live there? Or, have you moved away from the Great Land?
What kind of activities did your family enjoy? Did you enjoy camping, hiking, fishing, picking berries, sightseeing, or something else?

What are your memories of life in Alaska's largest city?
Post your stories in the easy form above

Anchorage Alaska
For Mary and I here at Anchorage Memories, while we no longer live in Anchorage, the town and all our wonderful memories of growing up there will forever be in our hearts.
Living in Alaska's largest city gives you a different perspective on our world.
It means growing up in a magnificent land where you are close to nature, where the local TV weather reports include how many minutes and seconds of daylight you have either lost or gained on that day. And where most of the supplies for living have to either be flown in, trucked in over the Alaska Canadian Highway (ALCAN) or brought in by ship.
Growing up in Anchorage means you don't keep a pitcher of water in the refrigerator because the drinking water comes right out of the kitchen faucet, fresh and ice-cold.
Anchorage is where a billion stars fill each clear night sky. And where more daylight hours make summer days fun. Where winter nights are long, cold, and from time to time, the dark blue night sky is home to the majestic Northern Lights. And what a beautiful sight they are.
During winter weekends, there's skiing at Arctic Valley and Mount Alyeska. In the summer, locals like swimming at Goose Lake and Spenard Lake.

Have You Heard About Lake Hood?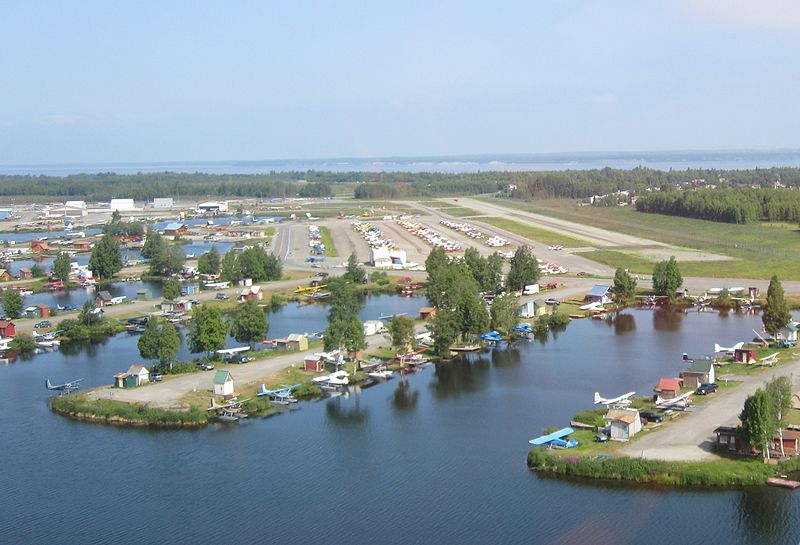 More float planes than anywhere in the world
Located in Anchorage, Lake Hood is home to more small aircraft than anywhere in the world.
In the summer, plans take off and land on the lake, using pontoons.
Winter means that aircraft have to adjust by using skis on the ice and snow-covered lake.

The Anchorage Visitor's

Log Cabin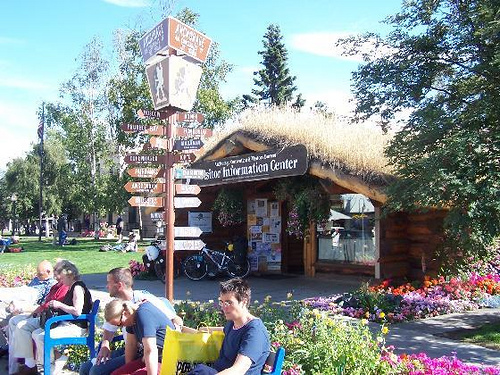 A beautiful summer day in Anchorage
They come from all over the world, to spend a few hours or a few days in Anchorage, enjoying what some Alaskan's take for granted.
Right in the heart of 4th Avenue, Anchorage's modern main street, you'll find the Visitor's Log Cabin. A great place to visit, get some information and discover things you can do in and around town.

BONUS
Do you know where this historic log cabin came from?

Take a closer look at the Anchorage Visitor's Log Cabin and enjoy.

Anchorage Alaska



Fur Rendezvous Winter Carnival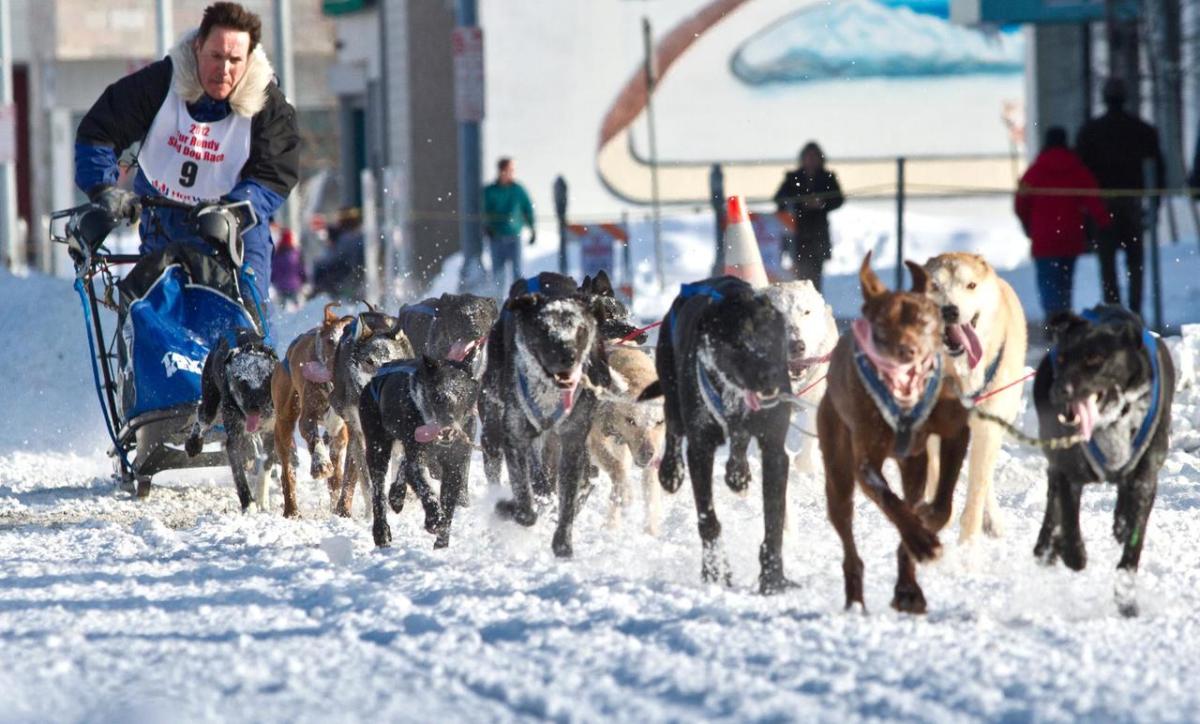 A sled dog team on 4th Avenue
In 2012, National Geographic Explorer named Anchorage's Fur Rendezvous the world's number one winter carnival
"Rondy" takes place in February and features:
Parade
Fur Auction
Carnival rides
Outhouse races
Sled Dog races
People from all over the world come to enjoy the Fur Rendezvous.

Anchorage Alaska
We have only just scratched the surface when it comes to the story of Anchorage. The biggest city in Alaska is a must-see.
Is visiting Alaska your dream?
If so, be sure to include Anchorage, Alaska as one of your destinations.