Anchorage Varsity Show
Memories

Remember when as these Anchorage Varsity Show memories take you back to those fun times when Anchorage teens danced on TV to the latest hit songs.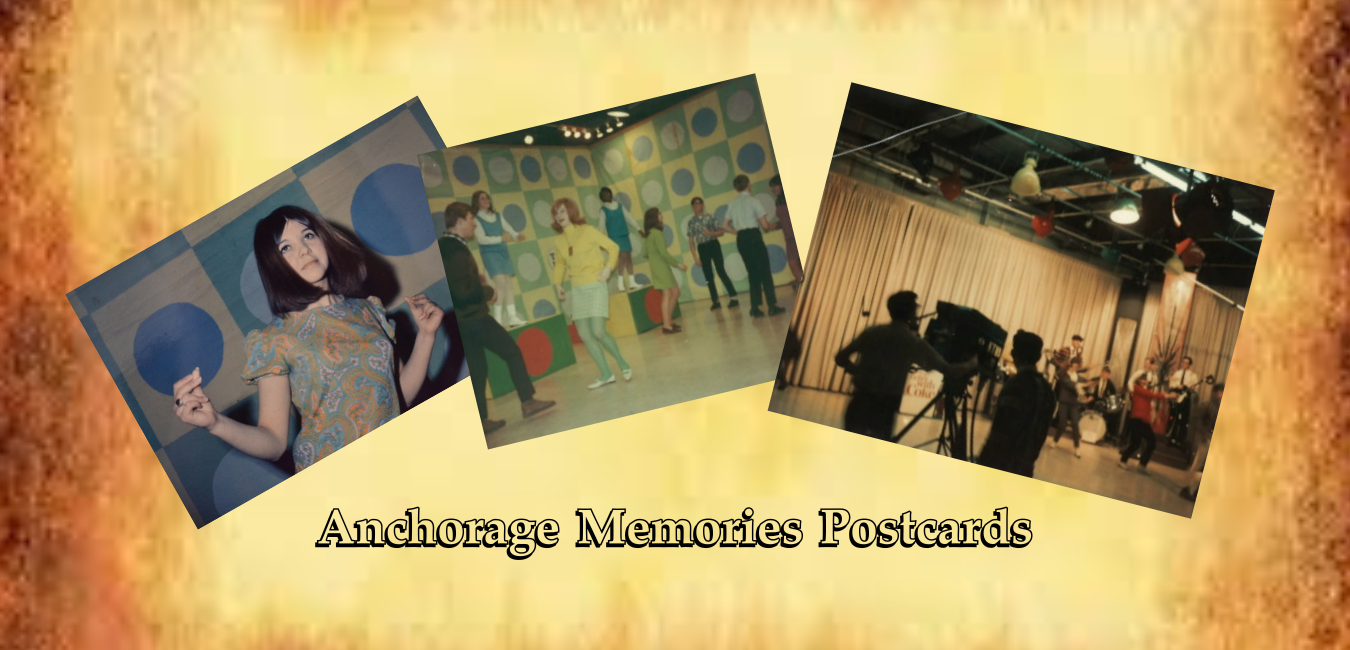 At one time, all across America, many cities had local teen dance shows on TV, and Anchorage was no exception.
Saturday afternoons from September to May. Anchorage teens could tune to KTVA channel 11 to watch area high school kids dance to the latest hits, talk about what was happening in their local high schools and even catch a performance by local teen bands.

It was a lot of fun to go to the studios of KTVA to dance on live TV. Your family and friends could watch while you were out there on the dance floor showing off your best moves. And it was a fun way to spend a Saturday afternoon with your friends.
Scroll Down

for great memories and Photos


What Are Your Anchorage Varsity Memories?
Share it!
Enjoy These Anchorage Varsity Show Memories
Click below to see stories from other visitors to this page...

Free Varsity Show Memories e-Book

Sylvia Smith

Anchorage Varsity Show crew

1963–1964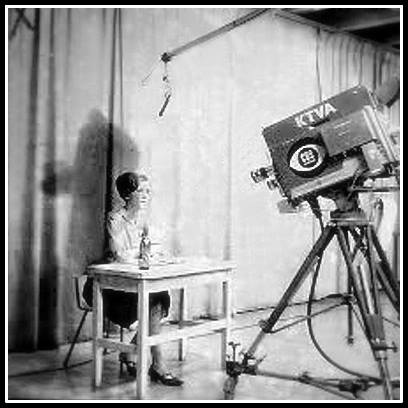 Anchorage teen in front of the camera
Anchorage Teens

Dancing on Live TV

Circa 1968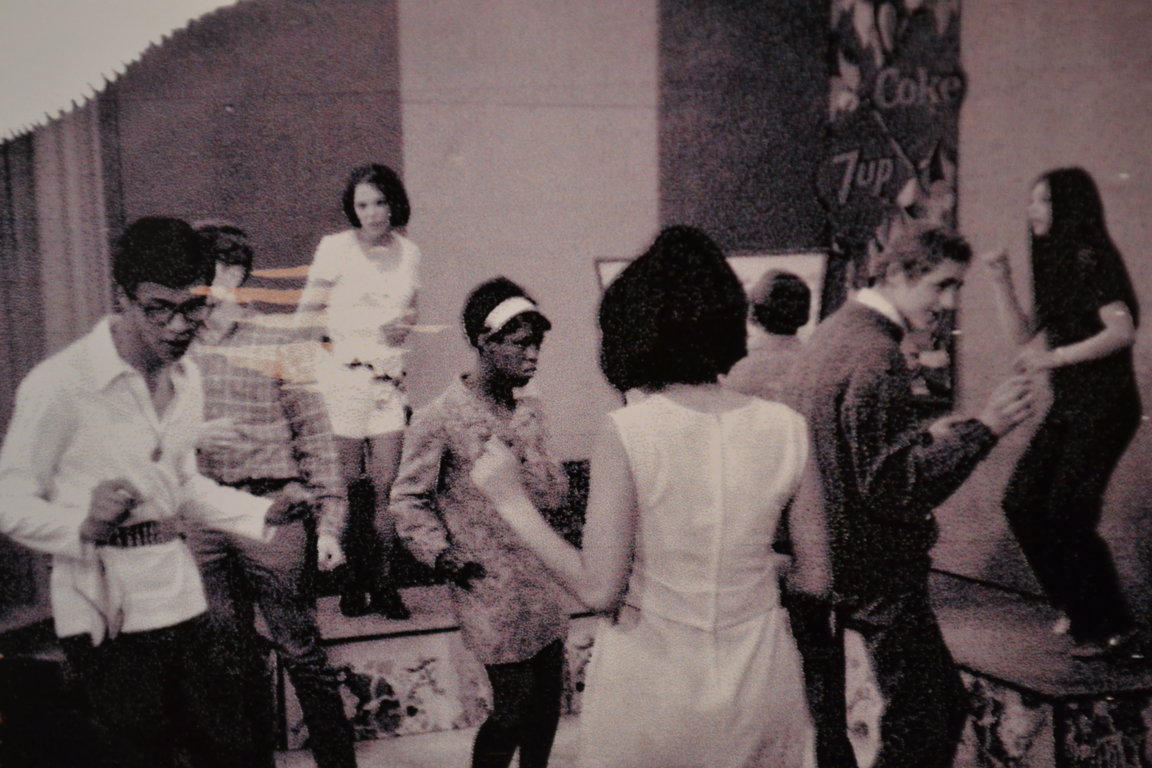 Live from the KTVA studio in Spenard
Host Jim Roach and

West High Cheer Leaders

1963–1964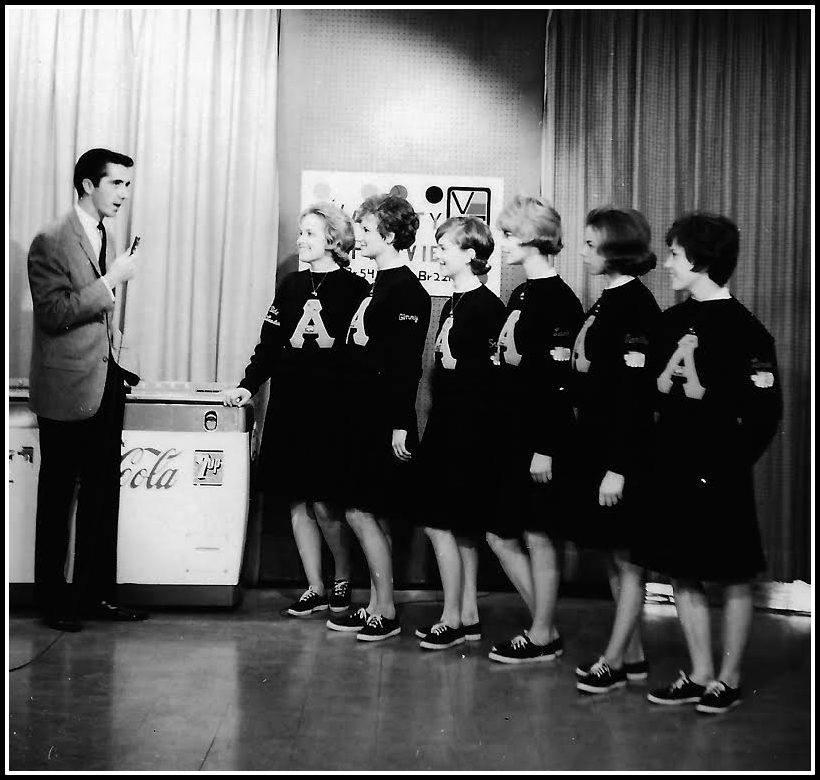 Live interview with West High Cheerleaders
Anchorage Varsity Show

Check out

all the fun pictures

scroll down this page

and enjoy the memories

This one-of-a-kind TV dance show featured Anchorage area teens dancing to the latest hit songs of the day.
But that's not the whole story.
Anchorage high school students earned scholarships by becoming staff interns on the show.
Anchorage Teens

Dancing to the Latest Hits

1963–1964
Remember some of those great slow songs?
The Anchorage Varsity Show

ran from 1959 to 1971

on KTVA channel 11
Show host Jim Roach

with Jon Carter behind the camera

1963–1964

Behind the scenes of The Varsity Show
A live Alaskan teen dance show with a "twist"

KTVA and Augie Hiebert had a great idea.
Create a live local TV dance show for Anchorage teens and give Anchorage teens the opportunity to work in front of and behind the scenes on the show.
Did you dance on the program?
Did you watch The Varsity Show?
Or, did you work on the show?

Anchorage Varsity Show

Podcast Special


The Big Alaska Show
on KFQD radio
did an interview

with Mike & Mary of Anchorage Memories.com

Check out Varsity Show memories right now.
Show host Mike Ray

with a visiting

recording session guitarist

circa 1968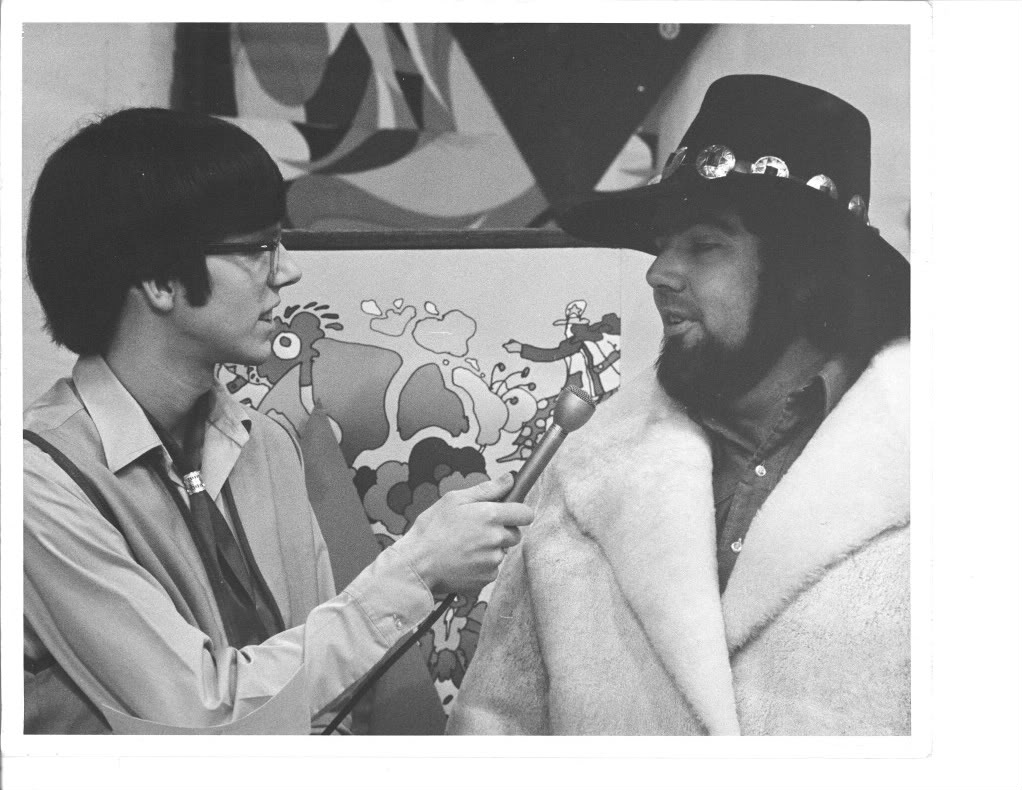 Interviewing the people who made the music
Show crew, circa 1968

David Michael in the foreground

Tom Dougherty and

Ray Malott behind the cameras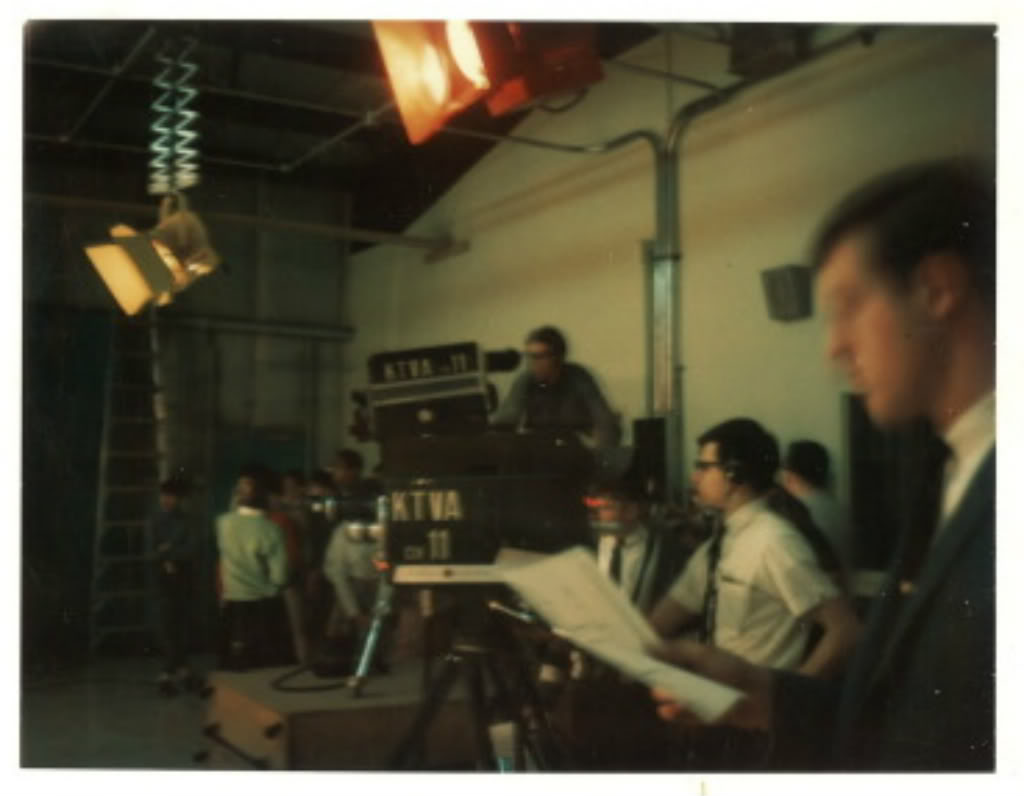 Dedicated Anchorage teens behind the scenes
Show host Ron Moore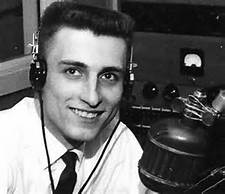 Playing the hits for Anchorage teens
Behind the Scenes
Show Crew

1963–1964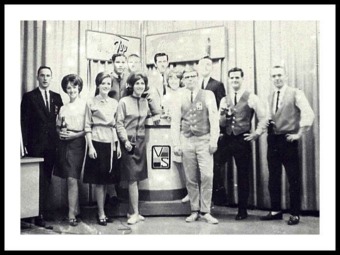 Every year, new show crew members joined the show
Around Spring time each year, the Anchorage Varsity Show held auditions for high school teens that wanted to be on the show's crew in the fall.
Chosen teens would spend the summer learning their crew position. Camera, directing, sound, stage manager, "Go Go Dancers", or commercial models – just to name a few.
When school began in the fall, the show went live each Saturday from the studios of KTVA Channel 11 in the McKinley building near downtown Anchorage (later the McKay building following the 1964 earthquake). And then from the KTVA studios in Spenard.
The show ran from the 1950s to the early 1970s.

Turn up the sound and

check out the video below
Host Roger Latham and Go Go Girl Mary Kallander – Dougherty

video courtesy of Mary J Dougherty
Anchorage Varsity Show
For so many years, having a live TV dance show for local Anchorage area teens, meant fun, music and having your friends watch you dance on TV.
Parents could drop their teens off at the KTVA channel 11 studios, go home and watch them dance on the show, then pick them up at the studio.
And because of the show on KTVA, lots and lots of people who still live in and around Anchorage, and those who now live in other places around the world, have great memories.
So post your stories right here

It's Easy, It's Fast, It's Fun
Scroll up and tell our website visitors your story
The Show Crew

The show was set up so that Anchorage Alaska high school students could audition to work on the show in front of and behind the camera. For those who became crew members, scholarships were available at the end of each season.
Because of Augie Hiebert, the President of Northern Television, many Anchorage high school teens who wanted careers in radio or television, were given a great opportunity by working on the show.
Show alumni have worked in local Anchorage radio and television, for national television networks and in the Hollywood motion picture industry both behind and in front of the cameras.
A live studio band entertains

circa 1967

Lots of fun for Anchorage's teen audience
Show host Ron Moore

wearing the

white coat

in the picture below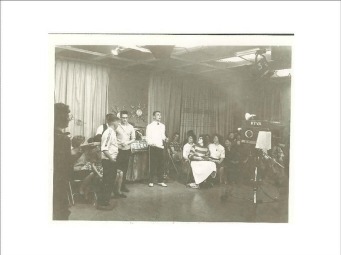 From the studios in the McKinley building
Host Mike Ray with Staff Dancers

circa 1968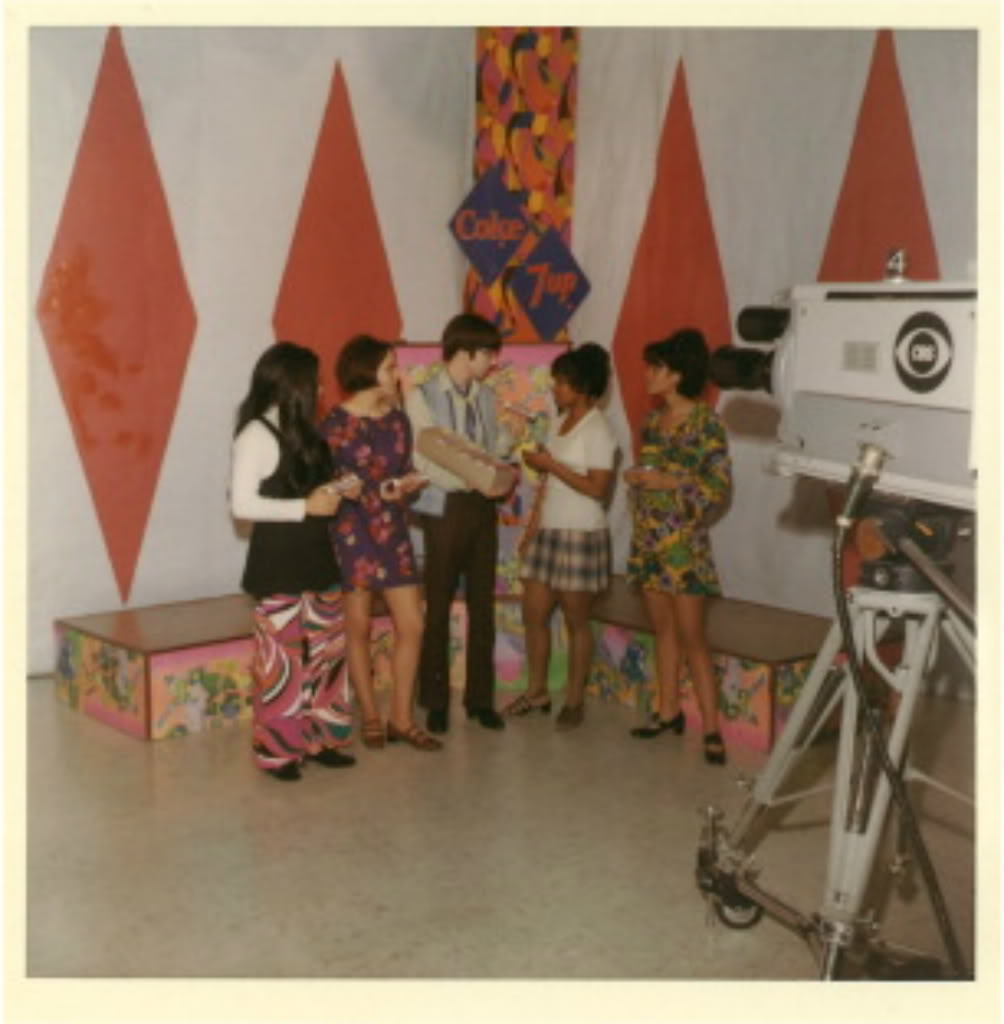 A publicity shot for a show sponsor