Meet Mike and Mary

Meet Mike and Mary, and you'll quickly discover why they love preserving your Anchorage Memories on this nostalgic website in stories, photos, and video.

"We're happy you stopped by for a visit."
"Interesting stories, love Anchorage Memories." Christine
"I love looking at the photos you share." Beth
Mary and our children

Nikki and Chris,

on a sled in Spenard


it's all about family
Enjoying the Anchorage winter
Sledding, skiing, and ice skating are just a few of the winter activities we enjoyed in Anchorage.

Mike behind the camera

at KTVA channel 11

in the McKinley building

in downtown Anchorage, 1965

Mike went on to win an Emmy for his camera work
Mike's career in television and motion picture production all began when he became an intern working on The Varsity Show on KTVA channel 11.

Mike and Mary

grew up in Anchorage


Meet Mike

First arriving in Anchorage from California in 1950 when he was just 3 years old, Mike grew up in and around Anchor town. His father helped clear land for construction all over Anchorage and their entire family fell in love with Alaska. 
Meet Mary

Born and raised in Anchorage, Mary's Alaska roots go way back. Her mother first came to Anchorage from Point Possession, just across Cook Inlet from Anchorage. Mary's mom and dad both worked on the Alaska Railroad.
"Thank you, thank you, thank you! I am so grateful for this Anchorage Memories website".
Robert
Mike and Mary both went to school in Anchorage, enjoying movies at the 4th Avenue Theater, listening to "The Coke Show" (Mike worked on it with Ron Moore), and getting burgers at the Arctic Roadrunner. Plus, both Mike and Mary are 1964, Good Friday earthquake survivors.

"We're passionate about preserving your Anchorage Memories and giving you easy access to the wonderful memories of other visitors to this website. Every day this website grows as it includes more stories, comments, pictures, and videos for you to enjoy."
Nostalgic Anchorage Stories

When it comes to stories about growing up in and around Anchorage, Mary and Mike built this treasure chest of priceless memories to share with you.
And as you visit the pages of this website, you'll quickly discover that Mary and Mike continue to collect stories and comments from countless happy visitors to Anchorage Memories.

Meet Mike and Mary

we lived it


Mary, Nikki, and Chris

enjoying Cook Inlet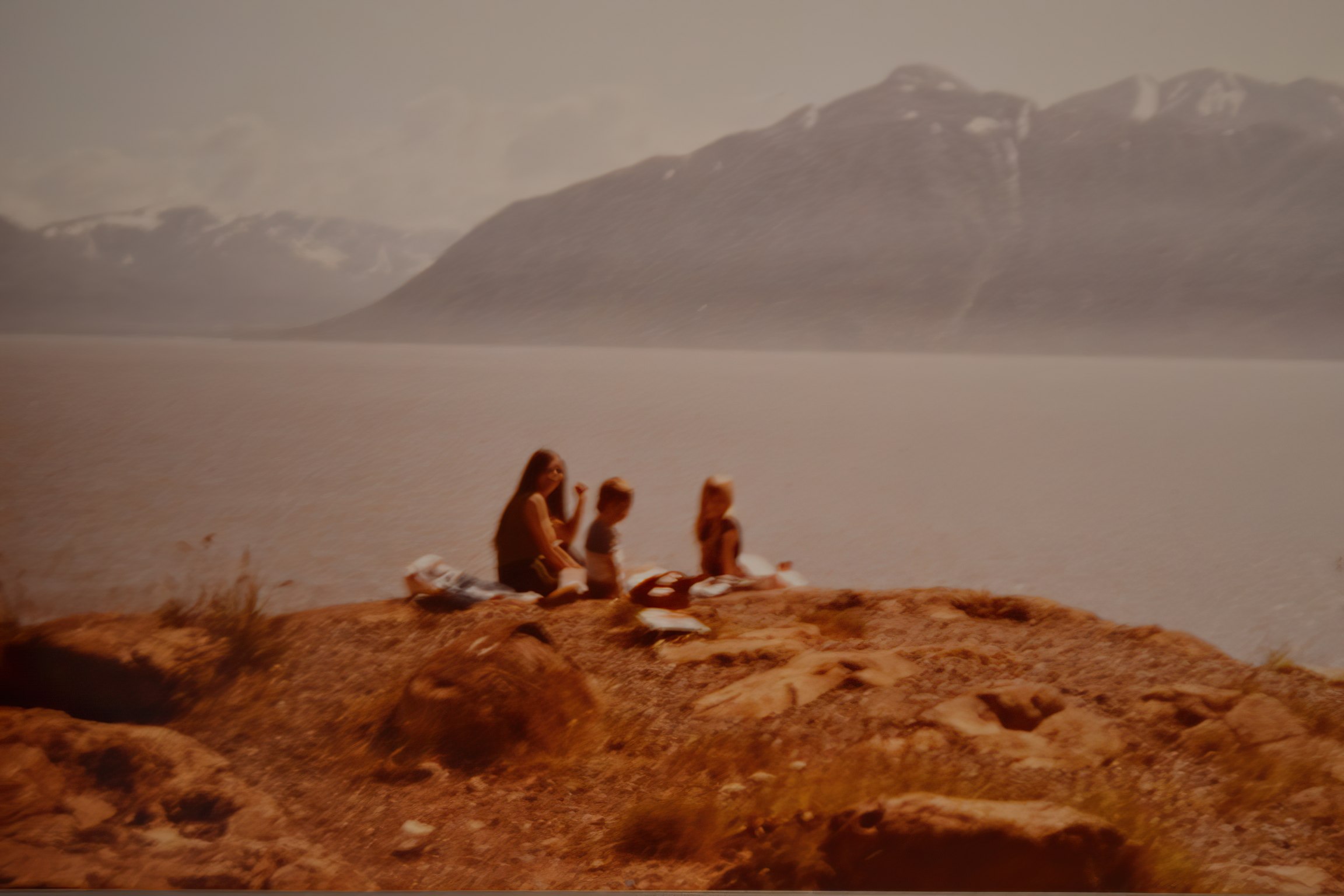 Picnic with a spectacular view
Yes, the incredible beauty of nature surrounds Anchorage. And like most Alaskans, Mike and Mary made with their family like the one pictured above.

Growing up and living in Anchorage is a special and unique experience that we've spent our entire lives explaining to people we meet in the "lower 48".
Alaska fascinates them, and they love hearing our stories about growing up in a wonderful and unique place called Anchorage.

Meet Mike and Mary

From how and why Anchorage got started back in 1915, and up through the 1970s, Mike and Mary put together this incredible treasure chest of cherished memories.

The beautiful sight of the Northern Lights, dancing at night, in the sky over the city. The surrounding majestic snow capped mountains and memories to cherish for a lifetime. Mike and Mary created this special website where you can visit anytime you need a gentle reminder of those Anchorage Memories.
You'll find it all here in stories, comments, pictures, and video.
And Mike and Mary love hearing from website visitors like you.
Do you have a comment, suggestion, or maybe you just want to say, "Hey, did you know I'm from Anchorage too?" It's so easy to Contact Us.
Mike and Mary are Author's

Did you know that Mike and Mary are also Alaska authors?
That's right.
You'll discover some of their e-books right here on Anchorage Memories.
Mary writes about her adventure of joining Anchorage teens at the Westward Hotel to see if she could get a glimpse of the Beatles during the group's brief stay in Anchorage. And her e-book "Face-to-Face with John Lennon" has a surprise ending.
And Mary tells you her incredible story about where she was and how she got through that day on March 27, 1964. You'll discover her fascinating e-book here on Anchorage Memories. "Great Alaskan Earthquake Survivor."
Mike has numerous e-books you can read as well.
You'll discover a fond look at Anchorage's favorite movie theatre in Mike's e-book, "4th Avenue Theatre Memories". It's an instant download.

Do you remember Anchorage's teen TV dance show? You'll enjoy all the great memories in this free e-book, The Varsity Show with a foreword by popular Anchorage radio personality Ron Moore.

These are just a few of the fun and nostalgic e-books by Mike and Mary that you'll discover here on Anchorage Memories.

BONUS
As you look around Anchorage Memories, you'll see the word "BONUS" from time-to-time.
Take a moment to look. You'll be delighted.
Anchorage Memories VIP Club

BONUS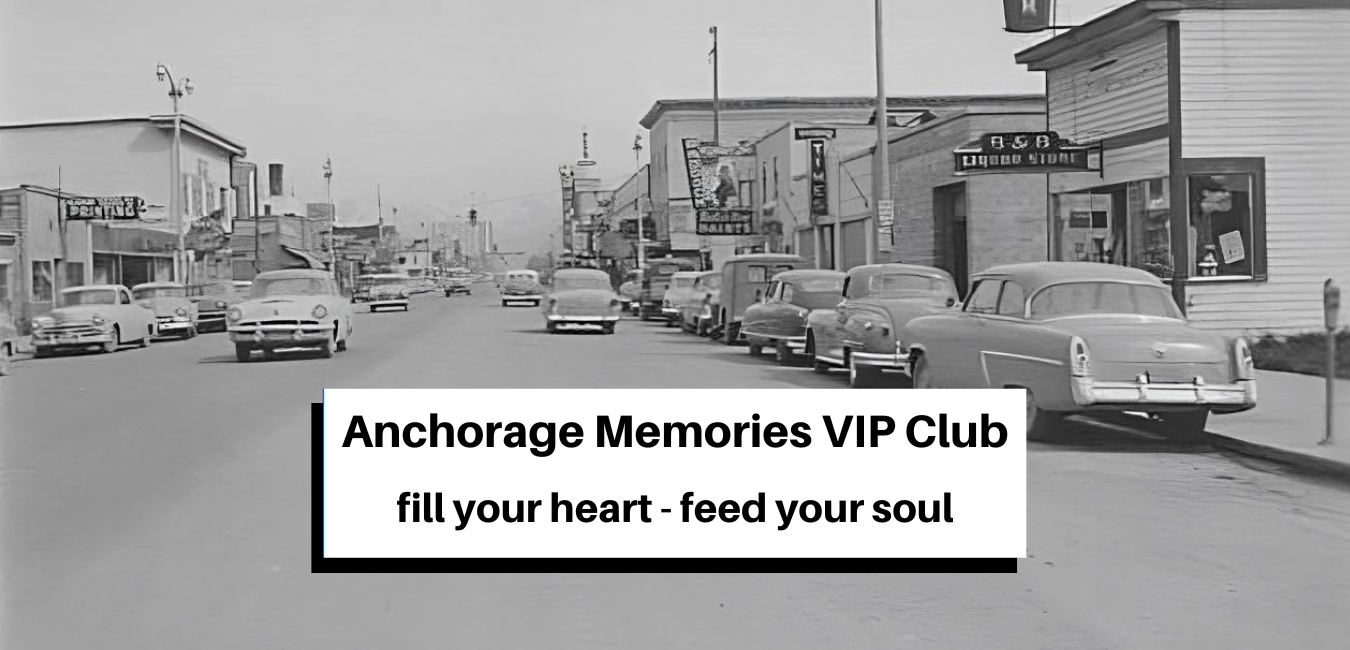 Join your free Anchorage Memories VIP Club

A treasure chest of precious Anchorage memories, delivered right to your email in-box three times each month.

Plus

Discover Alaska Facts and History
and

Meet Anchorage Pioneers
Plus, just for you:

Right after you join
you'll receive "Nostalgic Anchorage Stories"
as a special thank you

Click on the following link:

"I thoroughly enjoy Anchorage Memories,
it is absolutely magnificent" Robert