History of
Anchorage Alaska

How much do you know about the History of Anchorage Alaska? Enjoy this look at Anchor Town's unique past.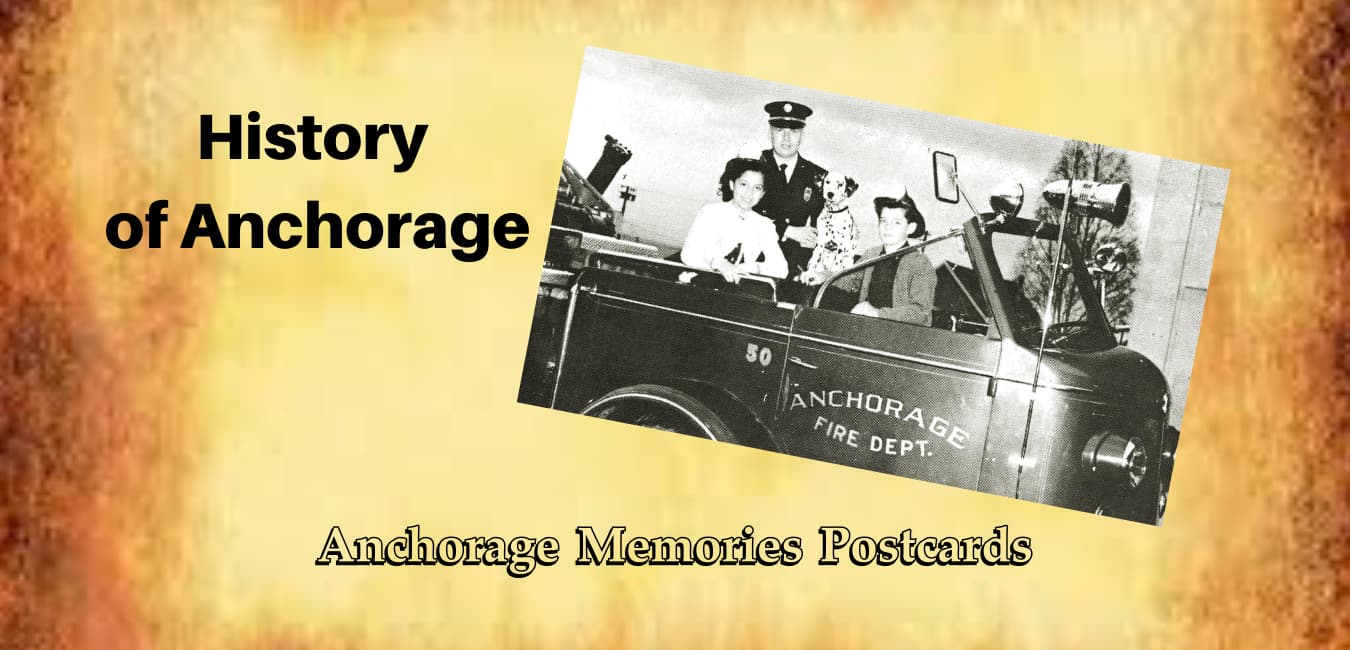 Spring - 1915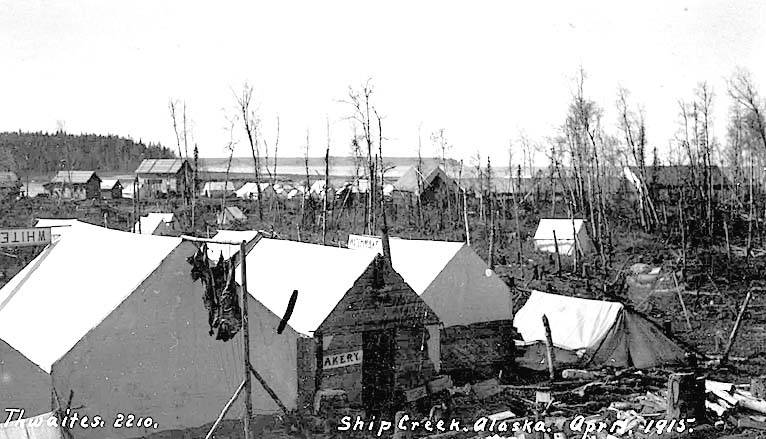 The beginning of what would become Anchorage, Alaska
It didn't get started because someone discovered gold, although gold was discovered along Turnagain Arm (Cook Inlet) in 1888.
Anchor Town got its start way back in 1915 when a construction camp was needed for the Alaska Railroad. So, a kind of "tent city" was cobbled together at the mouth of Ship Creek and later along the bluff area.
More than 2000 people from all over began arriving at the mouth of Ship Creek, seeking employment. Some were merchants who would set up shops and other services.
They created the tent city that would become Anchorage.

April 1915
Naming the Town

As the population grew, the new town needed a name.
Those living in the tents had already begun calling it by names like "Ship Creek".
But an official name was needed, so they had everyone vote for their favorite. Those included Alaska City, Gateway and of course, Ship Creek among other names.
Then shortly after the vote, the United States Post Office had another idea. They decided the name for the town would be "Anchorage".

April 1915
She Drove the First

Railroad Spike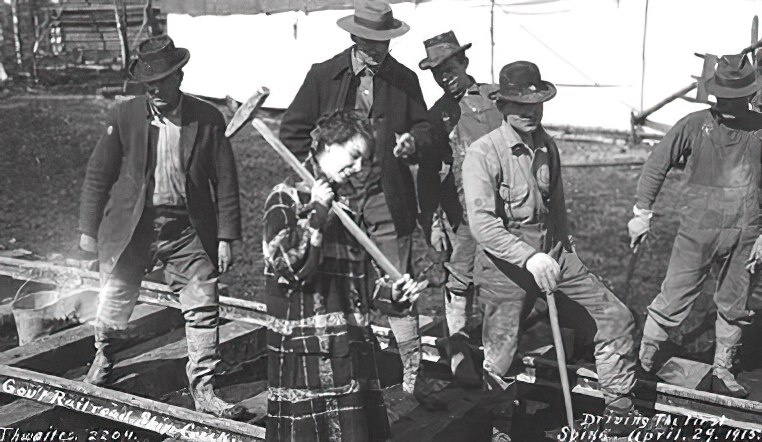 Driving the first railroad spike
A lady named Martha "Babe" White was given the honor of driving the first spike in the Alaska Railroad at Ship Creek.

1915
The First Home

in Anchorage
First house in Anchorage
The History of Anchorage Alaska includes this:

Oscar Anderson claimed to be the 18th person to set foot on Ship Creek Flats.
He built the first home in Anchorage in the area now known as Elderberry Park. Anderson lived in the house until his passing in 1974.
Today, the Oscar Anderson House is open to the public.

June 1915
Anchorage's First

Newspaper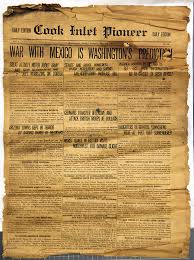 An early Anchorage paper
History was being made, and a town had just been born, so to capture all the latest happenings, the Cook Inlet Pioneer began publishing a weekly newspaper.
Later, the name of the paper was changed to the Anchorage Daily Times.

November 1915
Time to Get Ready

for School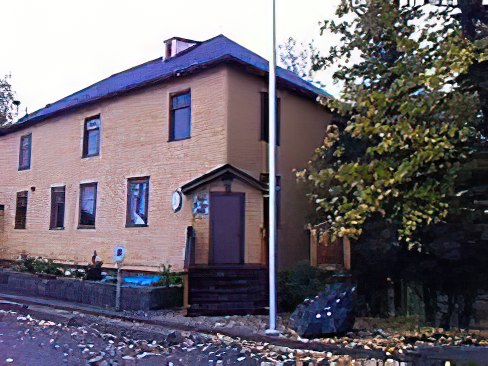 An Anchorage first
The History of Anchorage Alaska looks back at Anchorage's first school, made from left over material from the Alaska Railroad.
The building had no running water and no electricity. It was heated by a few wood-burning stoves.
Ora Dee Clark was hired as the first school Superintendent and a teacher, along with three other teachers.
There were about 100 students in the first school.

1915
One of the First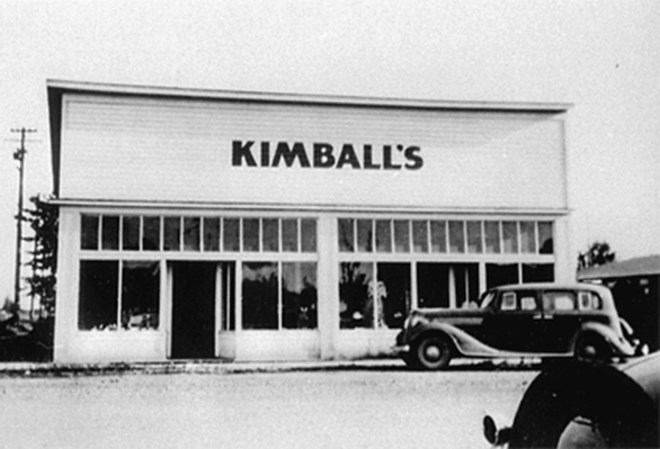 Upstairs is where they lived
There was an auction for land in the new town.
Irving L. Kimball and his wife Della purchased a lot at 500 West 5th Avenue where they built a store with an apartment for them and their family upstairs.
Kimball's Dry Goods was in operation for 87 years and the building still sits on its original location.
July 1916
Anchorage's First

Movie Theatre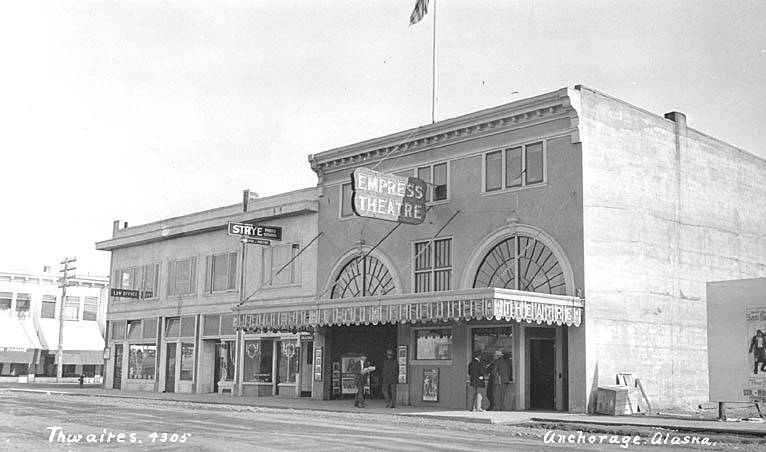 On 4th Avenue
Built by Austin Eugene "Cap" Lathrop, the Empress Theatre first opened with the silent movie, "Peggy" starring Billy Burke.
A theatre organ was later added.
The Empress showed movies well into the 1950s.

BONUS
Do you know why Mr. Lathrop was called "Cap"?
He was also a licensed ship captain.

May 1923
Beginning of the

Park Strip
An air strip and a golf course
Anchorage had grown out to 9th Street, but beyond that was wilderness.
So, the town's citizens got together and cleared a strip of land that would act as a fire break, and serve as an airstrip for bush pilots.
A 9 hole golf course was also created on the land now known as the Park Strip.

May 1924
A First for Anchorage

and Alaska

Radio in the early days
How well do you know the History of Anchorage Alaska?

The first radio station in Anchorage was KFQD.
But it wasn't just the first in Anchorage, it was the first in Alaska

1929
Aviation Field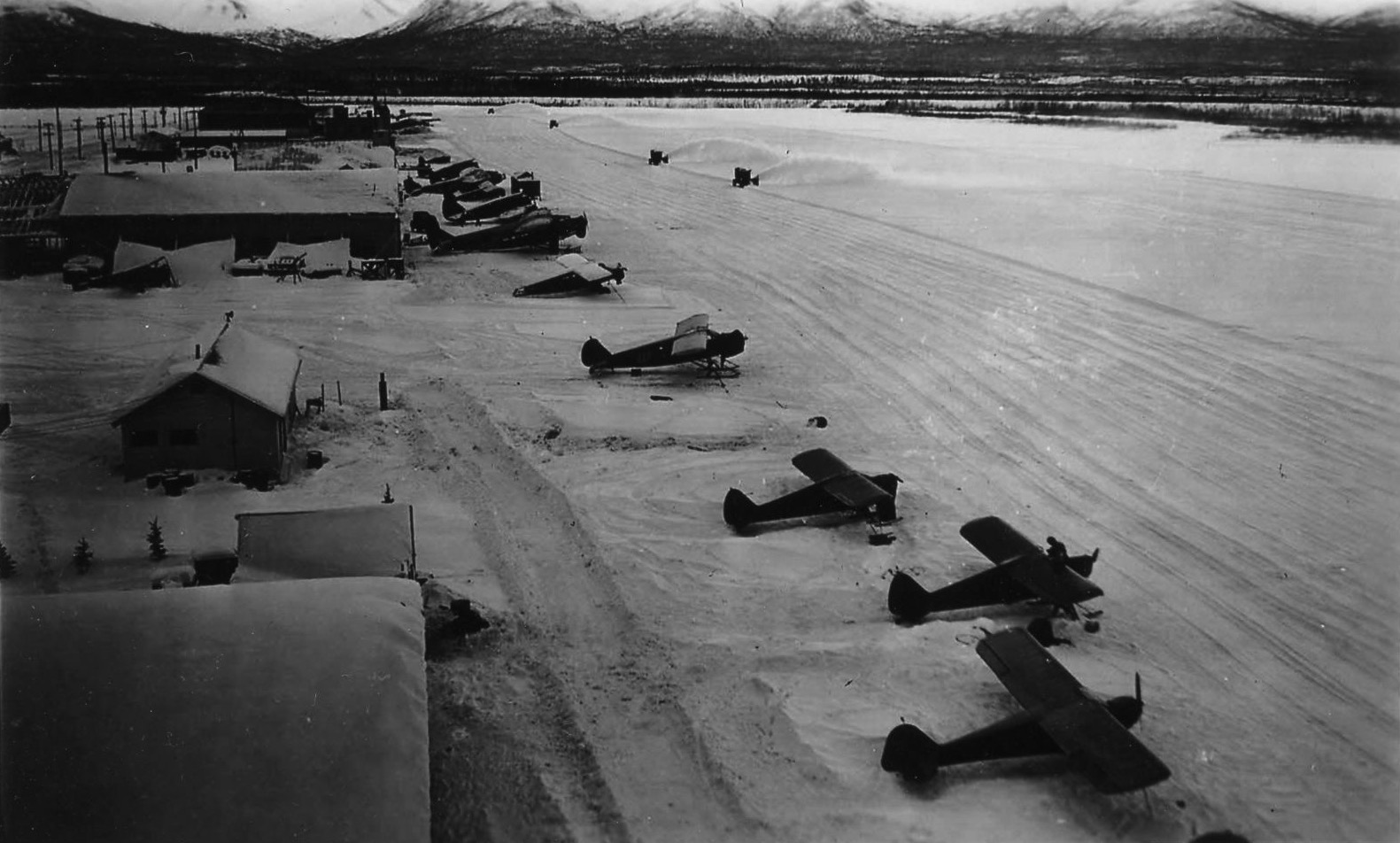 Anchorage's first airport
Before it became Merrill Field, the airstrip outside of Anchorage was known as Aviation Field.
And when Aviation Field first opened in 1929, Anchorage quickly became the hub for air service in Alaska.

BONUS
Later in 1930, Aviation Field was renamed Merrill Field, named after Alaskan aviation pioneer, Russel Merrill.
DOUBLE BONUS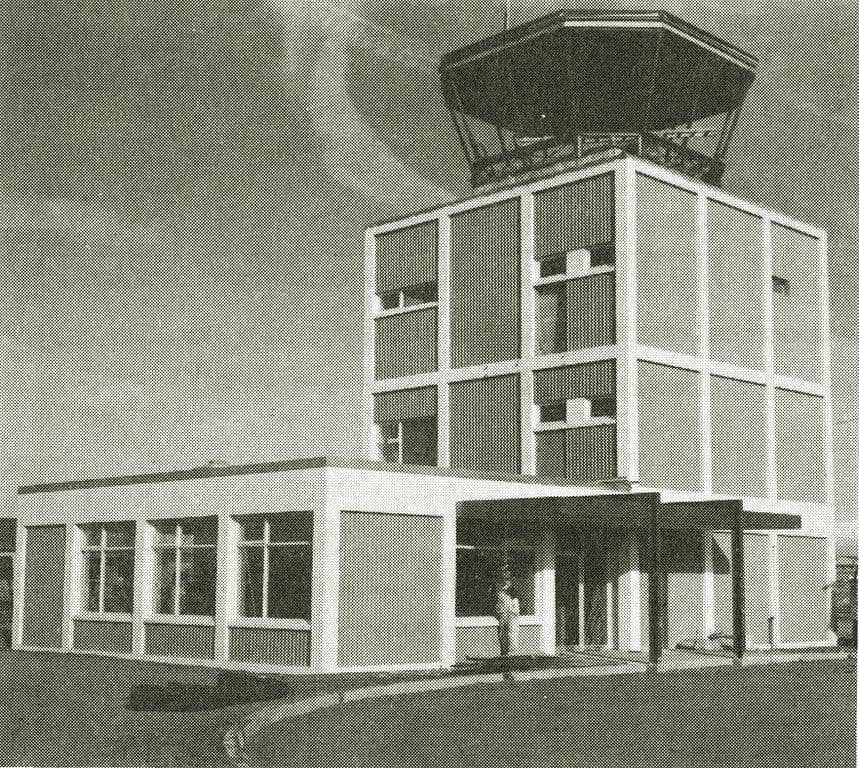 Merrill Field Tower
During the 1930s, Merrill Field had so much air traffic that it became the most active civilian airport in the entire U.S.
Anchorage International Airport opened in 1951.
February 1935
The Beginning of

the Fur Rendezvous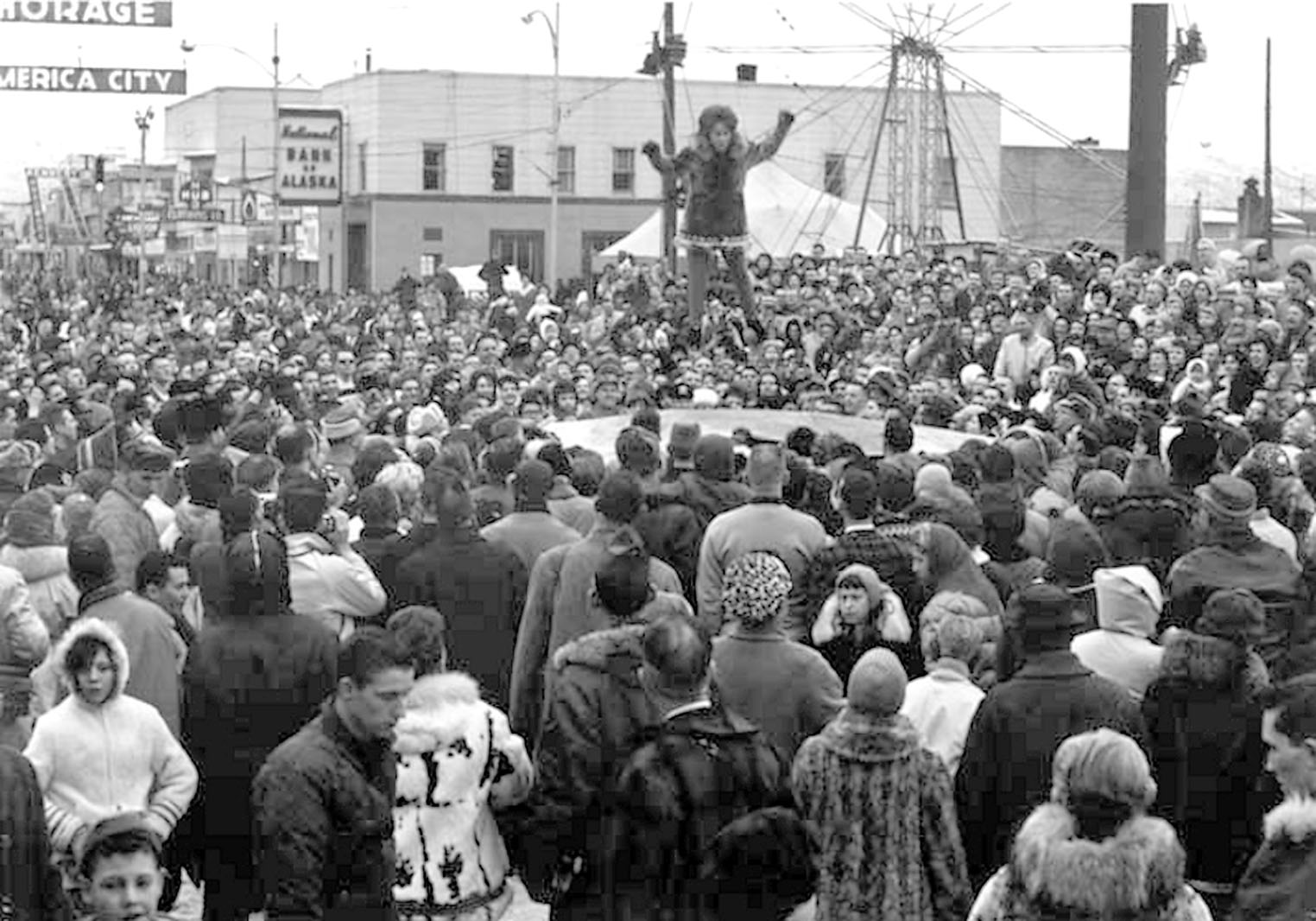 Airborne over the Rondy crowd
Vern Johnson is credited as being the "Father of the Fur Rendezvous".
In 1935, Johnson organized the "Winter Sports Festival". Just two years later, the name of the event was changed to, "Winter Sports Tournament and Fur Rendezvous".
Today, the Fur Rendezvous is the largest winter carnival in the world.

BONUS
In 1949, the Eskimo Blanket Toss was added to the Fur Rondy.
Alaska Natives from Nome and Diomede Islands were flown in to Anchorage to demonstrate the blanket toss.
Origin:
A tarp of seal or walrus hide was used by Alaska Natives to toss a member of the village, who had good eyesight, up into the air, so they could spot wild game for food.
November 1936
A Dedication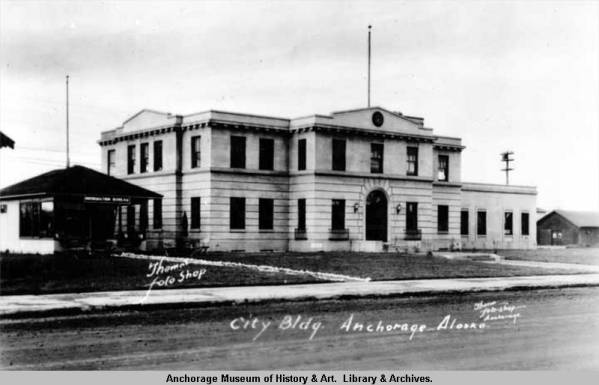 The way City Hall used to look
A look back at the History of Anchorage Alaska

Anchorage's City Hall was dedicated at 524 West 4th Avenue.

January 1939
High School Days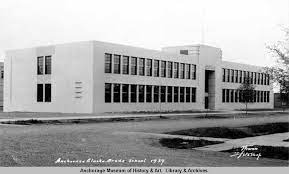 Did you attend this school?
Anchorage's first high school, Anchorage High School, was first opened in 1939 at 6th and F Streets.
The building also housed an elementary school and an auditorium that was also used for civic events.

1939 to 1941

Old Federal Building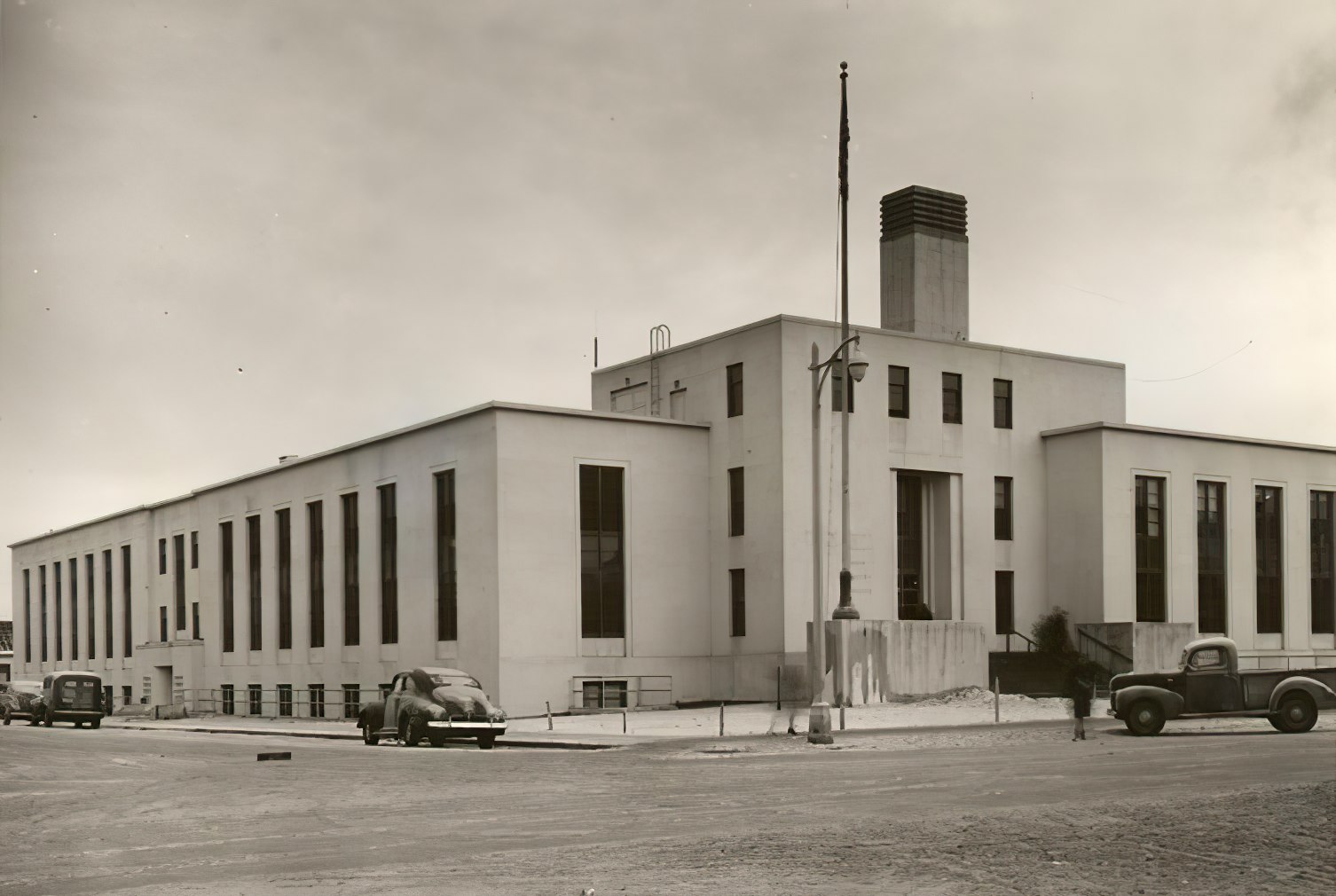 Anchorage's Federal Building was Built in Stages
Located across the street from the 4th Avenue Theater.
This building was constructed from 1939 to 1941.
June 1940
The Military Arrive

Now Joint Base Elmendorf - Richardson
Anchorage got a large boost in its population when Elmendorf Air Force Base and Fort Richardson were built just out of town in the 1940s.
Did You Know?
Fort Richardson was named in honor of Brigadier General Wilds P. Richardson
Elmendorf Field was named after Captain Hugh M. Elmendorf
May 1947
An Amazing Competition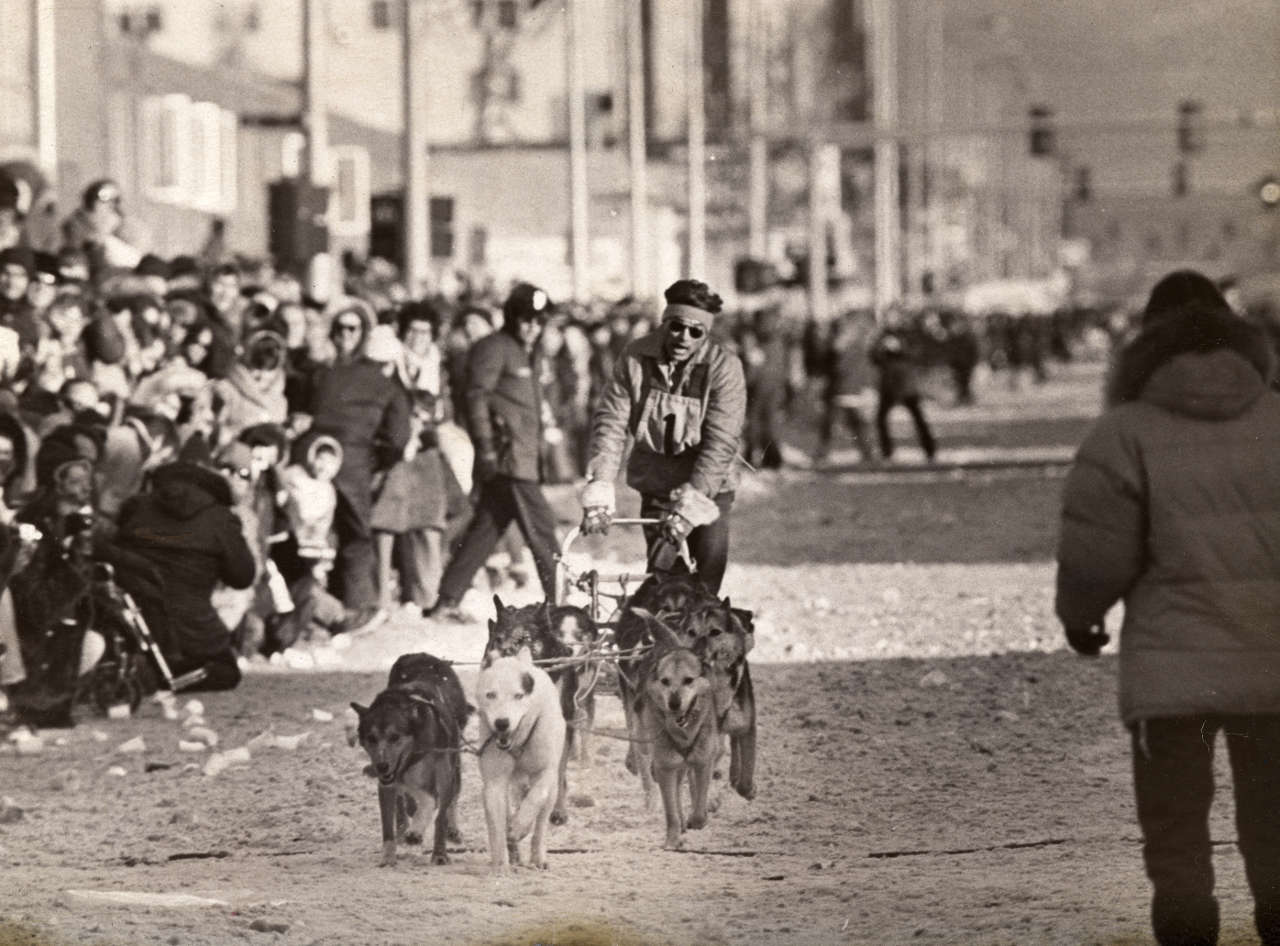 George Attla, a local favorite
The first World Championship Sled Dog Race was added to the Fur Rendezvous in 1946.

May 1947
A Movie Palace

for Anchorage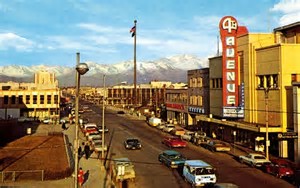 Days gone by
The History of Anchorage Alaska looks back at a jewel

World War II slowed construction of Cap Lathrop's second movie theatre in Anchorage.
Then, on May 31, 1947, The 4th Avenue Theatre opened. Lathrop had created a beautiful theatre experience for everyone to enjoy.

BONUS
The Jolson Story was the first movie presented to Anchorage audiences. Long lines formed outside the theatre with people waiting to see the movie and the new theatre.

May 1948
Anchorage's Second

Radio Station

Overlooking what is now Westchester Lagoon
KENI radio signed on in May 1948 to become the second radio station in Anchorage, Alaska.
Owned by "Cap" Lathrop, the station was originally housed in the 4th Avenue Theatre building.
The station was later moved to the building shown above, which overlooks Westchester Lagoon.

December 1951
Anchorage International

Airport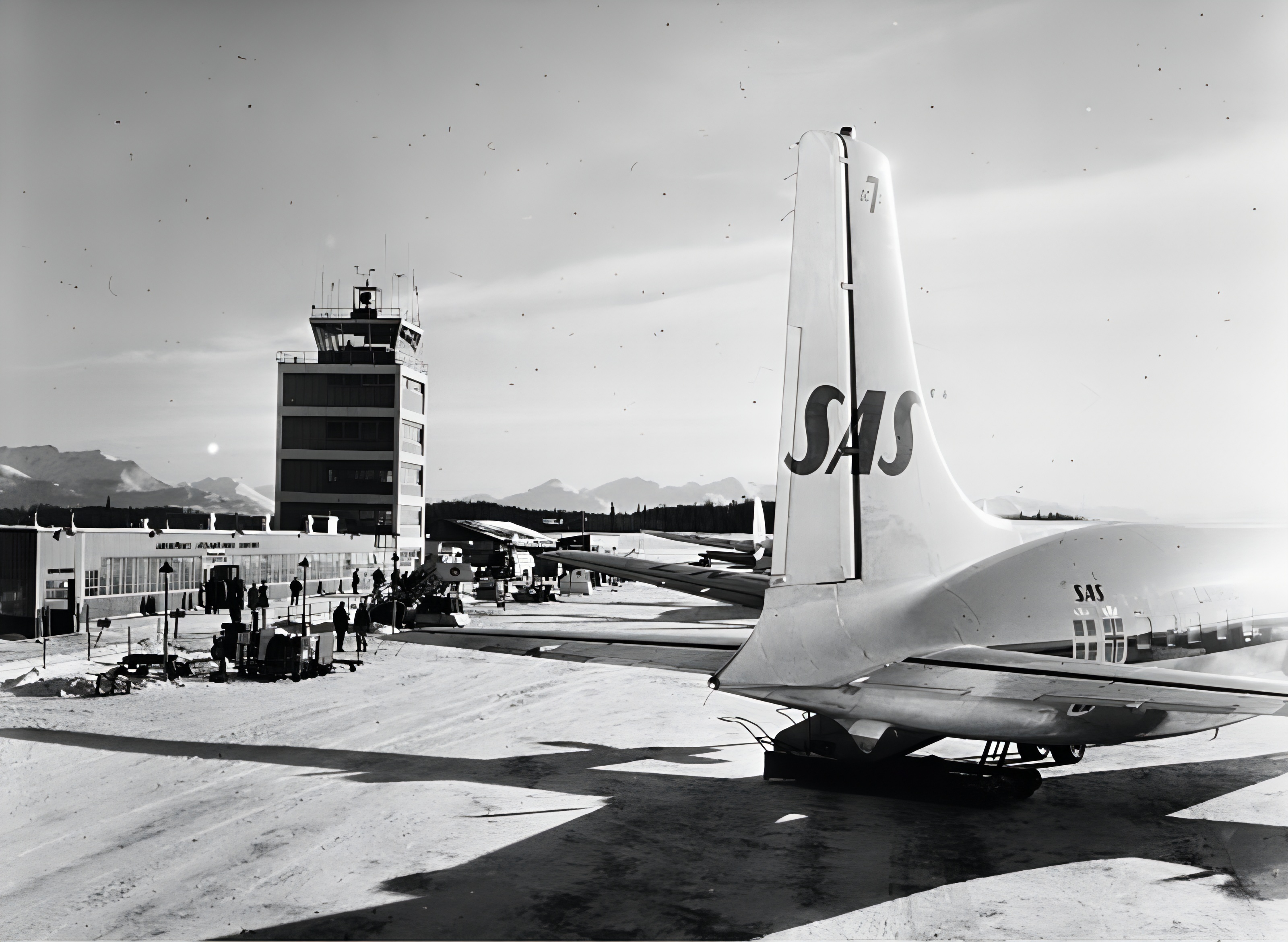 The early days of service
After first opening in 1951, the airport quickly became important to aviation.
Anchorage International Airport was called the "Air Crossroads of the World".

1956
All American City

The sign above the street shows civic pride
Anchorage was first named "All American City" by the National Municipal League and Look Magazine in 1956.
Since then, our town also received the award in 1965, 1985 and 2002.

A Look Back

Much has changed over the years when it comes to the history of Anchorage Alaska.
From a crude tent city on the muddy backs of Ship Creek in 1914, to the skyline of today's modern city with all the services and amenities you'd expect to find anyplace in the United States.
Check Out

the Links Below

to Learn More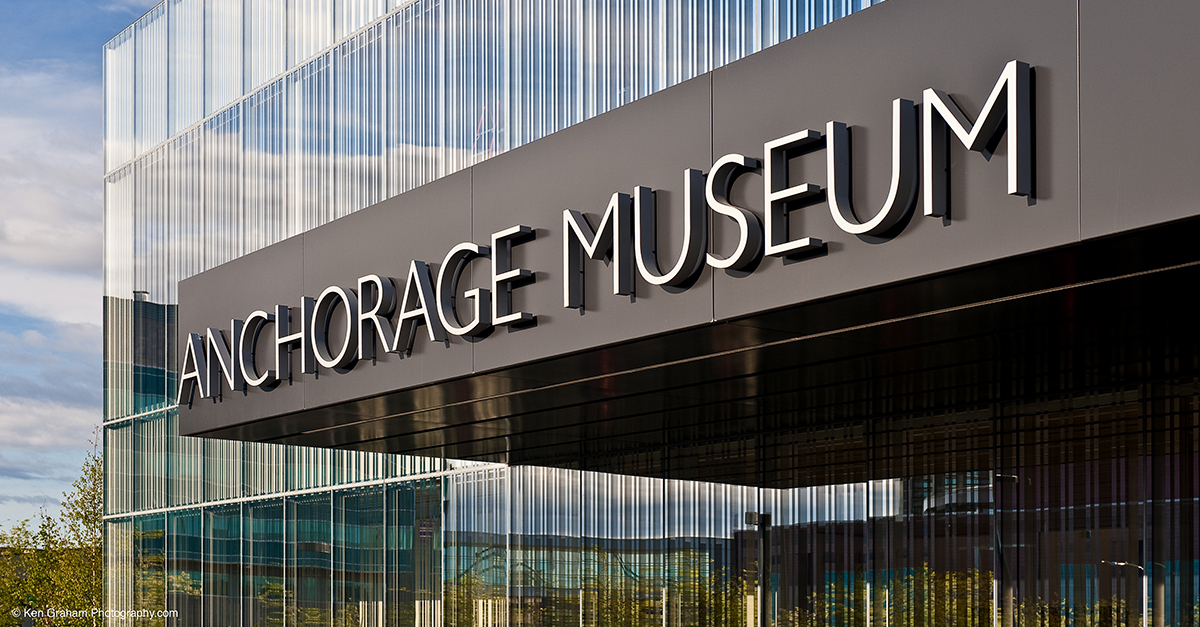 A must-see
History of Anchorage Alaska

Did you grow up or live in Anchor Town? You'll love checking out the many pages of memories you'll discover here on Anchorage Memories.com
And we also encourage you to post your memories too.
I still have questions about posting here.
Visit our Frequently Asked Questions (FAQ) page right now.
Preserving

Your Memories

All too often, our precious memories fade with time and after a while, they become forgotten.
Because of this website, you can easily preserve your memories online by posting your stories and photos. And family and friends, as well as other visitors to this website, can comment on your posts.
By the way, all posts and comments are moderated, so all posts and comments that appear on this website are appropriate and family friendly.
And that means, your posts and comments are protected and give our visitors a fun look at growing up and living in Anchorage.
How many times have you mentioned that you lived in or visited Alaska, and someone told you they had always wanted to visit the 49th state?
People are fascinated by the final frontier, and most people would like to visit the great land.
For that reason, we offer this History of Anchorage Alaska resource page and this fun website.

BONUS
Join your free Anchorage Memories VIP Newsletter.
A treasure chest of precious memories, delivered right to your email in-box each month.

PLUS

You'll receive your free Anchorage e-book when you join.