Anchorage Fur Rendezvous
Memories

These precious Anchorage Fur Rendezvous memories will fill your heart as you recall Rondys gone by.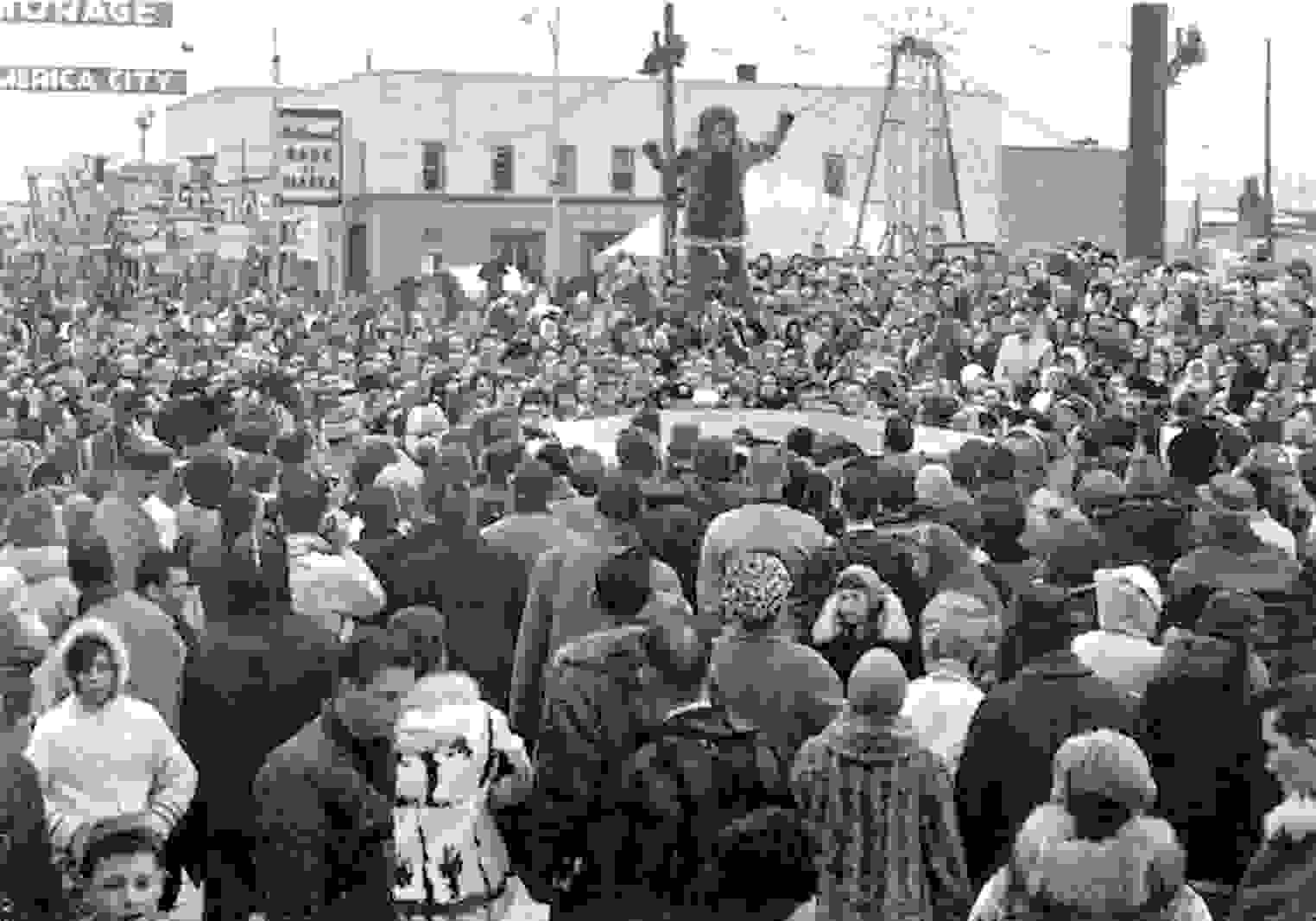 How it all Began

A trip to Fairbanks in 1934, to participate in that cities Ice Carnival and Dog Derby, gave Vern Johnson and his friends an idea.
Fur trappers and miners came into Anchorage every year during the month of February to sell their furs and other things.
So, what if there was some kind of fun gathering, like they had in Fairbanks, where everyone could take a break from the long winter and cabin fever?

To start things off in Anchorage, in 1935, Vern Johnson and his friends put together a community dance. It was well received.

And that was the beginning of the Anchorage Fur Rendezvous.

The following year, in 1936, Johnson put together the Winter Sports Tournament, a 3-day event held February 15, 16 and 17. Events included a children's dog sled race, a skiing contest, a hockey game, and a parade right down 4th Avenue. There was also a dance and a bone fire at what is now called the Park Strip.

Later, the name of the event was changed to the Fur Rendezvous, and it still takes place every February in Anchorage.
Today, Vern Johnson is considered the father of the Fur Rendezvous.

Remember When?

KENI-TV Fur Rondy Coverage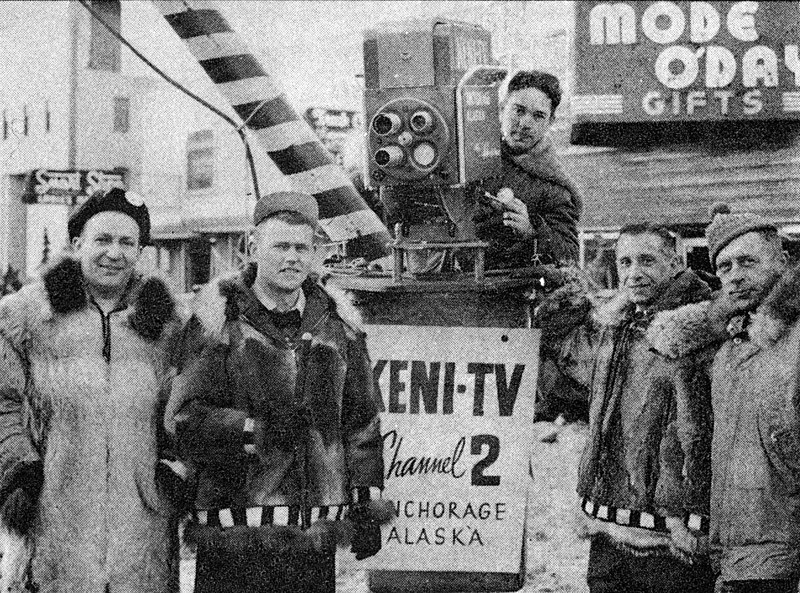 Left to right are KENI General Manager Al Bramstedt, News Anchor Ty Clark, Camera Operator Jim Balog, Bill Stewart and Host Orville Lake.

For many years, KENI-TV (now KTUU) televised the Fur Rendezvous World Championship Sled Dog Races.
You could go into town to take in the Rondy, then head home to warm up while you watched the races on TV and cheered for your favorite musher.

Remember the
KENI-TV Rondy Sled Dog Race theme song?
It was De Selvera's "Sleigh-Ride in Alaska" (1959).
Enjoy this vocal version and remember when.
Just click on the following link

What Are Your Anchorage Fur Rendezvous Memories?
Share your memories!
Enjoy these Anchorage Fur Rendezvous Memories
Click below to see stories from other visitors to this page...

Anchorage Fur Rendezvous Memories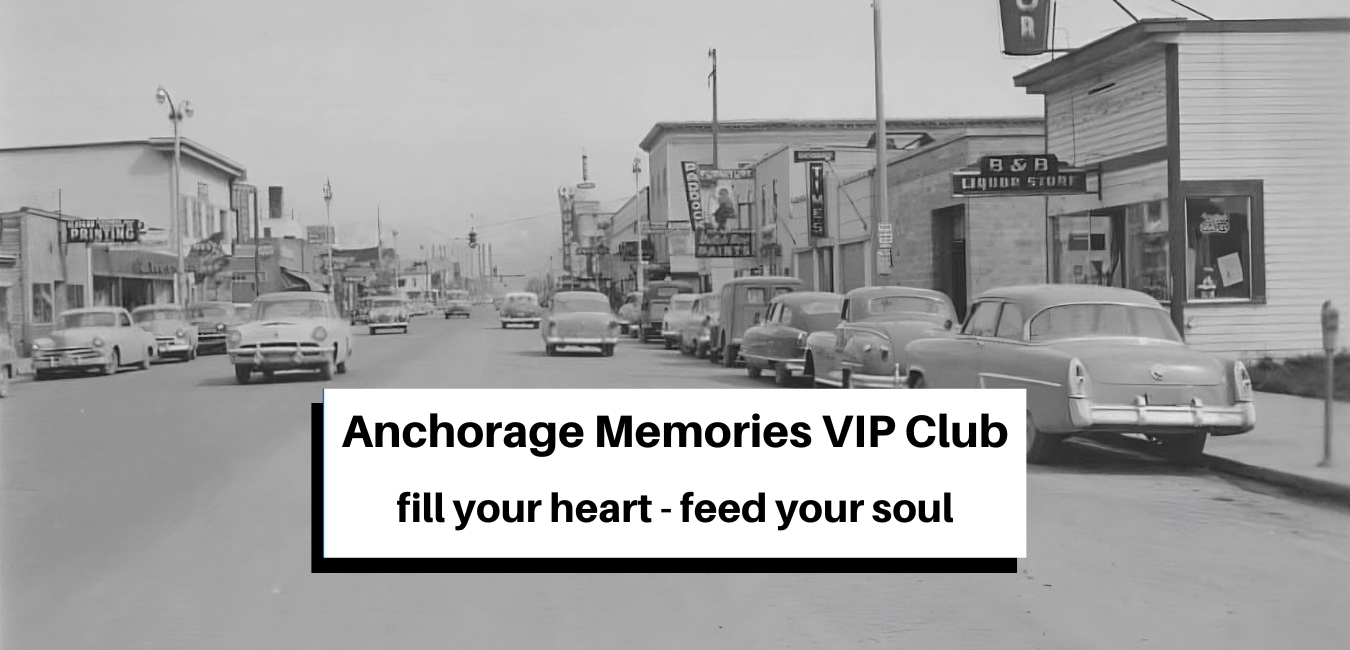 From the Anchorage Memories VIP Club:
Remember exciting events like the Blanket Toss, the Rondy Parade, Sled Dog Races, Carnival Rides, Special Movies at the 4th Avenue Theatre, and so much more.
What are your memories of Anchorage's Fur Rendezvous winter carnival?
In 1965, Michael Landon who played "Little Joe" on the hit TV series Bonanza, was the Grand Marshal of the Fur Rendezvous parade.
Fur Rondy

1946
Photo by Gene Gough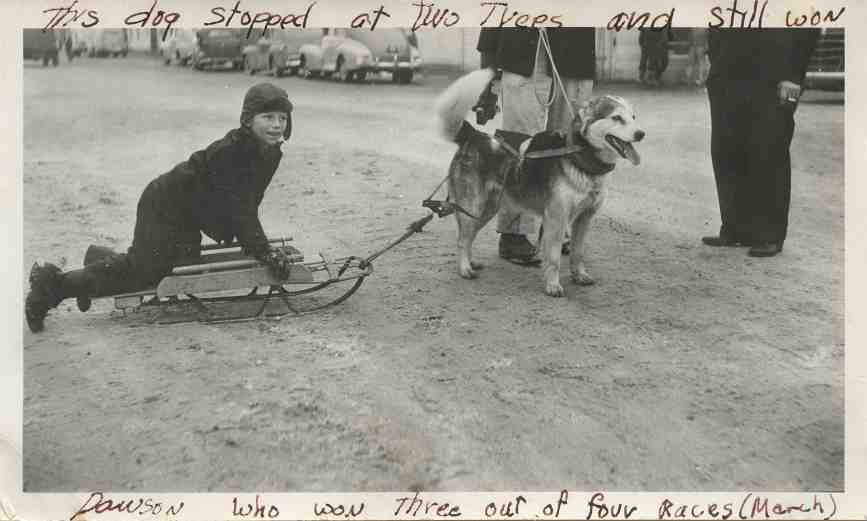 Rondy fun for all ages
Notice in the picture above, that the idea of kids and sled dogs being a part of the winter festival was still going strong in 1946.

The following 3 minute

1959 Anchorage

Anchorage Fur Rendezvous Film

has no sound

Are you, your family

or friends in this film?

The name "Fur Rendezvous" came into being when fur trappers got together to sell their furs and kick up a little snow as a way to shake off the long winter in early Anchorage.
In Alaska, everyone knows that late February is time for Rondy fun.
Now, people from all over the world converge in Anchorage, Alaska for events like:
World Championship Sled Dog Races
And much more fun, food, and games

1964 Rondy Parade

and Sled Dog Race

This color super 8mm film

has no sound

Do you know anyone

in this film?



Anchorage Fur Rendezvous Memories
Have you ever ridden a Ferris Wheel in the winter when it was below zero outside?
That's just one of the fun, and unique attractions Mike and Mary, the authors of Anchorage Memories.com remember enjoying.
One year Mike and his brother Tom and their band "The Matadors" played to a delighted crowd on the Melodrama stage during Rondy. Great fun.

And each year, Anchorage's popular 4th Avenue Theater played a movie to compliment the Fur Rendezvous.
One year Mike and Mary remember seeing the Charlie Chaplin silent movie "The Gold Rush." Another time, the 4th Avenue played "Joniko and the Kush Ta Ka" an Alaskan movie produced in Juneau, Alaska by filmmaker, Chuck Keen.
And one year they screened a locally produced movie about an Iditarod dog sled team titled "Hot Foot to Nome."
Rondy Memories
Mike of Anchorage Memories recalls getting out of school to enjoy the Fur Rendezvous.
"When we were teenagers, mom drove me, my sister Anna and brother Tom to downtown Anchorage during the Rendezvous, gave us each some spending money and told us where she would meet us later and to enjoy our day.
We would walk around, watch the dogs getting ready to race, go to the Carnival, or maybe even see a special movie at the 4th Avenue Theatre.
The Fur Rendezvous was a fun time for everyone. And we could also stay home (and stay warm) as we watched all the excitement of the sled dog races on KENI-TV channel 2."

Remember George Attla?
The Rondy dog sled race featured mushers from all over Alaska and the world.
One local favorite was dog sled musher, George Attla. In fact, he was so popular that his life story was made into a movie.
Take a look at this clip from the movie, featuring Buffy Sainte Marie singing the title song of the George Attla movie, "Spirit of the Wind".
Click on the following link:

World War II and the

Anchorage Fur Rendezvous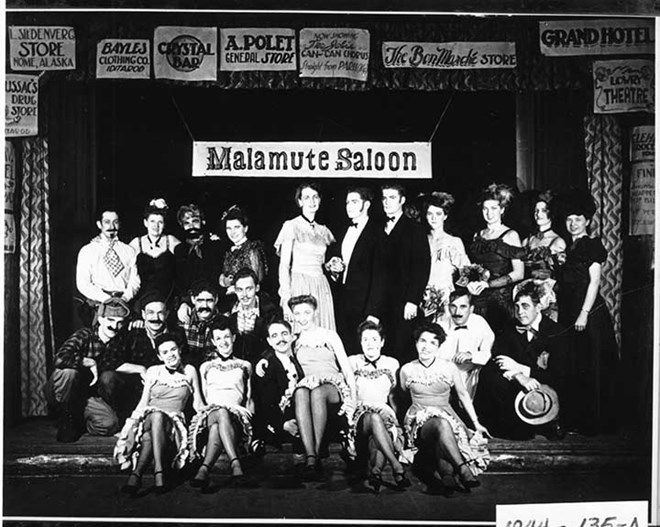 In the photo above:
Notice the advertisers listed above the show's cast.

In the 1940s, during the years of World War II, Anchorage did not have a Fur Rendezvous. And Anchorage residents were left without their favorite winter gathering.

But in 1943, Lorene Harrison (the Hat Box), who was very talented when it came to music and putting together shows, had an idea.
She decided that Anchorage still needed some fun, even if there was a war.
So, Harrison put together a show to provide the community with some homegrown entertainment.

It wasn't the Fur Rendezvous, but it had to do for the moment.
The show was, called "Bonanza Days" and it was presented at the Log Cabin USO.
Bonanza Days turned out to be a big hit and the show played to standing room only crowds.
Great Memories

In 1936, Vern Johnson and some friends had an idea for a winter gathering the community might enjoy.

In 2012, the Anchorage Fur Rendezvous Festival was selected as the number one Winter Carnival in the world, by National Geographic Traveler.
Now people from around the world come to Anchorage, Alaska each year to experience North America's number one winter carnival.
Alaska is a special place and the Fur Rendezvous is a great experience.
To learn more, visit the Greater Anchorage, Inc website.

Anchorage Memories VIP Club

"I've learned a lot about my hometown of Anchorage, and you've jogged memories of things I haven't thought about for years. I can only say YAY!"  Juanita.
BONUS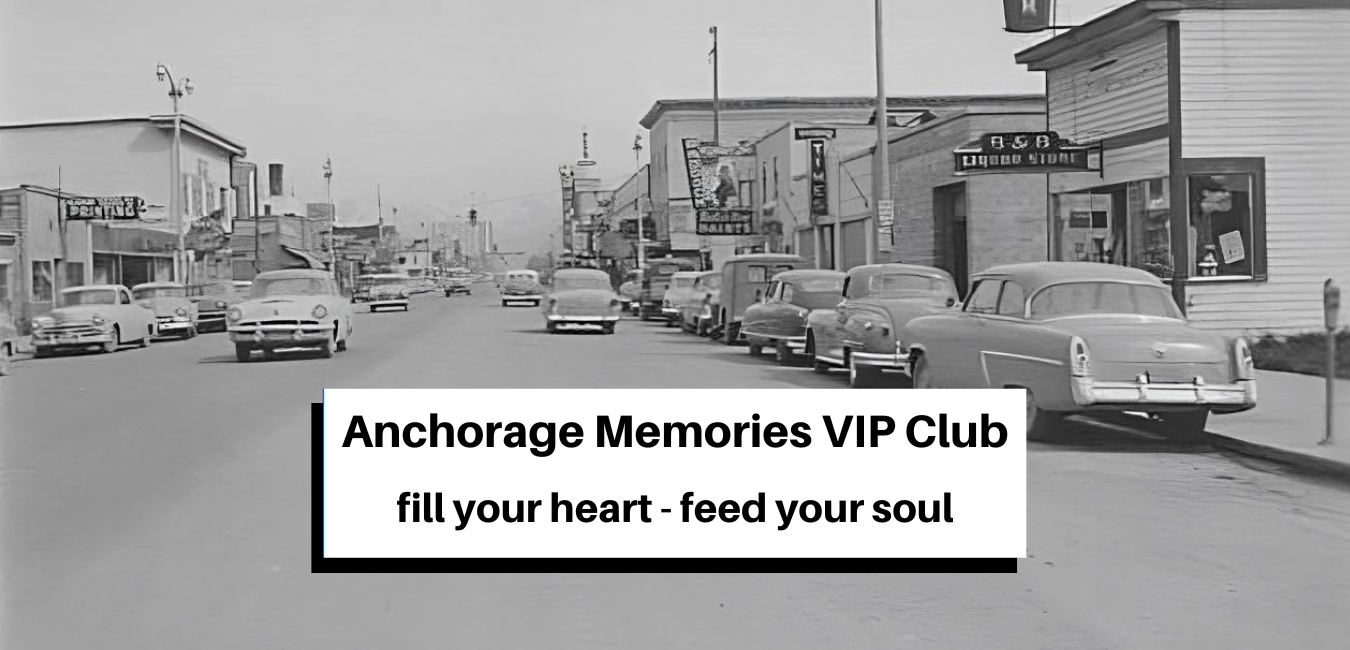 PLUS

Join your free Anchorage Memories VIP Club

A treasure chest of precious memories, delivered right to your email in-box three times each month.

Discover Alaska Facts and History
and

Meet Anchorage Pioneers

PLUS you'll receive your free Anchorage e-book when you join
Click on the following link

"I thoroughly enjoy Anchorage Memories,
it is absolutely magnificent" Robert