1964 Alaska Earthquake Pictures

These 1964 Alaska Earthquake Pictures bring you rare photos from survivors that tell the incredible story of the destruction in Anchorage, caused by the 9.2 quake that lasted 5 minutes.
>>>Hey, I like these rare pictures<<<
then let us know
by clicking the "Like" button
Thank You!
The amazing and rare pictures
you are about to see,
are of Anchorage, Alaska following the
1964 Good Friday earthquake
and were submitted by the quake survivors
or their families

See below for how to
submit your photos
Check out these
incredible stories right now

written by survivors of
1964 Earthquake Sounds
Yes, I want to hear the incredible sounds
of the Great Alaska earthquake
while I scroll down this page
and look at the startling pictures.
(click the link below right now)

The audio above was recorded by
Robert Pate of KHAR radio in Anchorage.
This was recorded during the quake on Blueberry Road
near the northeast corner of Northern Lights Blvd.

1964 Alaska

Earthquake Pictures

By Jim Zoller

The only thing left are the memories.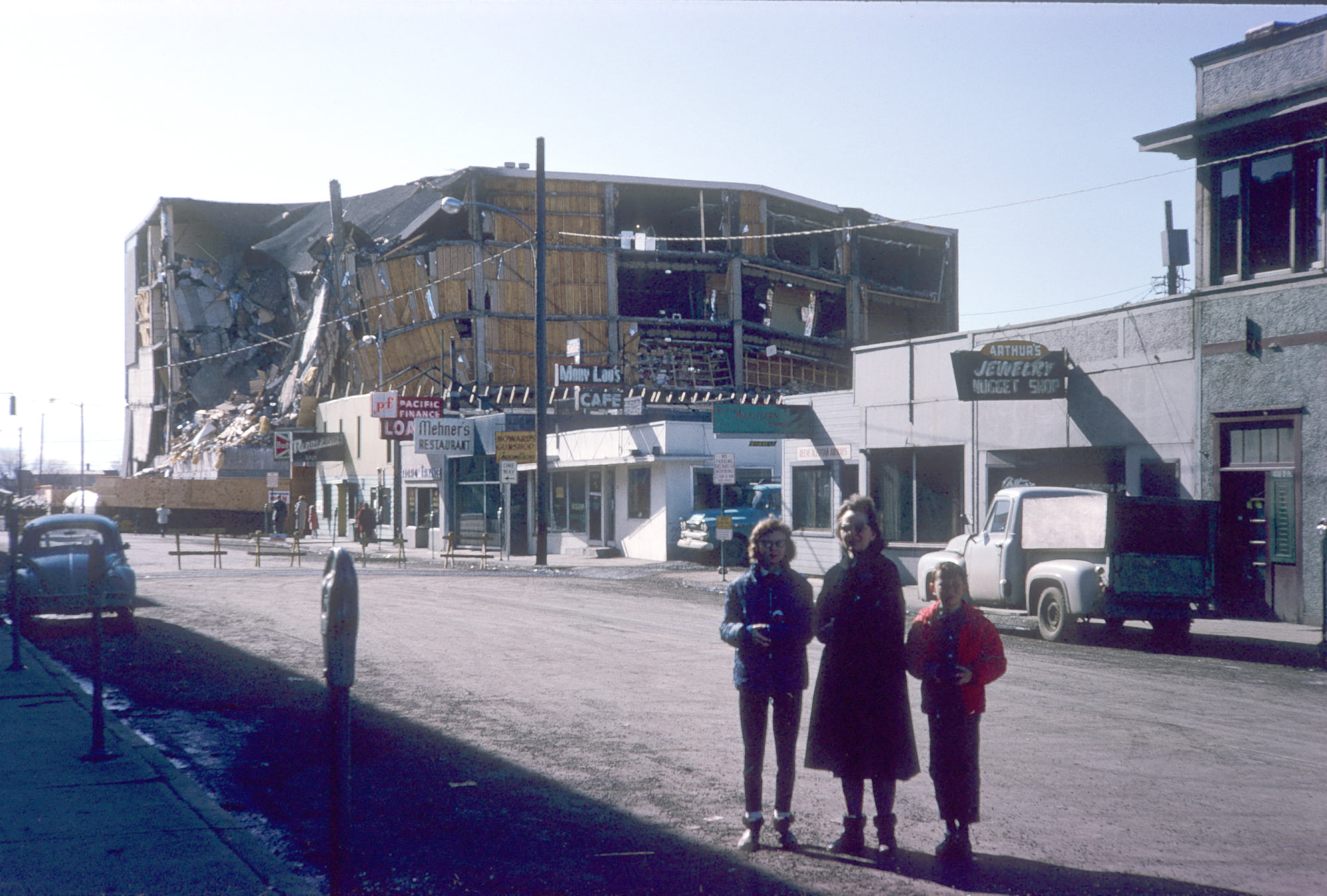 The destruction seen on the left side of the JC Penney building is a chilling reminder of the awesome power of the 9.2 quake.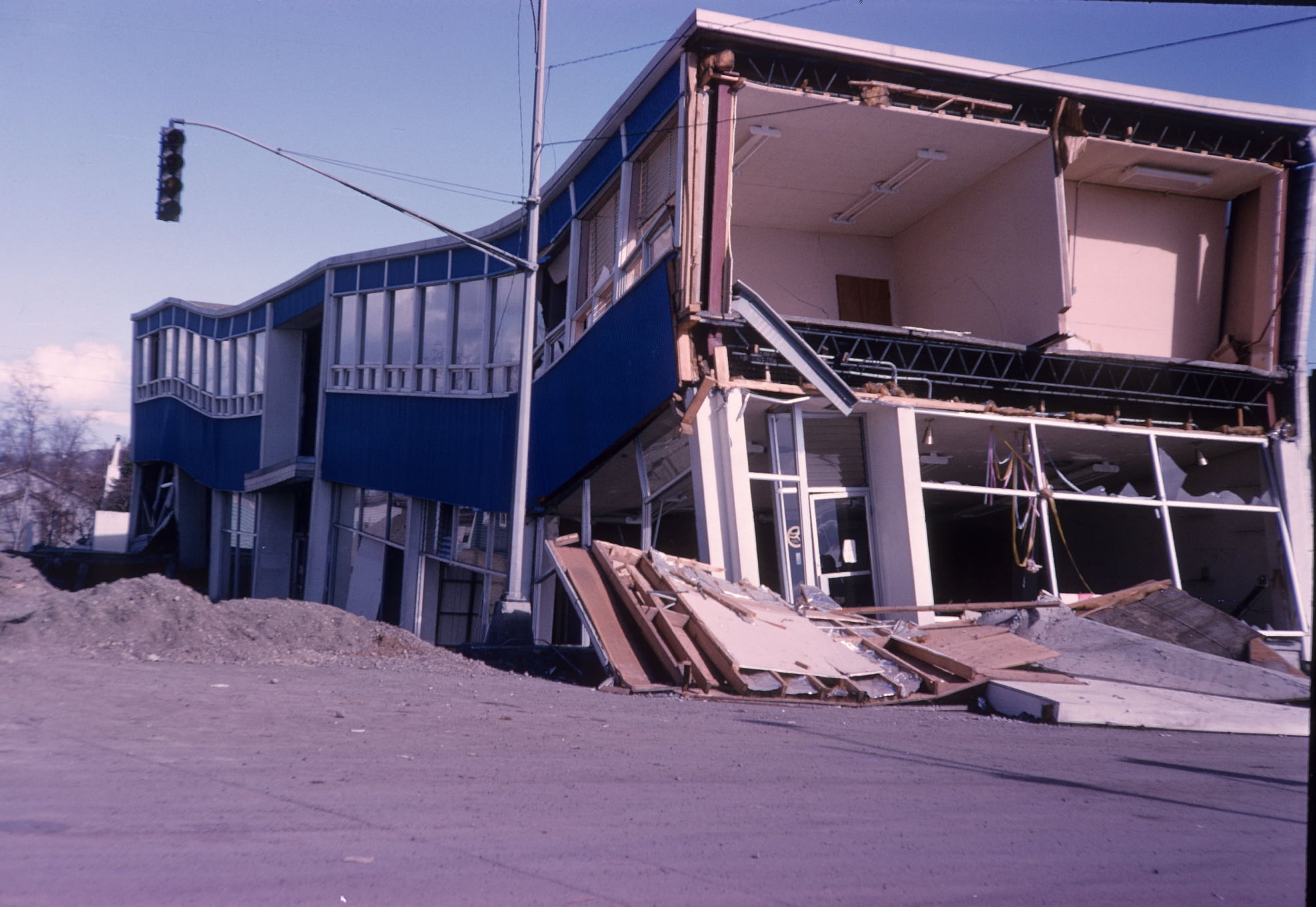 Bagoy's Florist sits empty as clean up begins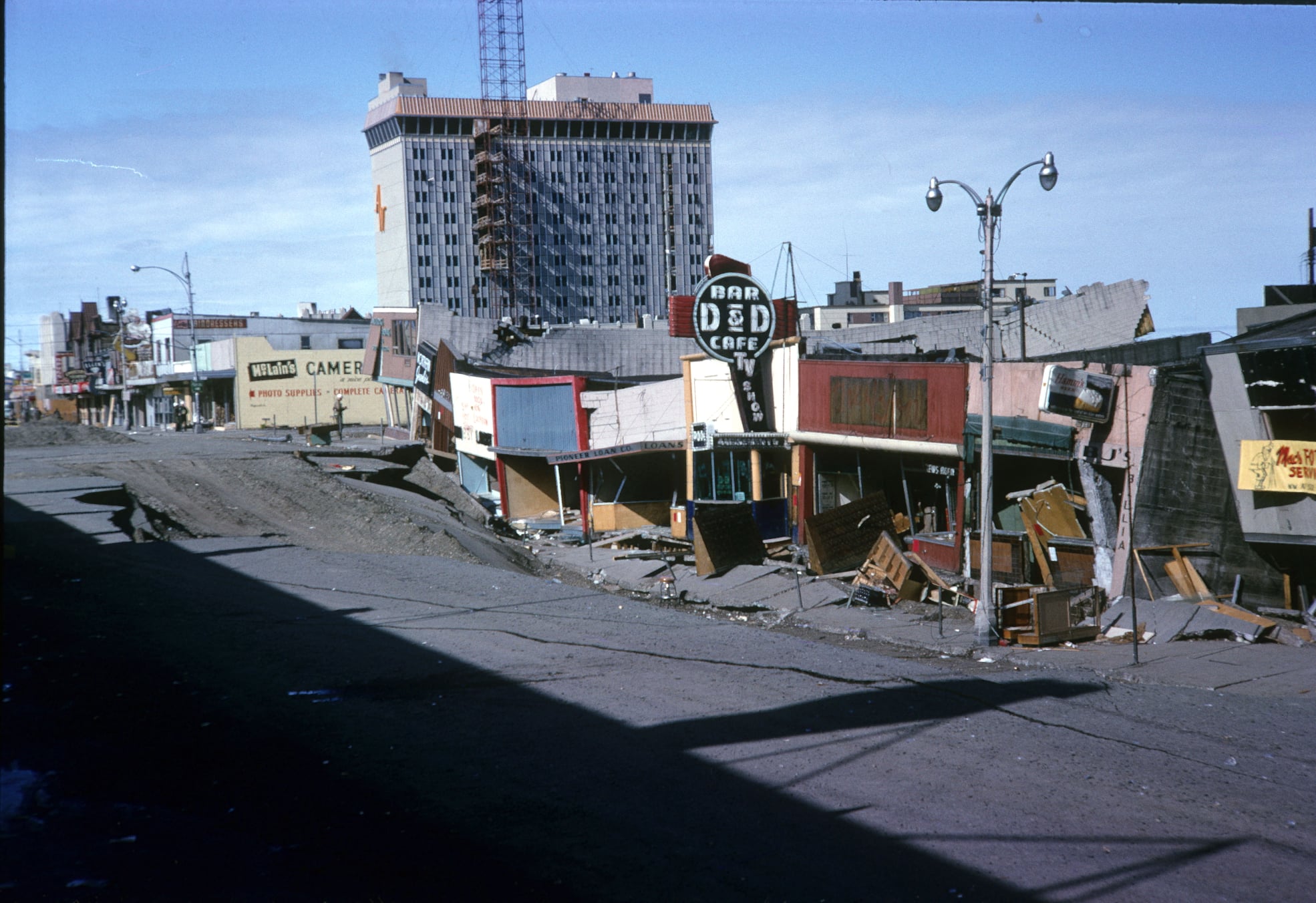 4th Avenue sunk and businesses along what was left of the sidewalk are nothing more than a jumbled mess. The D&D Bar and Cafe sign stands tall in the rubble.

1964 Alaska

Earthquake Pictures

from Donald Cutler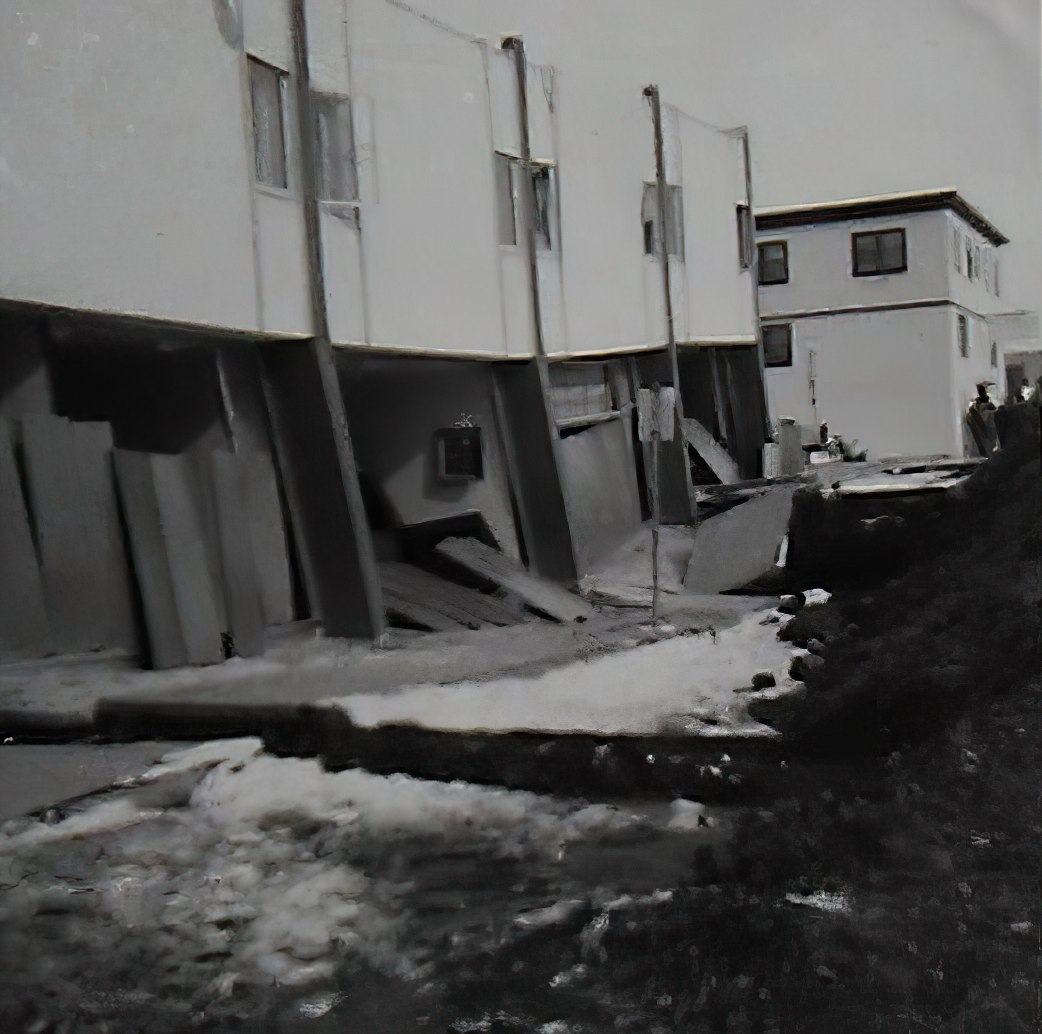 Buildings moved off their foundations up, down, left and right. Buildings were torn apart, compressed and strong I-beams were twisted into what more closely resembled red licorice candy vines.
The power of this Alaska quake was unimaginable. And those of us who experienced it, will never be able to forget the horrific memories that haunt us to this day.
These photos were taken by

Donald Cutler's mother

following the 64' quake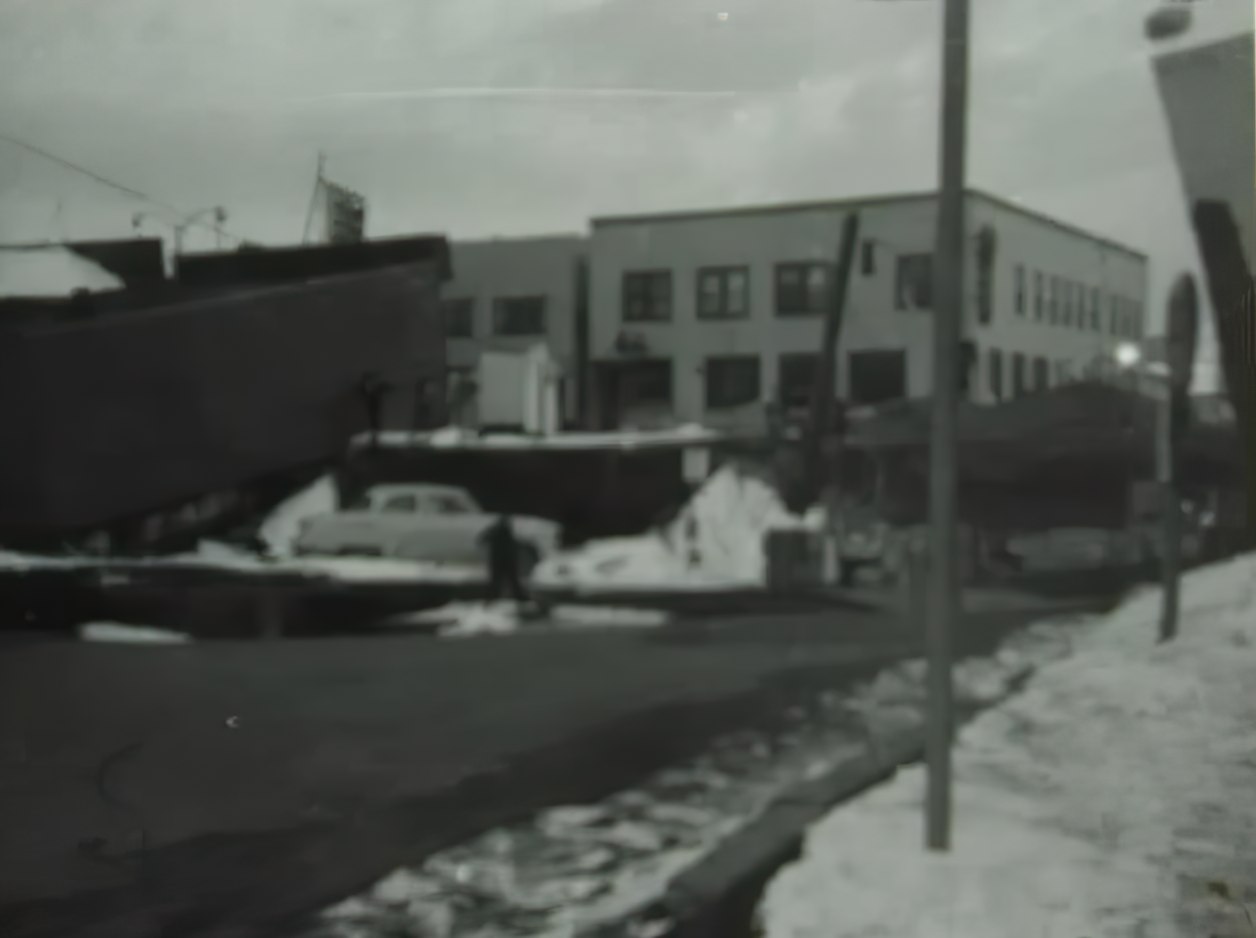 A section of town in the photo above, where a destroyed parking lot and an abandoned car form a haunting picture.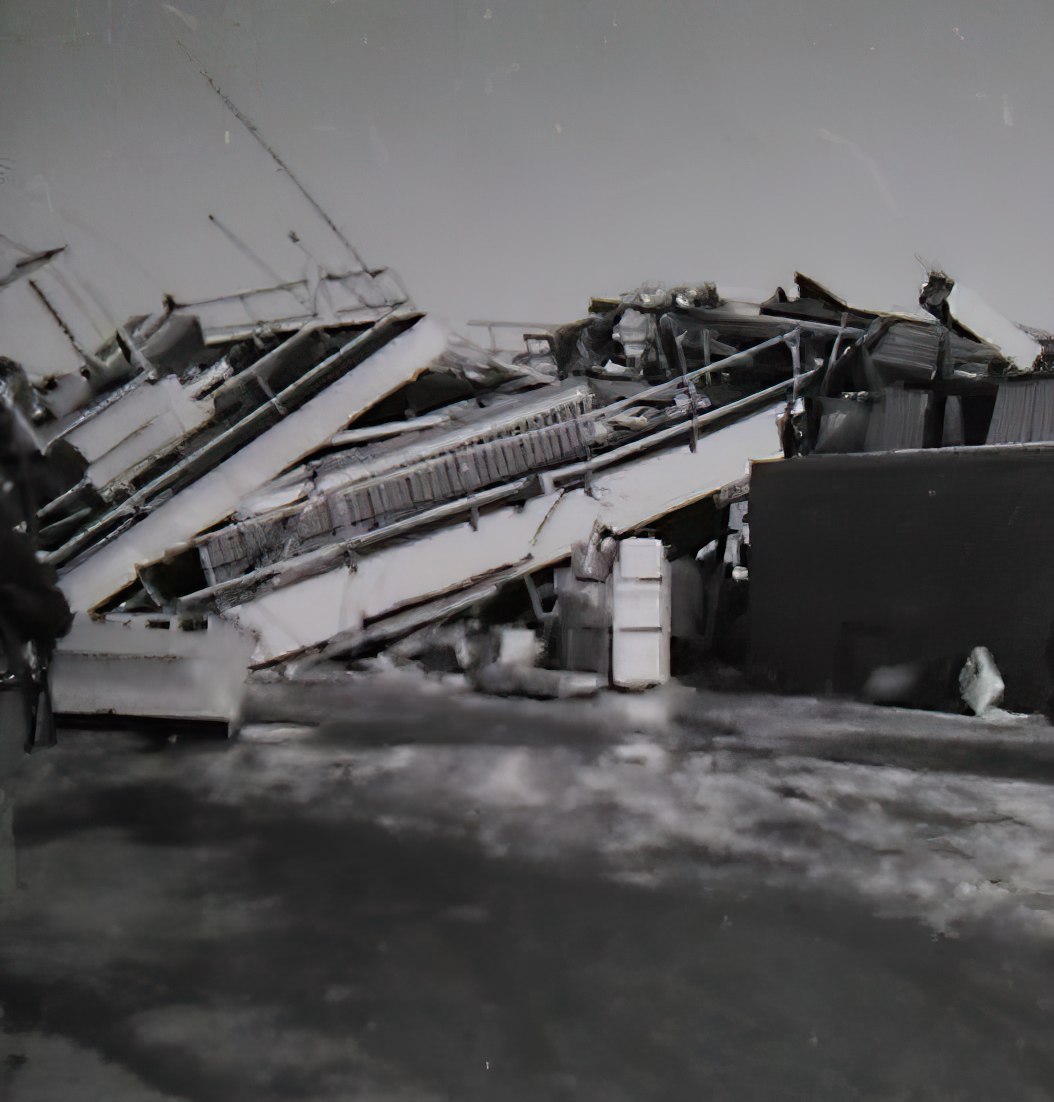 Control Tower at Anchorage International Airport collapsed.
Clean up was a tough, emotional job.
Helen Bucy

took these pictures

Club Paris and Rexall Drugs

after the earthquake

across from the JC Penney building

in downtown Anchorage, Alaska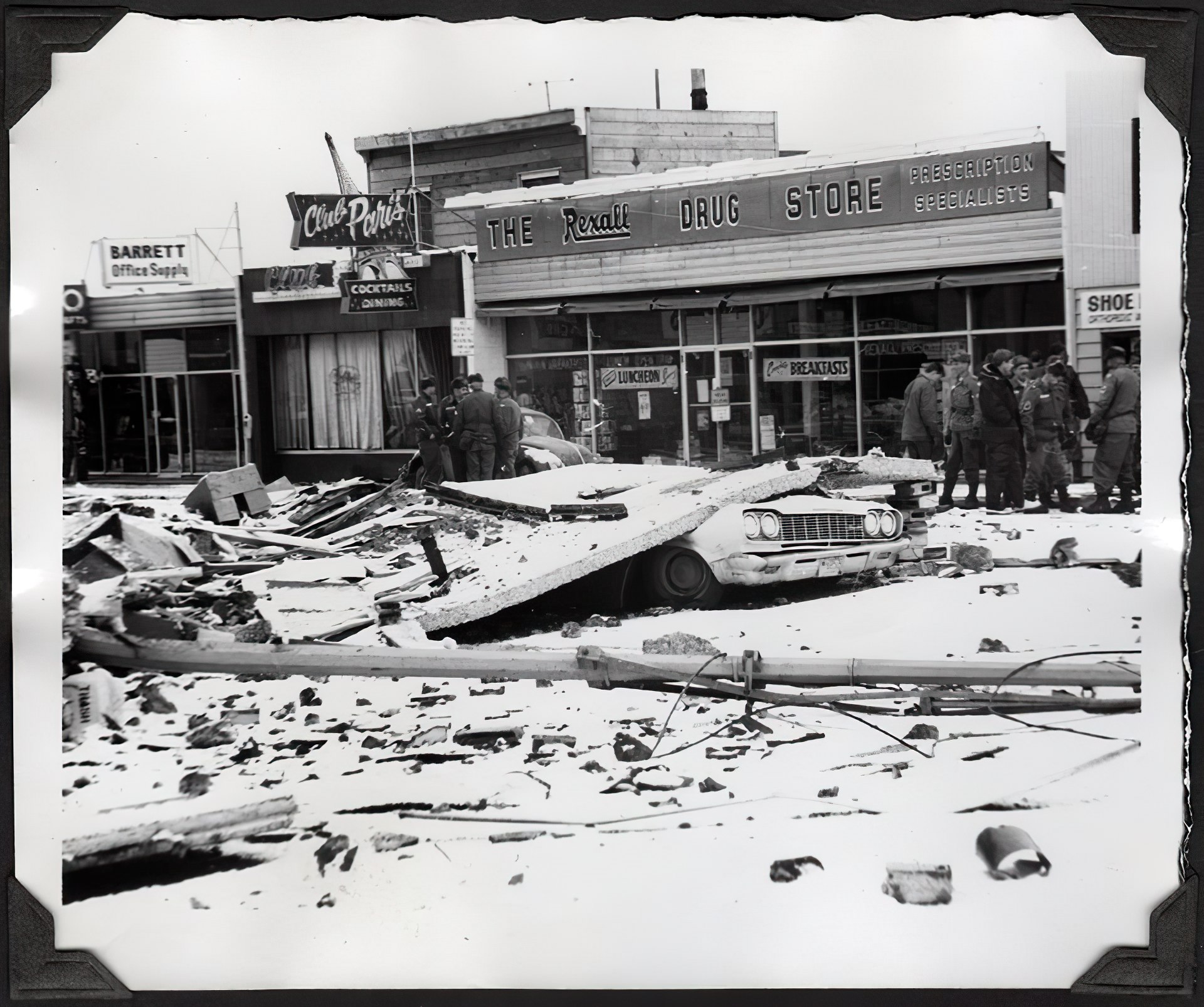 The picture above shows the huge concrete slabs that fell off the outside walls of the JC Penney building in down town anchorage, crushing cars below and trapping people inside.
And, embedded in those concrete slabs, were decorative pebbles that shook loose and showered the street, people and cars below like rock hard hail stones falling from the sky.

These black and white 1964 Alaska earthquake pictures by Helen Bucy have an almost haunting quality about them.
It seems that no matter how many pictures and videos of the earthquake we see over the years, we can still be amazed by the sheer force of nature as captured by those who experienced the destructive power of that Good Friday earthquake.
Turnagain area of Anchorage

after the 1964

Good Friday earthquake

Homes were torn from their foundations and many houses in the Anchorage area known as Turnagain, slid violently toward the cold, murky waters of Cook Inlet before coming to rest.
As you can see from these pictures, the powerful quake left a lot of these homes sitting on broken chunks of land with trees sticking out sideways. Some homes were left above the dirt, some under and some were torn apart.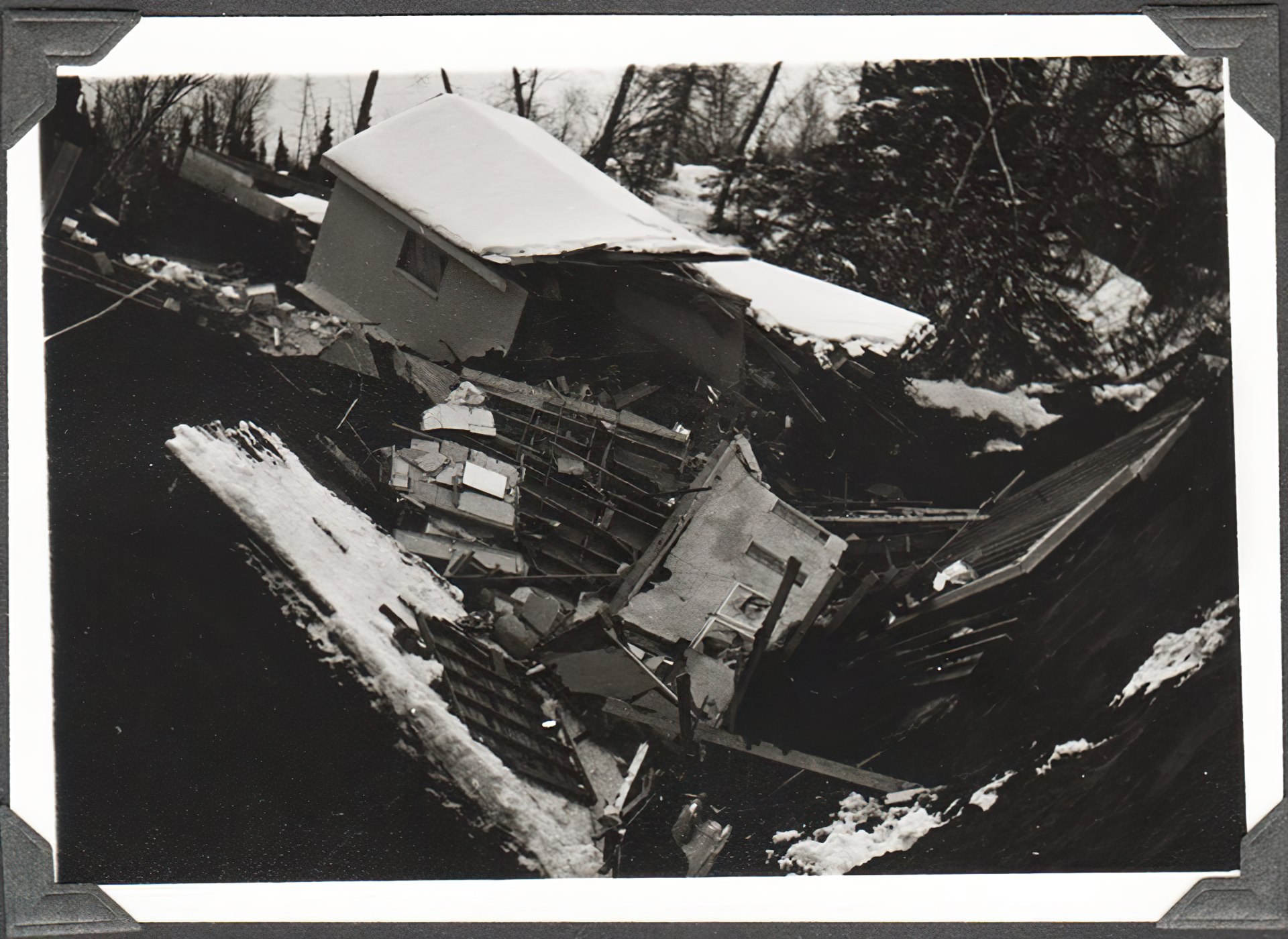 1964 Alaska earthquake pictures like the one above, remind us of just how destructive the quake was for the people of Anchorage who saw their homes torn apart. In most cases, while they were still in them.
JC Penney Building

after the quake
Photo by Ed Rosek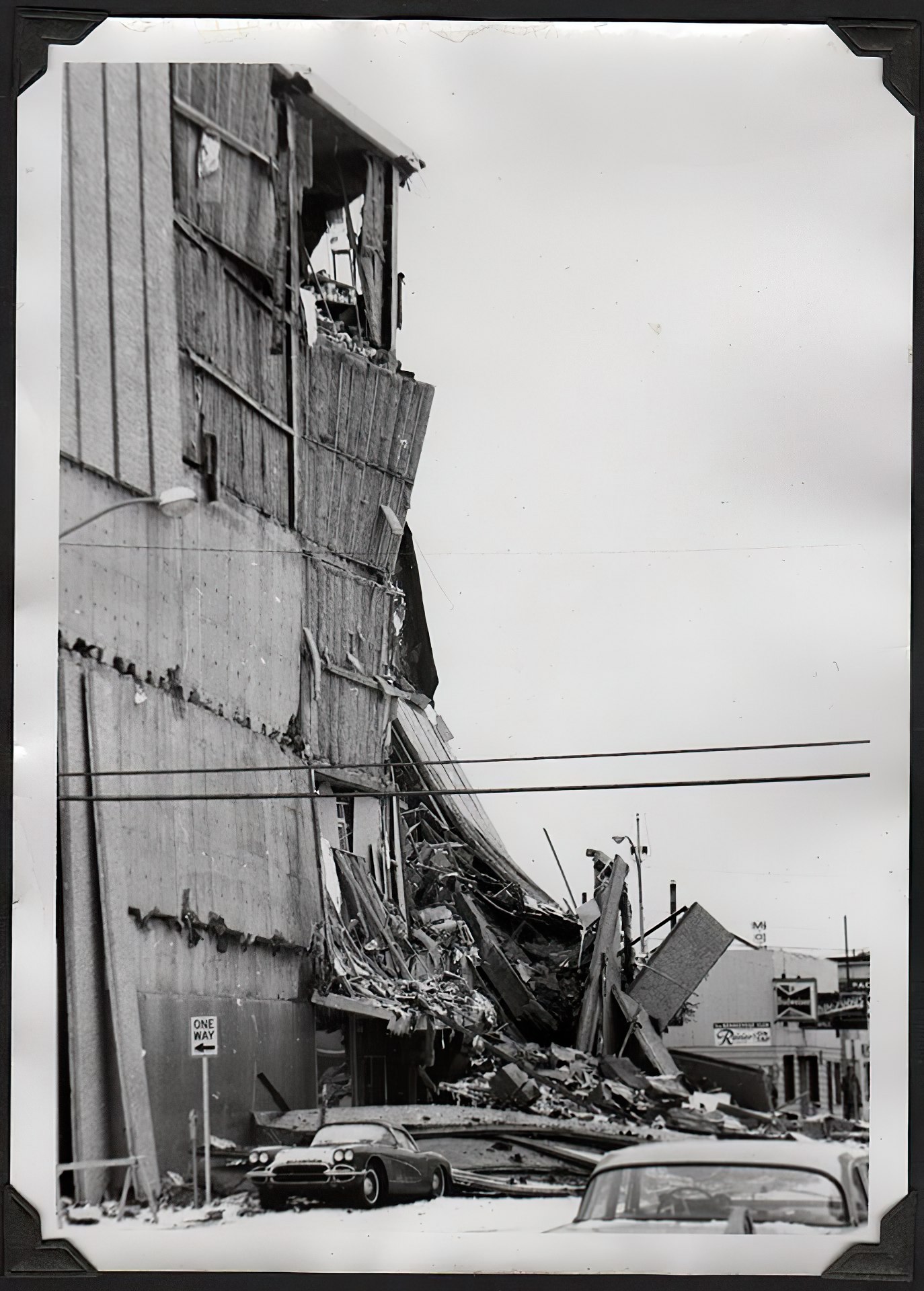 Imagine the horror of being inside, or just outside, of the building pictured above as it came crashing down on the sidewalk below.
The Book Below

The book below was written by a then teenage girl named Mary who was in the JC Penney building when the quake struck and the book is her gripping story of survival. A powerful, short, must read.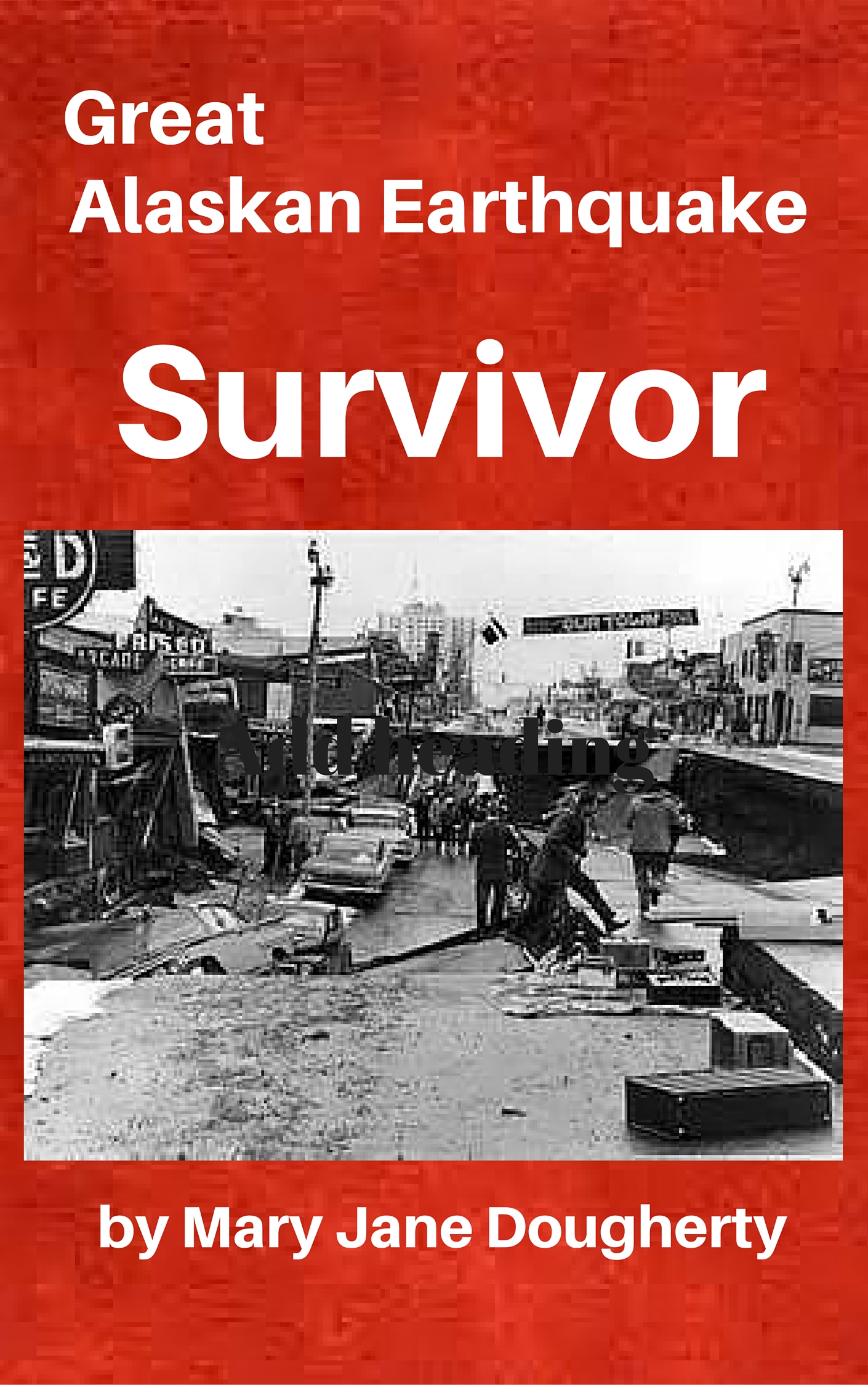 Photo by Helen Bucy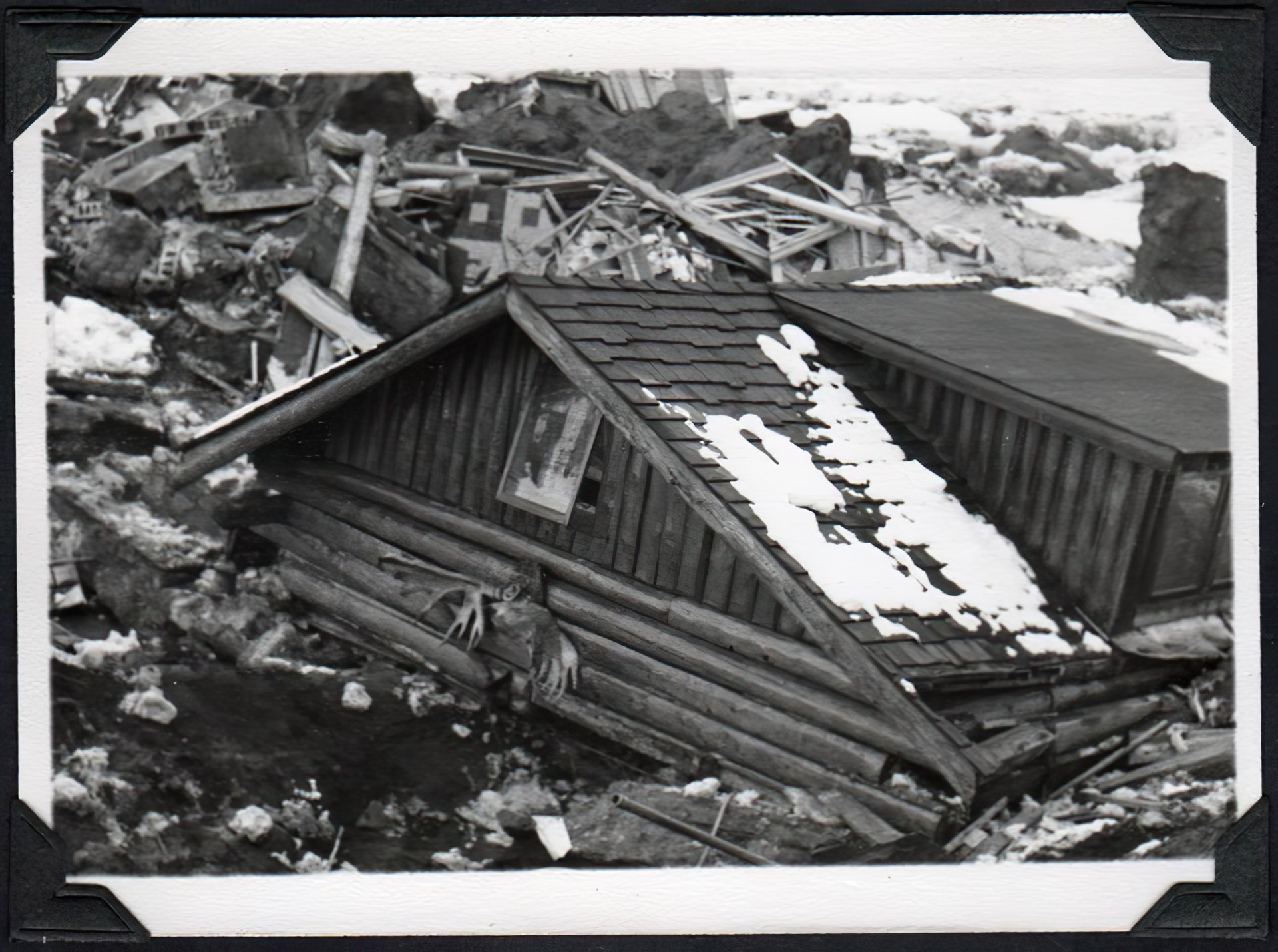 These 1964 Alaska Earthquake Pictures are a stark reminder that during this massive earthquake, there was no place safe place... not even your home.


Only the top of the log home above remained after the earth finally stopped shaking. Notice the antlers over what was once the doorway.
Can you even imagine the powerful force of nature that caused this destruction? Survivors still remember the terrifying things they saw, heard and felt during this destructive 9.2 quake.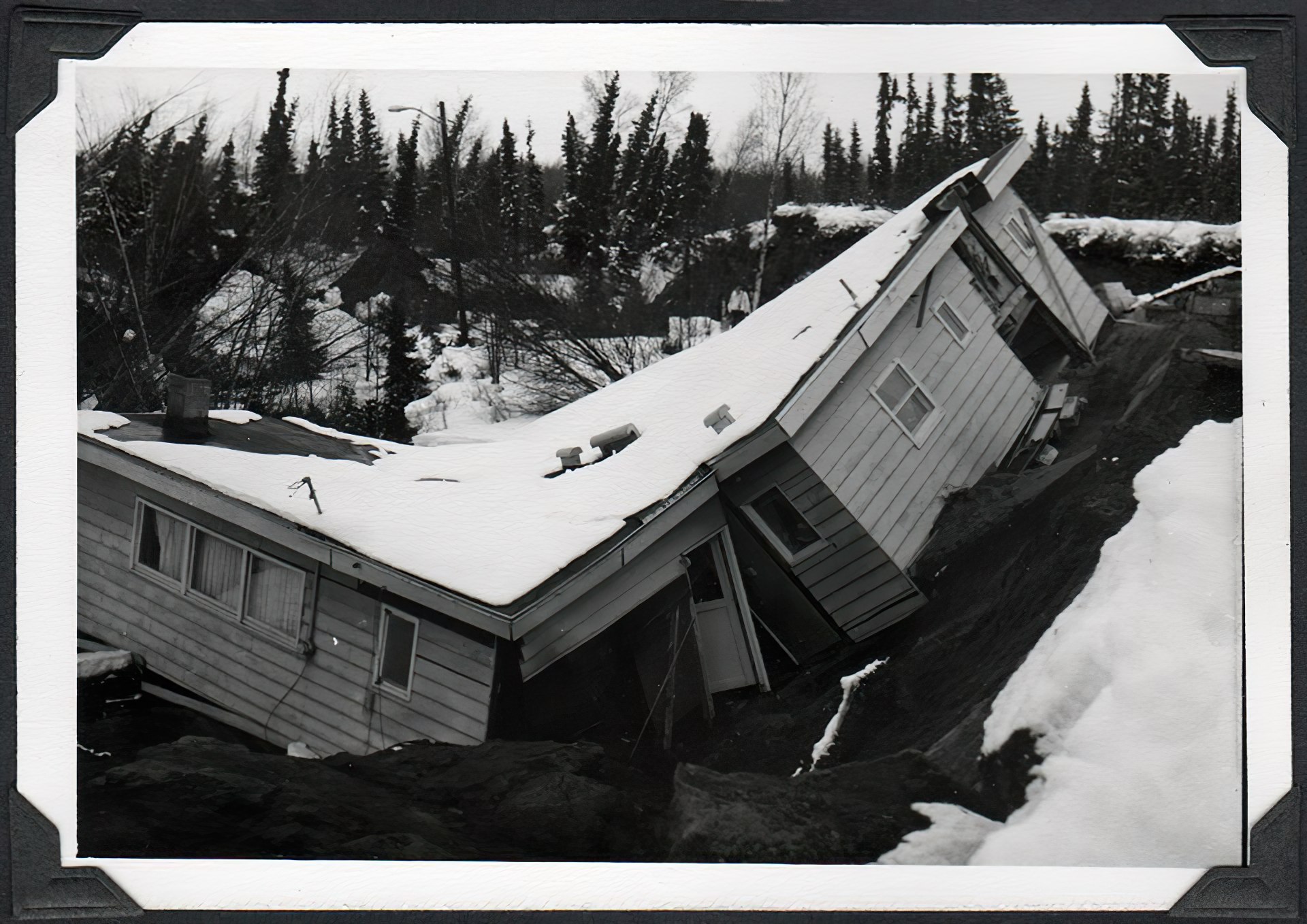 Seeing these homes gives us a closer look at what the residents of Turnagain went through.
The home above was torn in half and we can only imagine what the occupants went through as their home was being destroyed - especially if they were still inside.

Yes, I want to read the stories of the
here on Anchorage Memories
and hear from the survivors

Once two homes, during the 1964 earthquake they were smashed together. Survivors will tell you that they can never forget the incredible and terrifying sounds they heard during the destruction that was happening all around them.
Even these amazing pictures can't begin to capture what it was like to be there.

A home torn from it's foundation and drive way. All over Anchorage, the story was the same. Homes were ripped from their foundations, torn apart or smashed into large openings in the earth. Incredible destruction.
Downtown Anchorage
Photo by Starr Judkins Lane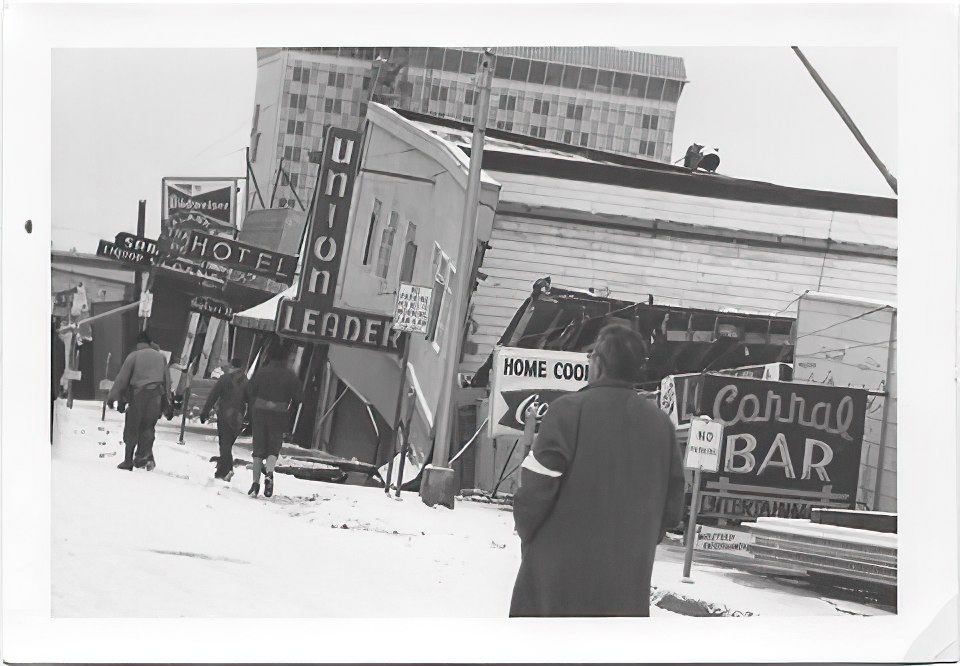 Alaskans who lived through this tragic earthquake, still remember many of the businesses that were destroyed by the powerful force of this 5 minute shaker.
As residents of Anchorage, we shopped in these businesses, had breakfast, lunch and dinner in the cafes and restaurants, and were entertained in the movie theaters. Then, in a matter of 5 minutes, they were gone. And in many cases, they were gone from our lives forever.

And these Alaska 1964 earthquake pictures are a somewhat jolting reminder.

Fourth Avenue in Anchorage

Photo by Ed Rosek
Unless you lived through this quake, it's hard to imagine the horrific impact of seeing your town destroyed and having your life turned upside down.

There were so many shops, restaurants and fun places to go window shopping that were badly damaged, or simply gone when the earth finally stopped shaking.
Most survivors will tell you that during the 1964 earthquake, it seemed like the incredible shaking would never stop. And with every aftershock, we were terrified that the monstrous quake was starting all over again.

1964 Alaska

Earthquake Pictures

by Diane S. Smith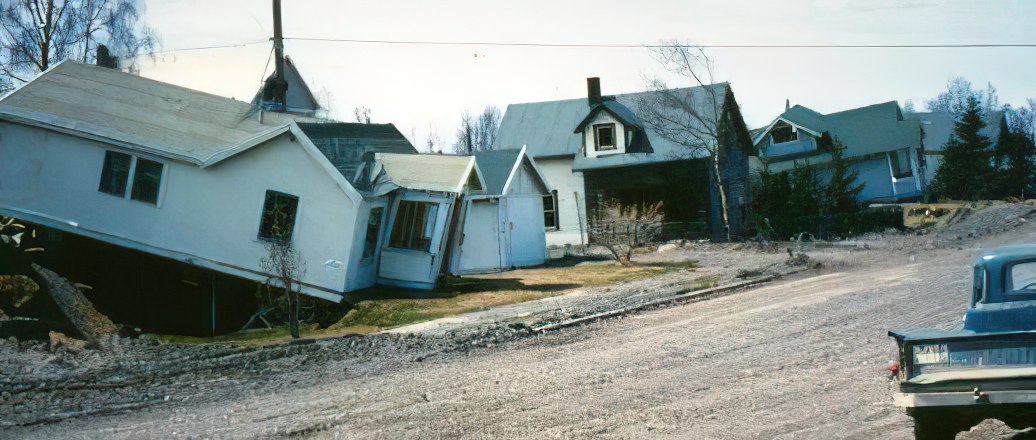 As you look at these pictures, it's hard to imagine that before the 1964 earthquake, this was an Anchorage neighborhood.
After the earth stopped shaking and we were left with those terrifying aftershocks, these homes looked more like they were just violently "dumped" near a sidewalk and left.
Amazing scenes of destroyed buildings that were once homes for residents of Anchorage.
And these Alaska 1964 earthquake pictures are a survivor's account of the incredible, destructive force generated by the 9.2 earthquake.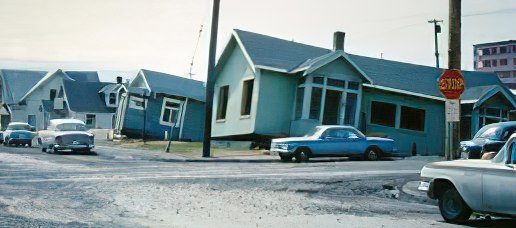 Scenes of destruction were everywhere, and so many homes were destroyed.
Four Seasons

apartment building

was still under construction

when the quake struck
Nothing remained but the elevator shaft in the building above.
1964 Alaska

Earthquake Pictures

These color pictures by Diane S. Smith of the destruction in and around Anchorage, caused by the Good Friday earthquake, are a look we don't often see.
Homes shoved from their foundations, businesses completely destroyed, lives forever changed.
Book Cache

downtown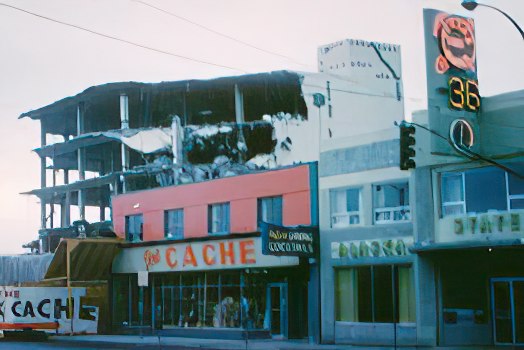 Many of our favorite stores and shops were so badly damaged, that parts of Anchorage looked like a strange ghost town.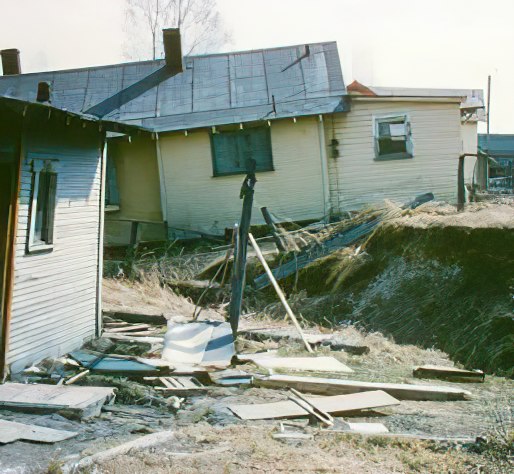 Homes and yards left shattered, a dark reminder of the quake

The following pictures

were taken by

Starr Judkins Lane

Fourth Avenue

in downtown Anchorage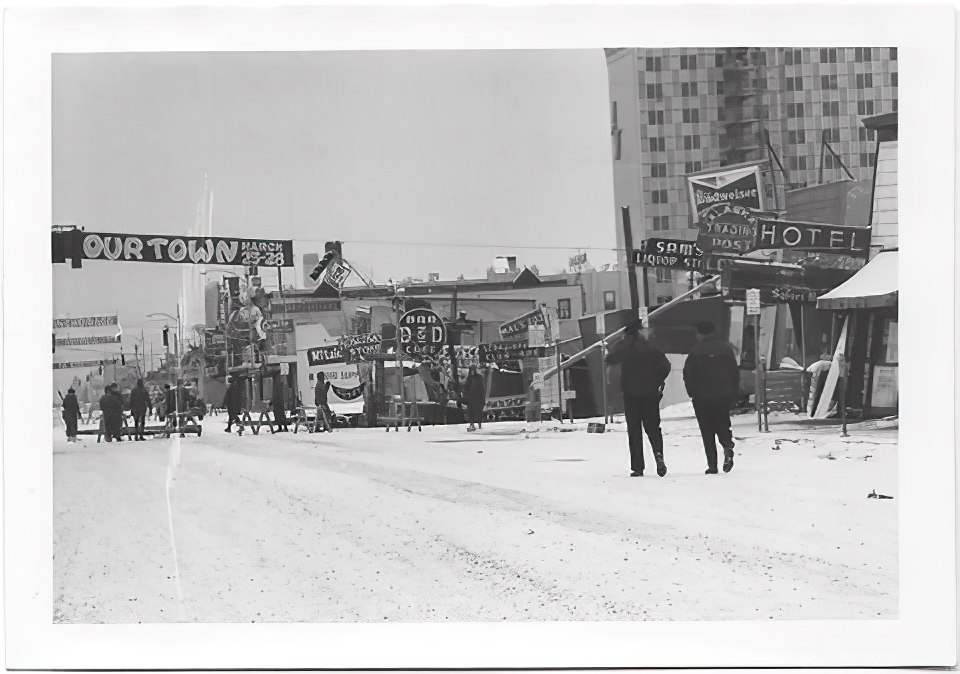 These 1964 Alaska earthquake pictures give us a different look at "Our Town". Notice the banner hanging over 4th Avenue. It was an advertisement for a local play.

The banner over 4th Avenue in Anchorage was there to promote a play called "Our Town".
After the quake, the banner became a strange reminder and even a rally cry that it was our town.
Over the years, we've seen a number of photographs taken of the damage and destruction on 4th Avenue in Anchorage following the 1964 earthquake, but these pictures by Starr Judkins Lane give us a different, oddly haunting look.
After our 5 minute earthquake had ended, those strong, hard, terrifying after shocks continued - and the survivors, and "Our Town" would never be the same.
The original

Denali Theater on 4th Avenue

the marquee

was saved and later used

at the new Spenard location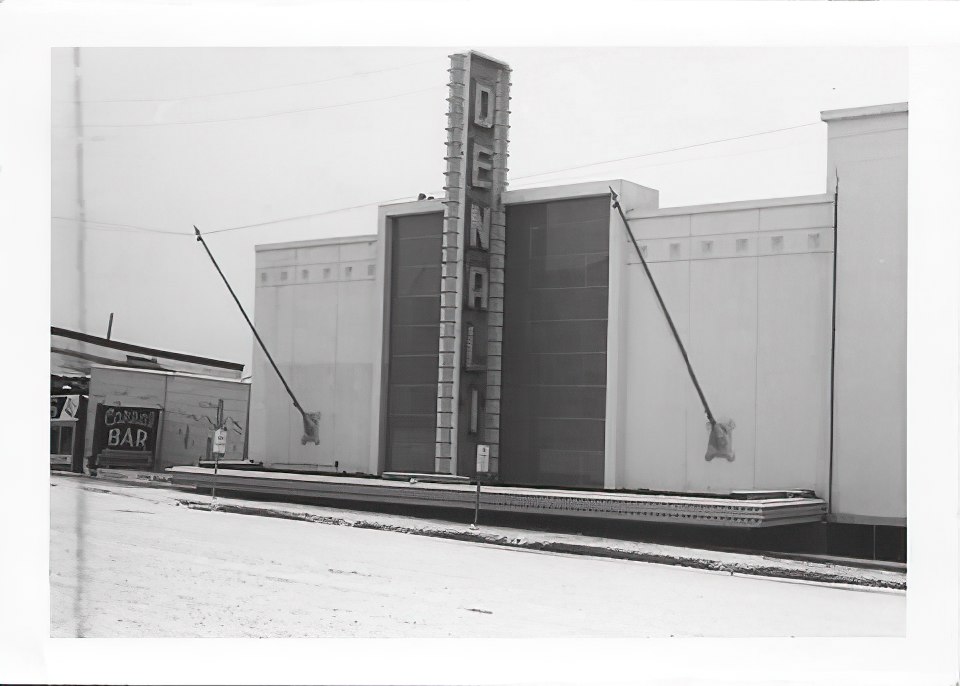 Like many buildings in certain parts of Anchorage's 4th Avenue, the Denali Theater pictured above, ended up lower than the sidewalk in front of it.
Liquefaction, the process where normally solid ground, turns into a kind of liquid when it's put under stress, caused buildings in down town Anchorage to slide off their foundations.
The resulting damage is captured in these pictures that are a stark and graphic reminder of the intense destruction experienced by those of us who are the survivors.

Fourth Avenue

Anchorage, Alaska
Long before it's Spenard location, Anchorage's Denali Theater was located in downtown Anchorage on 4th Avenue.
And as you can see from the 2 pictures above - during that powerful earthquake, the theater sunk all the way down to it's Marquee
A sad sight for those of us who have fond memories of seeing movies in that famed downtown theater.
The Denali Theater marquee was later saved and used at the theaters new location in the Anchorage community of Spenard.

Earthquake Park

Photos Courtesy of

Cindy Pendleton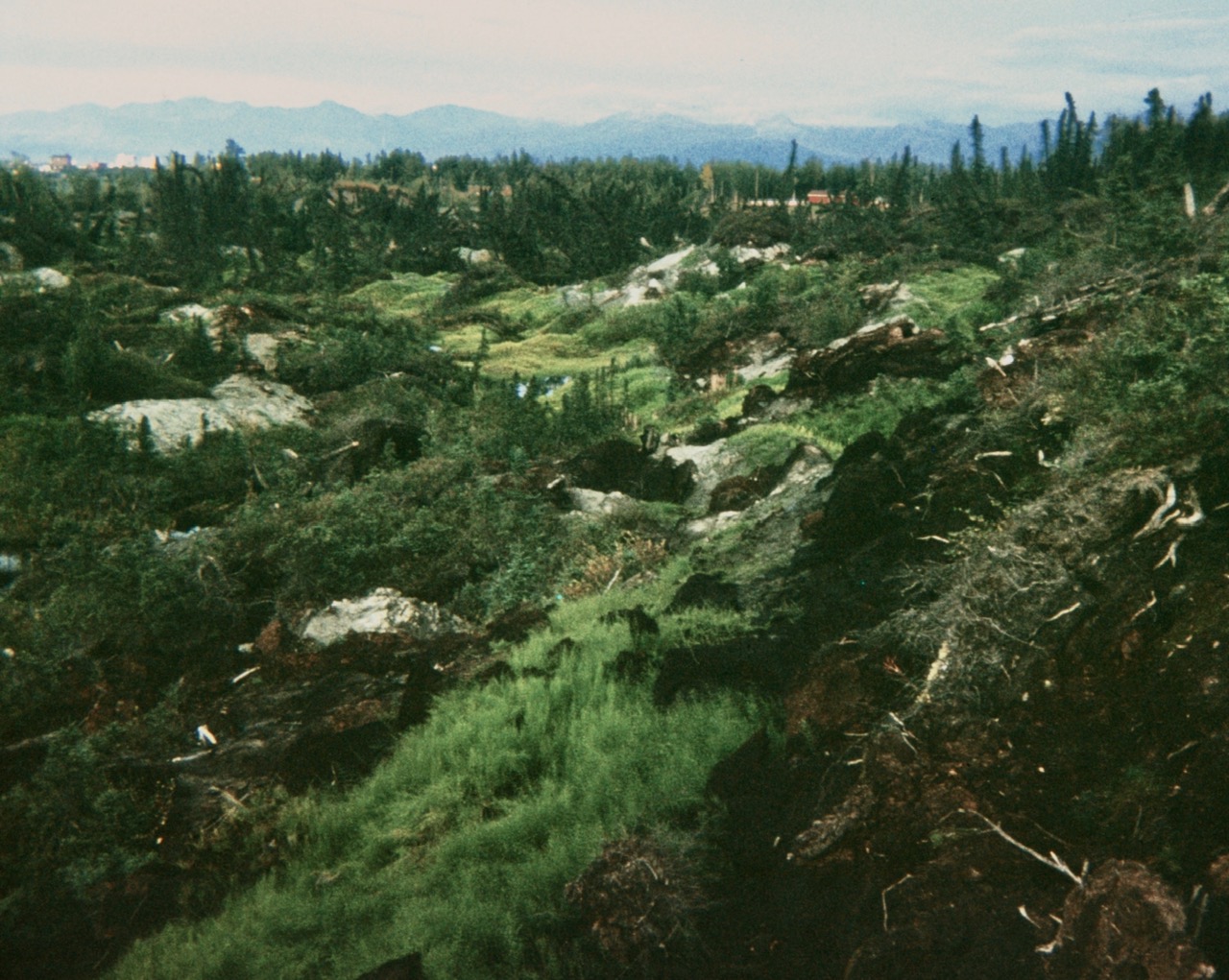 Our look at 1964 Alaska earthquake pictures would not be complete without a visit to Earthquake Park.
These pictures of Earthquake Park near the Turnagain area of Anchorage were taken in 1967.
Trees Left Growing

in All Directions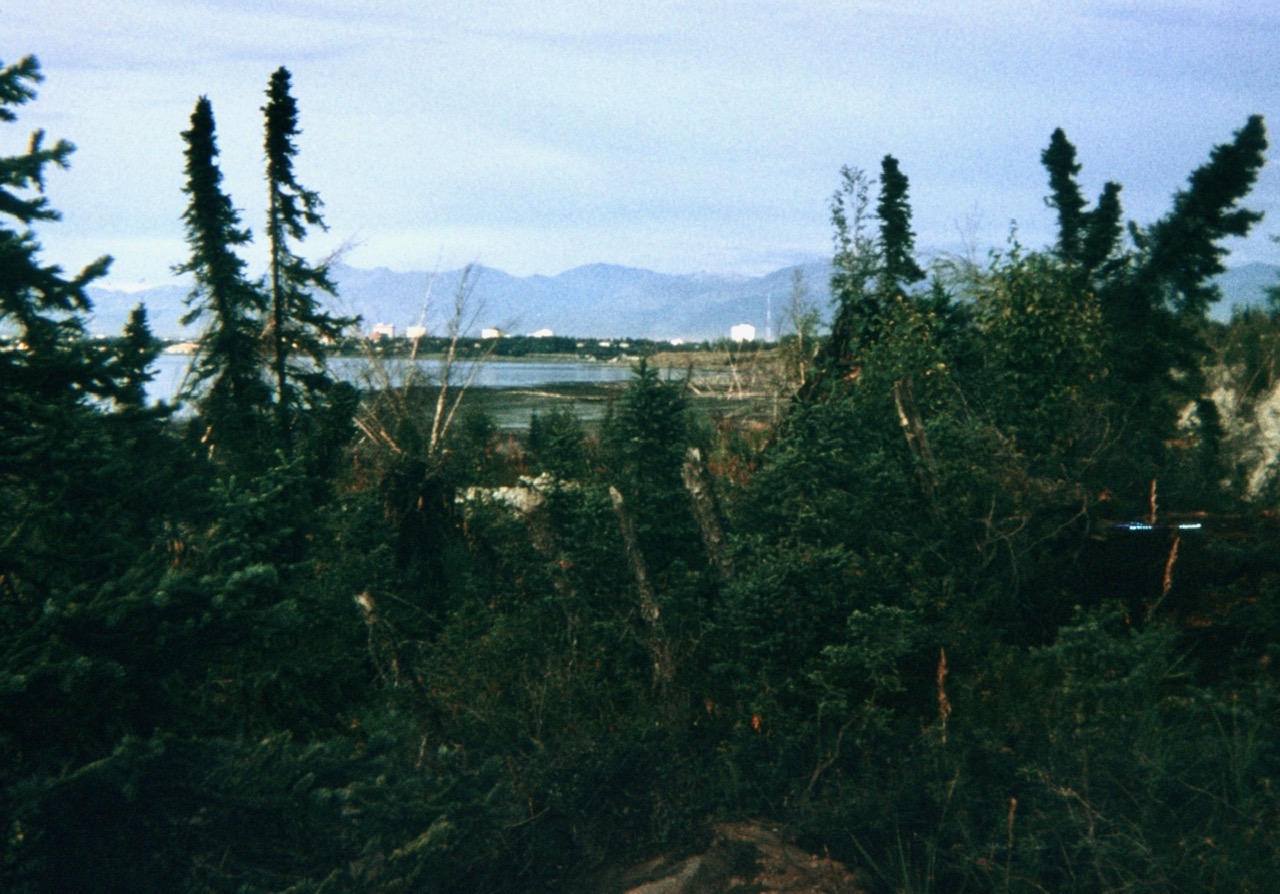 Trees in Earthquake park had been left in all kids of odd positions following the 9.2 earthquake that struck Alaska on March 27th 1964.
When Earthquake Park first opened, it was an amazing site.
Trees growing "sideways", columns of dirt pushed skyward and a jagged landscape left behind by the incredible force of nature known as the Good Friday Earthquake.

Transformed

by the Earthquake

In the picture above, you can see that the years following that day in 1964 have turned a landscape once ravaged by a violent 5 minute earthquake, into an awe-filled experience.
When it first opened, as you walked down the stairs and into Earthquake Park, it seemed like you had been transported to the strange world of another planet.
But it wasn't.
Earthquake Park is a reminder of what all of us survivors went through during an intense earthquake that would change us, and our town forever.

Check out these
Incredible stories right now
written by survivors of
How can I Submit

My Pictures?

Do you have 1964 Alaska earthquake pictures?
If you do, we would love to include them on this page. And we are happy to include your name as the photographer.
To have your pictures included on Anchorage Memories, contact us right here (it's so easy).

1964 Alaska

Earthquake Pictures

A Personal Note
Both Mary and I (Mike) of Anchorage Memories are survivors of the 64' earthquake. And these 1964 Alaska earthquake pictures so vividly portray the events of that Good Friday.
And while my experience was terrifying and one that I will never forget, Mary is blessed to have survived her horrifying ordeal in the JC Penney building in Anchorage.
For both of us, like many of you, it's sometimes hard to look at the pictures you've just seen above. But they are a necessary reminder for not only those of us who survived that never-to-be-forgotten Good Friday, but for those who did not experience this profound and powerful quake.
So, with tear filled eyes, I say this -
We hope and pray that no one ever has to experience a 9.2 earthquake and live with those horrifying memories for the rest of their lives like Mary and I and so many of you have for all these years.
Thank you
Mary and Mike
>>>Hey, I like this website<<<
then let us know
by clicking the "Like" button
thank you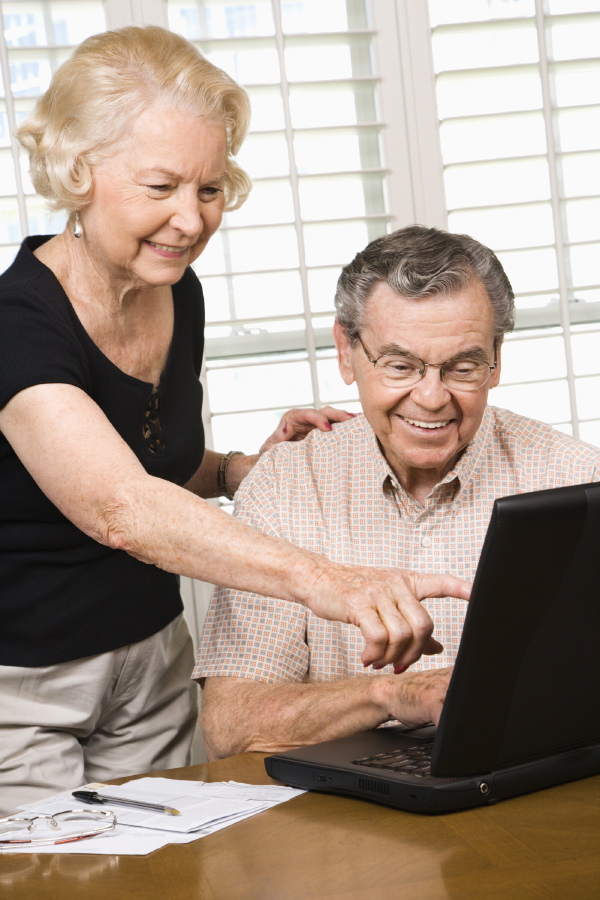 Can I Share My
Anchorage Memories?
Yes... you can share your stories and memories
about your life in Anchorage, Alaska
Show Me How to Share My Stories Right Now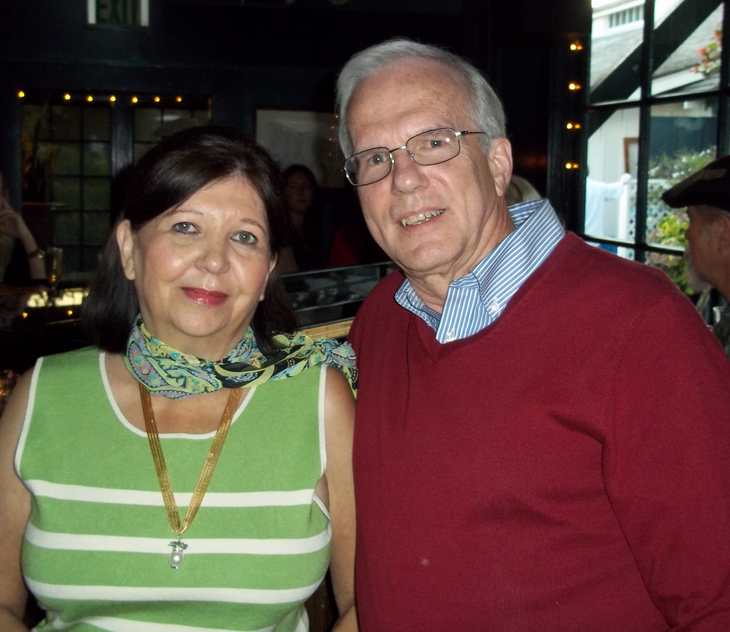 This Anchorage Memories website
created by Mike and Mary Dougherty
Copyright © 2016 - 2021 AnchorageMemories.com
All Rights Reserved
Anchorage Memories
a gathering place

fill your heart - feed your soul