Alaska Short Stories

Features true life stories, submitted by visitors to Anchorage Memories.


Alaska Short Stories -

Alaska Roads

Lead to Adventure


Hey, I like this website

then let us know
by clicking the "Like" button
Thank You!
Imagine being on the road in the picture above.
It leads to all kinds of adventure in the Great Land known as Alaska. Was your adventure in Anchorage, or was it somewhere else in this amazing state?
Share your real life Alaska short stories by submitting them here right now.

I wedged myself into my bunk and tried to stay in it. My bunk is located fore and aft on the passage way from the galley to the wheelhouse.
Sleep is out of the question.
As the boat climbs a large swell my feet hit the bottom end of the bunk and then when we cascade from the top of the wave to the bottom my head hits the top end of the bunk.
The Captain may be sleeping but I doubt it.
Skip is on watch and hanging on to the wood steering wheel, Johnny is in the galley hanging on to the table.
The marine radio is on and the U.S. Naval Air Station in Kodiak has just stated that the wind speed has reached 128 miles per hour.
This is going to be a very long night.
Yes, I want to read more of the Alaska short story "Ice the Savior"  right now.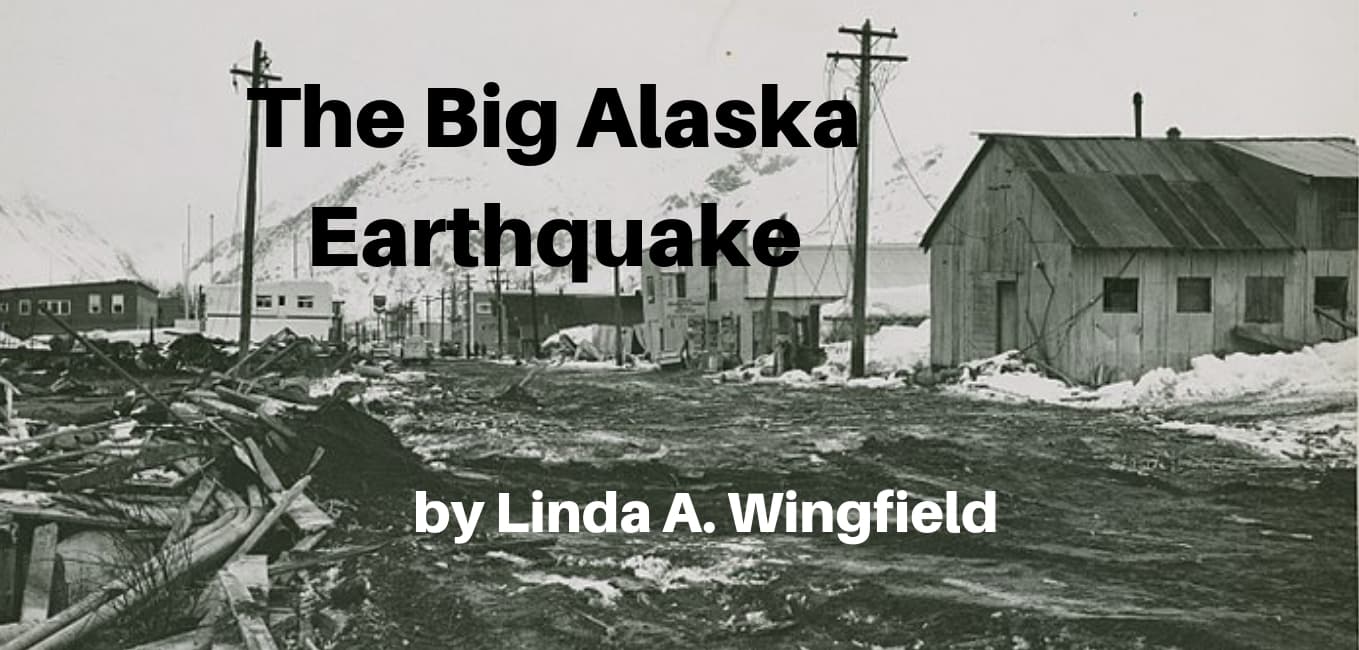 Gary tried to get through the door into the porch adjoining the kitchen. Through the kitchen windows we could see him hanging desperately onto the doorknob.
The door would swing inward, but as soon as he would try to let go and get over to us, the door would swing outward, which it was NOT designed to do! I remember screaming, "Get inside, Gary!"
At first we could see those snowbanks and our car outside of the windows, but just as Gary got inside suddenly we were plunged into blackness.
Then we could see outside again. Daddy yelled that we had been underground.
Yes, I want to read more of "The Big Alaska Earthquake"  right now.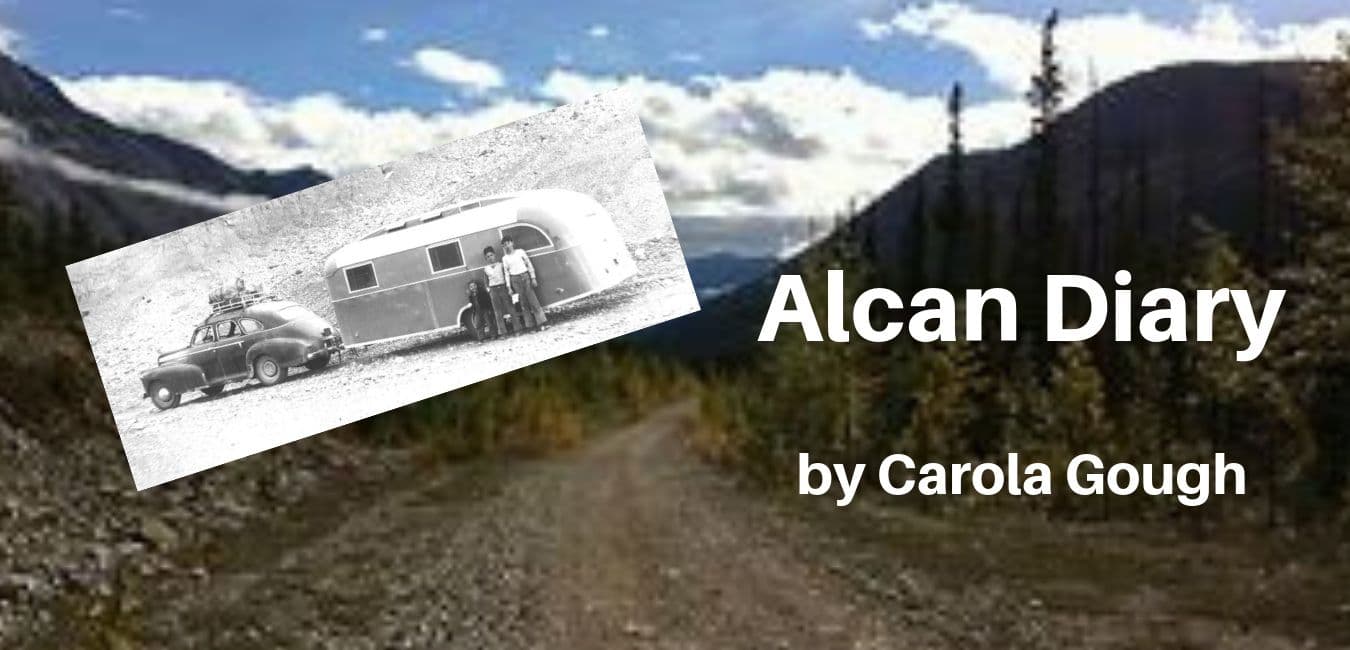 A real diary

from a trip down the Alcan highway

towing a trailer

from Anchorage, Alaska

to Spokane, Washington

June 25, 1947

Roads are so muddy that we'll be stuck if we hit much of a hill. Boys are at their solitaire again. Just had a blow out in one of our new tires. When off, found the wheel was broken. Gas at Fort Nelson and wheel welded at garage so fixed lunch while waiting.

Hope we never have another muddy hill like we just came over - skidded so - I'm still shaking.
Yes, I want to read more of this "Alcan Diary"  right now.


By the end of every day, I knew what being tired to the bone felt like. I usually wolfed down some dinner, then I would just cram myself into my bunk.

One day as we cruised in our boat, looking for schools of salmon, the skipper saw a large school and told us to set out the net. But we ended up getting our net snagged on a reef.

Even though it was the skipper's fault, he flew into a rage and since I was standing in front of him, he reached out and grabbed my shirt, pulled me closer to him and then started to punch me in my face.

I quickly pulled back my fist to defend myself. There I was, just 16 years old, out to sea with no where to go and about to get beaten up by my crazy skipper.

We stood there with our fists ready to start pounding each other, when suddenly the skipper let go of me, pushed me backward and walked away.
Yes, I want to read
"My Alaska Commercial Fishing Adventure"
right now.
We were near the nonexistent entrance of the boat harbor trying to lasso another boat when the northeastern wave hit us and drove us sideways into the southwestern wave and the combination of two forces generated a giant whirlpool.
We were now going backwards with the main engine in full forward position in this swirling vortex with about a ten degree list. The skipper told me to go down and drive that wedge back into the throttle which I did in record time. The skipper had the wheel hard over to no avail.
There was a red house on the hill just north of the city dock that had been washed from its foundation and was floating along with all the other flotsam only this house had somehow managed to enter the swirling vortex inside of the Fortress.
It started to break up and disappeared right before our eyes. We could look right down into this black hole.
Yes, I want to read this fascinating true story, 1964 Alaska Earthquake Tsunami right now
Back in the summer of 1963, author Michael R Dougherty and his brother Tom decided to try their luck ar catching sole, "under" a fish cannery in Cordova, Alaska.
I'm already smiling and ready to read "Kings of Sole" right now.

The glow of Fireball XL5 on late afternoon Anchorage, Alaska television held us in a trance.
It was the mid 1960s and my brother Tom and I sat slumped teenage style on our family living room chairs, wondering if the dinner bell would ever ring.

Yes, I want to see how these three created the Best Chili in Alaska right now.

Alaska Short Stories

The Great Land, as Alaska is often called, is a vast place with many different people, places and looks.
The beauty of nature is everywhere, and so is adventure, the hardship of living off the land, and the challenge of building a life in the last frontier.
The Alaska Short Stories featured on this page of Anchorage Memories, reflect all that this Great Land has to offer. From those who drove the "Alcan" to come to the 49th state, to people who sought adventure, or imagined building a new business, a new life or making a dream come true.
These stories will take your imagination to new places where you'll experience the Alaska that the authors lived. From the deck of a commercial fishing boat, to riding out the 1964 earthquake and everything in between.
When you read these stories, you'll see what being an Alaskan really means to the people of this special place.
These stories are short and excellent lunch time reads.
So take a few minutes or more and read these Alaska short stories and let the words of the authors transport you to a new adventure in a far off land called Alaska.
Hey, I like this website
then let us know
by clicking the "Like" button
thank you

This Anchorage Memories website
created by Mike and Mary Dougherty
Copyright © 2016 - 2020
AnchorageMemories.com
All Rights Reserved
Wonderful Anchorage Memories
that fill your heart and feed your soul