ALCAN Highway Memories

You'll love these ALCAN Highway memories told by people who have driven or traveled this incredible road. From its days as a barely two-lane dirt trail, to more recent highway years.

Let your imagination take you along.
When you read these wonderful ALCAN Highway memories, keep in mind that the road first opened around 1947.
For many years that followed, it was nothing more than a barely two lane gravel-covered dirt road that curved around all over the place.
In the summer it was dusty, and when it rained, the fine dust turned into slick, slimy mud. It was a very rough drive.

Back then, gravel constantly pelted the underside of your car. And the rocks on the road caused many flat tires.
As cars and trucks passed you on the other side, gravel flying through the air broke many headlights and cracked thousands of windshields.
In fact, replacing headlights, windshields and repairing flat tires became a reliable source of income for the few service stations along the way.

But gas stations weren't the only things that were scarce.
Grocery stores and places to eat and stop for the night were few and far between. If you were driving at night, stopped your car and turned off the motor, what you heard was total silence. Especially in the Yukon Territory where there are miles and miles of nothing but wilderness.

When you had a breakdown out in the middle of who knows where, you were totally at the mercy of others who were driving the road. Fortunately, drivers would always stop to offer assistance.
In the winter, the highway presented different problems. Ice and snow covered the road, and driving conditions and cold temperatures were dangerous.
In the stories that follow, you get to ride along and experience the fascinating memories of driving the road back in the day. Enjoy.

Tell Us Your ALCAN Highway Experiences
Everyone is waiting for you to share your stories!
Check out these ALCAN Highway Memories
Click below to see stories from other visitors to this page...

On the Road

1947
photo courtesy of Gene Gough


The Gough family on the Highway
You can read about the Gough family's 1947 trip
In a diary kept by Carola Gough. A must-read.

Read her "ALCAN Highway Diary" right now

The Flat Tire Problem

Circa 1954
Photo below courtesy of Dorothy Fry

Flat tires were common in the early days
In the Picture:
Dorothy Fry (little girl), David (brother) and Roy (dad)

If you traveled the ALCAN in those days when most of the highway was gravel, you know first hand that flat tires were a real problem for travelers.
In some stories on this page, you'll read accounts where it wasn't just one flat tire, but multiple flats at the same time. And when that happened, travelers relied on the kindness of other's to help them out.
Back in the day, if you were driving the Alaska Canadian Highway, it was common courtesy to pull over when you say another vehicle stopped on the side of the road.

ALCAN Highway Memories

the early days

Photos below courtesy of Erik Park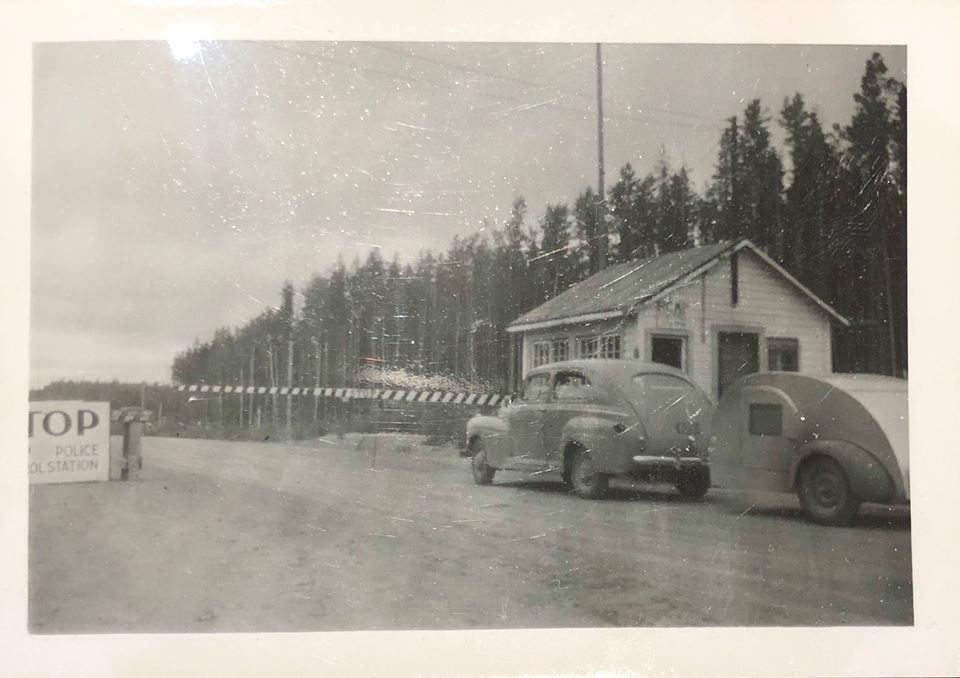 A Check Point along the highway
Erik's mom traveled the ALCAN Highway with her family in 1947 from Boulder, Colorado, and the next year she graduated from Anchorage High School.

Taking a welcome break along the rough road
1950s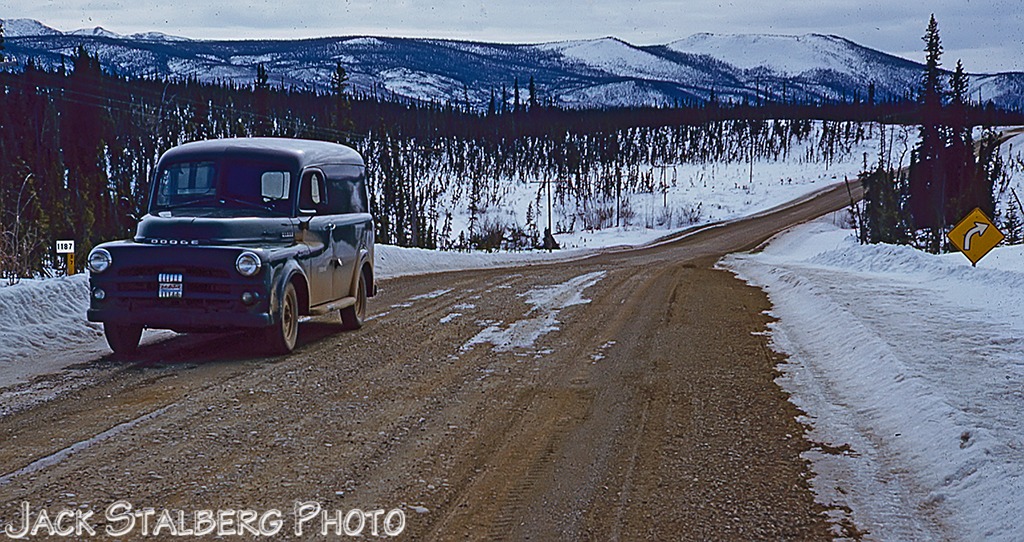 The photo above by Jack Stalberg shows the barely two lane road on a cold day.

1950s

In this Jack Stalberg photo, the signs read that you are entering the Yukon Territory and that it's over 300 miles to Whitehorse.

1951

Photo below, courtesy of Nick Daggart
Winter time on the highway
Just look at the early day travelers in the photos above.
Can you imagine?
But the difficulties and trials, encountered during the road's early days, did not keep those pilgrims from their goal of reaching Alaska.
What are your memories?
Photo Below Courtesy of Marci Peterson
(Year Unknown)
Marci Peterson challenging the winter highway
Watson Lake Sign Post Forest

in the Yukon Territory
A fun stop along the way
Thousands and thousands of travelers have stopped to rest at the Watson Lake "Sign Post Forest" and many have contributed to this very different place by telling their ALCAN Highway stories with the signs they leave behind.
If you really take the time to look, you'll spot signs and license plates from all over the world. Many of the signs look as if they were "removed" from their original location somewhere else in the world and relocated to the Sign Post Forest.
ALCAN Highway Memories
Today, the highway is more like a very long Sunday drive. It's paved and there are many places where you can pull over, get gas for your car, breakfast, lunch, or dinner and stay for the night.
When you drive the highway today, try to imagine what it was like when it was just a narrow, barely two lane, gravel-covered dirt road. Then try to imagine how difficult it was for the many thousands who drove the highway back in the day.
Adults, who as children, took the journey with their parents back in the day, still recall the remarkable road trip and have plenty of interesting stories to tell.

What are your ALCAN Highway Memories?
Post your story so we can share your experiences.
Anchorage Memories VIP Newsletter

"I've learned a lot about my hometown of Anchorage, and you've jogged memories of things I haven't thought about for years. I can only say YAY!"  Juanita.
BONUS
Join your free Anchorage Memories VIP Newsletter
A treasure chest of precious memories, delivered right to your email in-box each month.

PLUS

You'll receive your free Anchorage e-book when you join.