Her Family has History on the ALCAN Highway
From 1957 to 1972, Her Family has History on the ALCAN Highway and takes you along.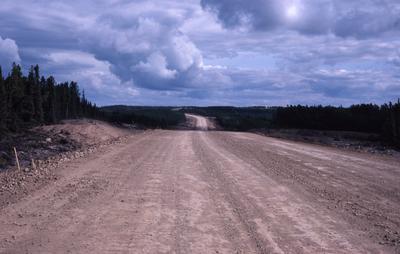 Every time you drive it is a new adventure
"The road was gravel and quite a few of the rivers had no bridges yet – just wood planks."
by Jaqueline Biggs
My paternal grandparents Thorolf and Helen Almdale were told in May 1957 that their youngest son Cy, age 36, was going to be a father at last.

His mother Helen had a dream the baby was going to be a girl. She had four sons and five grandsons and had longed for a granddaughter.

There is a legacy on her side of the family of women with certain sixth sense skills which had been proven accurate for hundreds of years. So based on my grandmother's dream, they put their house in Wheaton, Illinois for sale.

My grandfather closed his menswear shop, and bought a large delivery truck with heavy-duty axles, tires, and multiple gears on the engine.

One of their sons kitted out the back of the truck with beds, a small kitchenette, a toilet, and storage.

He drove his parents from Wheaton to Anchorage over a period of two months. Helen was 73 and Thorolf was 71.

The ALCAN Highway in 1957 was very rudimentary!

The road was gravel and quite a few of the rivers had no bridges yet--just planks.

My uncle Frank and my grandparents arrived in August; I arrived in October: a 6 pound, 5 ounce, baby girl.

Her Family Has History on the ALCAN Highway

In late September 1962 my sisters Susan Anderson, age 15, and Sharon Anderson, age 19, were driving a Chevy convertible up the highway from Minneapolis, Minnesota where Sharon had been living and working for just over two years.

I don't know the details, but I do know there was some family issue which arose, and Sharon didn't want to live near her father's family anymore.

She decided, in a moment of severe stress, to drive her convertible up the ALCAN Highway in late September against the strong advice of my parents.

My sister Susan flew down to ride back up and keep Sharon company.

One hundred and fifty miles outside Whitehorse, BC they were driving through a severe blizzard.

An elderly man was driving his ten-year-old son home from a birthday party. He fell asleep at the wheel, his car crossed over to the opposite lane, coming out of the driving snow to hit my sister's car head on.

The accident was hundreds of miles in both directions from medical care. There was hardly a soul out on the move in the bad weather. Everyone lay in their crumpled vehicles for hours as the snow began covering the accident site.

Finally, hours later, someone came upon it, drove to the nearest home and called the RCMP.

The elderly man died on impact. His grandson survived. My sisters very nearly died. Hypothermia actually helped keep them alive. Doctors wanted to amputate Susan's right arm and Sharon's left leg above her knee.

My parents drove all night and day for two days to get to the hospital. Mom refused to allow any amputations. Susan's right cheek was rebuilt and wired together, and plastic surgeons worked on both of my sisters to save their faces from severe scarring.

My sisters came home to Anchorage three months later and underwent a year of PT and dentistry to fully recover.

In 1963 when I was five, my parents and I flew to Seattle in June, bought a brand-new Volvo, and drove down the Pacific coast into Mexico.

Automobiles had no seat belts or air conditioning.

Having been born in Alaska and never experiencing temperatures above 72 degrees, I suffered heat stroke and nearly died. We had to turn around right away and head back north for cooler weather, driving night and day through Texas, New Mexico, and finally up the ALCAN Highway. I was so grateful to reach Canada and proper summer weather!

In 1972, we flew to Chicago, my parents purchased a brand-new Chevy half ton pickup from the assembly line in Detroit, put a camper shell on the back, and we drove through the lower 48 visiting family on both sides.

In St. Paul, Minnesota we stayed for two weeks with my mom's family. Her mom Lilly was in her late 60s and wanted to come with us. We all drove up the ALCAN Highway in our truck, camping along the way.
It was a glorious trip and the road was finally paved.
Anchorage Memories VIP Club

BONUS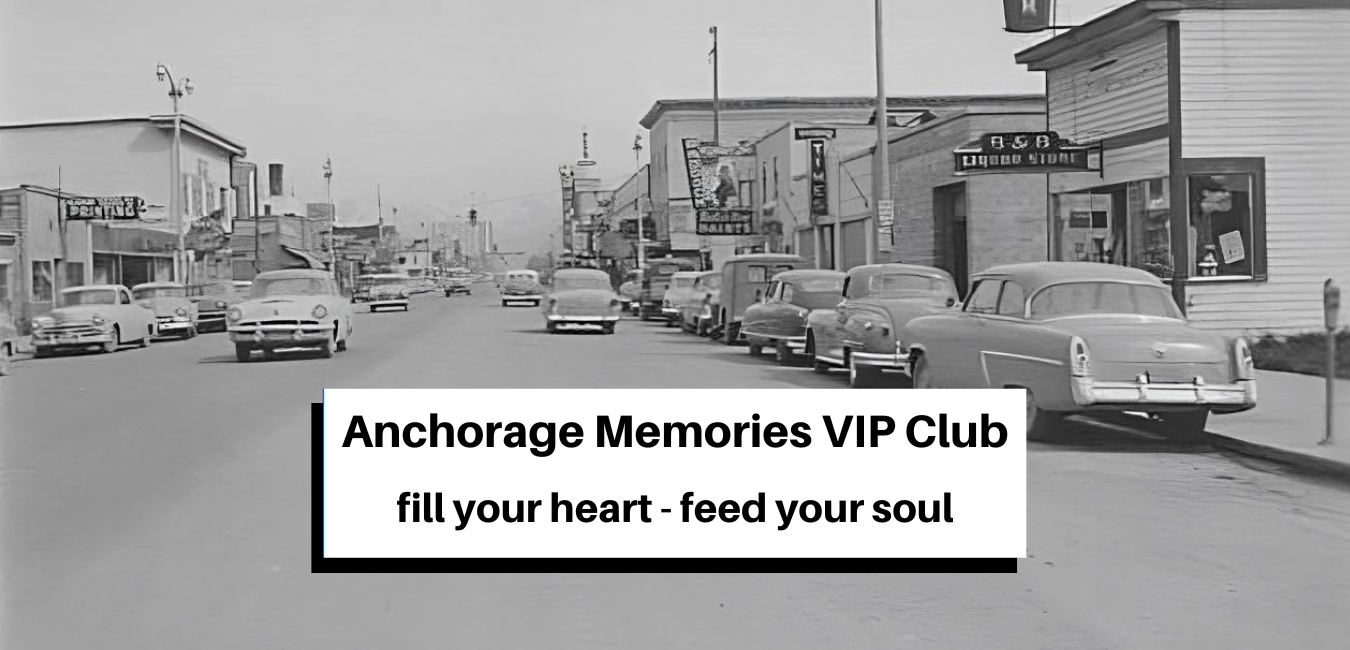 PLUS

Join your free Anchorage Memories VIP Club

A treasure chest of precious memories, delivered right to your email in-box three times each month.

Discover Alaska Facts and History
and

Meet Anchorage Pioneers

PLUS you'll receive your free Anchorage e-book when you join
Click on the following link

"I thoroughly enjoy Anchorage Memories,
it is absolutely magnificent" Robert