Alcan Highway Experience
Back in the day, the ALCAN Highway Experience was one heck of a journey. Ride along and experience the old Alaska Highway.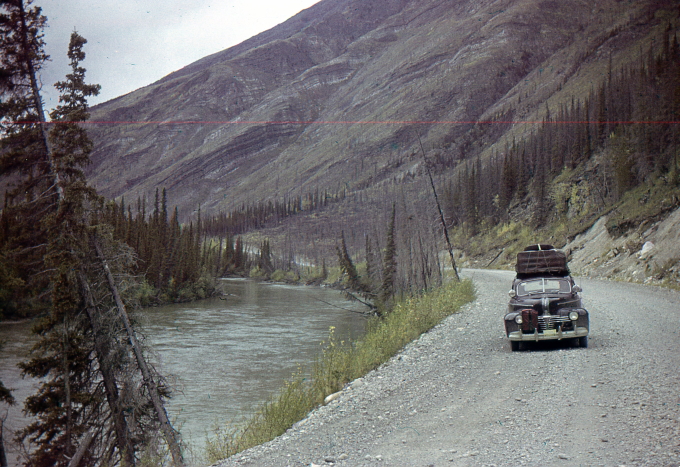 A beautiful but difficult drive
"I totally loved your description of the highway. It matches my memories exactly." Linda

As you read this story, you'll find yourself riding along on a historic adventure.
The Alaska Canadian Highway, or "ALCAN" was built during World War II as a military route. It was carved out of the wilderness. The completed road was an unforgiving experience for the hearty souls who braved the challenge.
Years later, while the highway was a bit more tame, it was still not for the faint of heart.
You're invited to ride along.

by Michael R Dougherty

The ALCAN was a narrow, gravel covered dirt road that wound through the Canadian wilderness like a drunken snake had charted its course.

In the summer, the constant sound of gravel flying off your tires and pelting the under carriage of your car, truck, or camper could be maddening.

Flat tires were common, as were broken headlights and windshields from gravel tossed up off the road by passing cars and trucks.

Driving the road and surviving it was a badge of honor.

While it was only a barely two lane dirt path, it was called a highway. The Alaska Canadian highway, or "ALCAN highway."

As a young boy living in Anchorage, the first time I heard the name "ALCAN" I wondered why anyone would want to put an owl in a can.

The highway begins in Canada at Dawson Creek and ends some 2012 miles later at Delta Junction, Alaska. Construction of the ALCAN highway officially began in 1942.

The first time our family drove the road, we went from Anchorage to Montana and then on to Texas.

The drive from Anchorage to Delta Junction was uneventful. But back then, the ALCAN wasn't paved like it is today. Once we entered Canada, we only drove 20 miles or so before we had a flat tire.

That first evening we pulled into Beaver Creek, Canada and spotted this huge log hotel that also had a restaurant. We happily stopped there for dinner and stayed the night.

The next morning we got up early, ate breakfast and took off on our first full day on the gravel covered dirt road that cut its way through the beautiful Canadian wilderness.

I remember seeing cars, trucks, and campers that had all kinds of odd-looking contraptions mounted on the front of the vehicles to prevent rocks from breaking their headlights. Most were gizmos made of wire mesh. Back then, the gravel would hit your vehicle under carriage hard enough that it could puncture your gas tank. As a result, some people even fastened different types of padding under their vehicle to help absorb the impact of flying rocks.

One thing I remember about the ALCAN Highway back in those days, was road courtesy. If you came upon a car, truck, or camper stopped along the road, instead of just driving by, you would stop and ask if they needed help.

We experienced trouble with our car, just as we were coming into Fort Nelson. Our engine started sputtering, and we barely made it to a service station. Once there, the mechanic informed us that we required a part, but they would have to order it.

We ended up staying at a local hotel for several days waiting for the part to arrive.

ALCAN Highway Experience
Later, when we were back on the road, and in the middle of nowhere, a large truck came around a curve. The truck was going pretty fast, and it threw gravel up into our headlights, breaking one of them.

As it got darker and darker, we continued to drive until we came to a small settlement where we pulled into a service station hoping they could fix our broken headlight. Fortunately, after some digging around, they found the one bulb they had that would fit our car.

Back on the ALCAN Highway, Later that night we pulled into a town and found a small hotel. We checked in, and the desk clerk gave my mom the room key. When we got to the room, mom handed me the key and said, "Mike, my hands are full, you open the door."

I put the key in the lock, turned it and opened the door. As I did, a lady in the room sat up in bed, looked at me and screamed.

I said "sorry", and quickly shut the door. We quickly went back downstairs to see the desk clerk. When we told him what happened, he said, "sorry, I'm new, I gave you the wrong room key."

With a new room number and key in hand, we went back upstairs. This time I made sure I wasn't the one who opened the door to our room.

The rest of our ALCAN highway experience was uneventful and when we finally ended up back on pavement, it felt like we were floating on a cloud.

On our return trip, heading back to Anchorage, we pulled into a café and hotel in Destruction Bay.

While eating our lunch, some Canadian Mounties came in and told everyone that the road ahead was closed because of a washed out bridge.

We ended up having to spend nearly a week in the hotel while the bridge was repaired.

I remember the day the Canadian Mounties came back to the hotel and informed us that they had reopened the bridge, and we could head on up the ALCAN highway anytime we wanted.

Back on the road and headed for Alaska, we were curious to see the bridge that had been washed out. Much to our surprise, the bridge ended up being nothing but a tiny structure over a small creek.

When our adventure was over, and we were back in Anchorage, we were all happy to be off the road.

While the highway is now paved and there are a lot more services available along the way, I remember when driving that narrow gravel-covered road took a lot of courage.

Since that first trip, I've driven the road in all seasons, winter, spring, summer, and fall. It's a beautiful, but exhausting journey.

Yes, I'm an Alaskan and I earned my ALCAN Highway badge of honor.
Anchorage Memories VIP Club

"I've learned a lot about my hometown of Anchorage, and you've jogged memories of things I haven't thought about for years. I can only say YAY!"  Juanita.
BONUS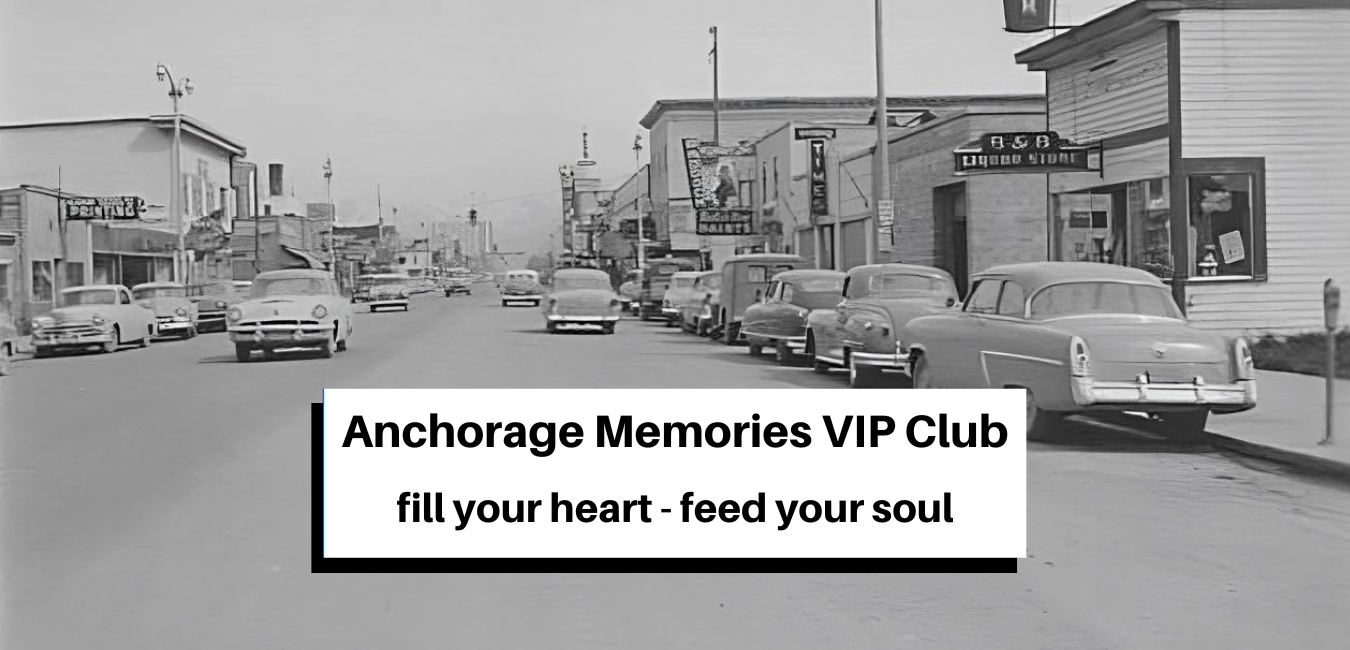 PLUS

Join your free Anchorage Memories VIP Club

A treasure chest of precious memories, delivered right to your email in-box three times each month.

Discover Alaska Facts and History
and

Meet Anchorage Pioneers

PLUS you'll receive your free Anchorage e-book when you join
Click on the following link

"I thoroughly enjoy Anchorage Memories,
it is absolutely magnificent" Robert