Great Alaskan Earthquake - powerful stories from survivors of the Good Friday, March 27, 1964 earthquake. Incredible stories, pictures and videos from the 9.2 earthquake that shook Alaska for 5 minutes.
Great Alaskan Earthquake -

Do you appreciate these stories? We'd love for you to let us know by clicking the Like button - Thank You!
Amazing stories of survival
Then the ceiling began to crumble and fall in.

Our parents shielded Ted & I from the debris with their bodies. Dad said that it was time to move and ushered us back into the living room.

"where were you when the quake struck?" Right after the quake, that was the first question all of us survivors asked each other. The answers were incredible.


"I was watching "Fireball XL5" on TV" was one of the answers.
Check out this fun clip from that popular TV show right now.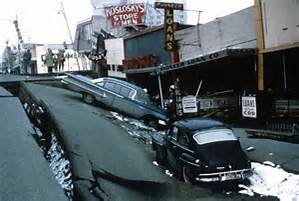 Dishes where breaking and the house was really shaking.
My Dad yelled, "get out of the house now", he didn't have to say it twice. Outside, the trees where really swaying and cracking.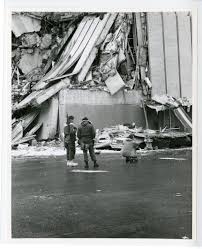 I will never forget the rolling motion of the ground.

I was being slammed one way then the other, it was such a struggle just to keep standing up, and at one point I lost that fight and fell.
Then the ground kept shaking for over 5 minutes.

Cars slid out of flat driveways. The paved road looked like waves. There was nothing we could do.
The adults went into panic mode.
Get your FREE instant download right now

A riveting story of survival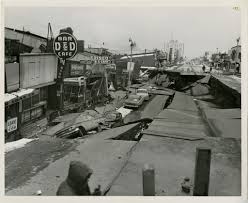 The cabinets were emptied as the house rolled up and down, like a boat in 15 foot swells.
All 9 of us (little sister was 6 months old) clung to each other in the doorway between the dining room and the living room.
Great Alaskan Earthquake 1964
Scroll Down for Amazing Pictures and Stories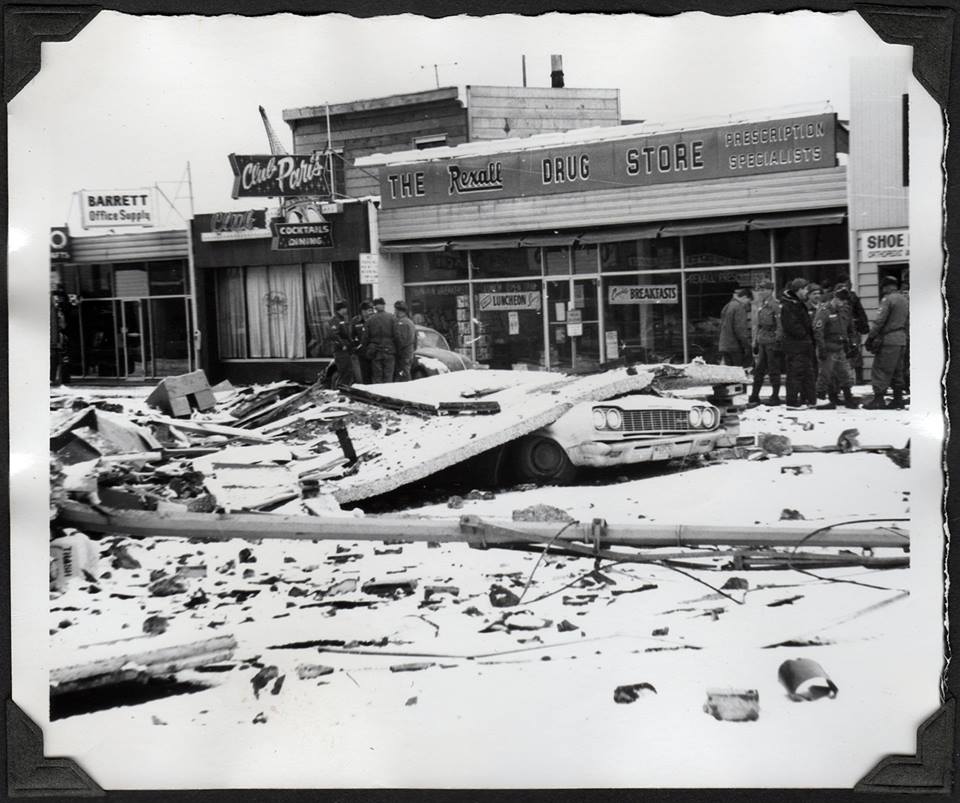 Photo by Helen Bucy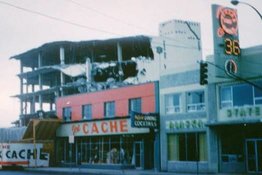 Photo by Diane S. Smith
Check out the Alaska 1964 Earthquake in rare pictures right now
The Four Seasons (it was still under construction when the quake hit)

5:36pm, Good Friday, March 27th, 1964
It felt like it would never stop. And when it was over we learned that it was a magnitude 9.2 earthquake that had lasted 5 minutes. And it was the most powerful earthquake ever recorded in north America.
139 people lost their lives, and the tsunamis that followed hit British Columbia, Washington, Oregon and Northern California.
It's often called, the Great Alaskan Earthquake.

after the quake, what was left of 4th Avenue, Anchorage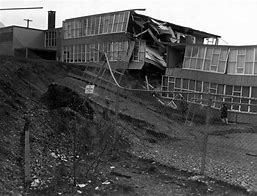 This was a school before the quake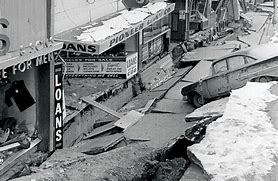 incredible destruction on Anchorage's 4th Avenue

Reconstruction begins after the Great Alaskan Earthquake

Do You Have A Story About the 1964 Earthquake?
Share it!
Fascinating 1964 Alaskan Earthquake Stories
Click below to see stories from other visitors to this page...

1964 Newsreel, Alaska Earthquake
Great Alaskan Earthquake
The stories on this page were all written by actual survivors of this horrible earthquake.
While Anchorage and Alaska in general, has it's share of quakes, the one on Good Friday, 1964 was much more intense and destructive than others - before or sense.  And those who experienced the terror and devastation first hand, still vividly recall their experiences to this day - and always will.
As you read the stories above, one of the first things you'll discover is the incredible variety of amazing things each one saw and experienced.
You'll also discover that for everyone, the earthquake did strange things with time. It rattle and shook time until it seemed like there was nothing but the earthquake. We were trapped in the seemingly never ending world of an earth that would not stop shaking us to our very core.
And you'll learn the many faces of terror -
The intense and profound shaking began as a cautious curiosity and quickly turned into a quest for survival as we tried desperately to just survive the incredible earthquake that would haunt us for the rest of our lives.
Would it Ever End?
To this day, most survivors will tell you that at some strange moment while the earth was shaking, buildings were crumbling, and there was no place to hide, it seemed as though it would never stop. That it would go on and on until the earth was but a memory.
Can you imagine what that must have felt like?
The stories you'll read when you scroll up this page will give you a special look into this amazing event as you experience the 1964 Good Friday Earthquake through the eyes of the survivors.
To learn more, visit the Anchorage Museum website.
Anchorage Memories
welcomes your stories and memories!
Please consider sharing your stories and memories about life in Anchorage and vicinity
from years gone by.
For more information, Click Here

By Mike and Mary Dougherty
Copyright © 2016 - 2019
AnchorageMemories.com
All Rights Reserved
Wonderful Anchorage Memories
that fill your heart and feed your soul