Anchorage Alaska Restaurants

You'll happily remember your favorite Anchorage Alaska Restaurants in these stories that will fill you with fond memories. From burgers and fries to steaks and more.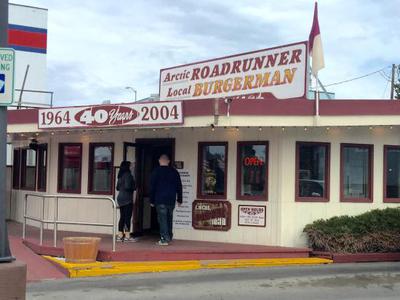 A local favorite
Remember burgers at the Arctic Roadrunner, yummy corn dogs at the Fur Rondy and fine dining at Alaska's own Double Musky Inn located in Girdwood?
If you still live in Anchorage, or if you lived there at one time, you have great memories of your favorite restaurants.

Take a moment to enjoy the stories below and remember when.
We guarantee you'll get hungry just thinking about your favorite places to eat in Anchor Town.
What Are Your Favorite Anchorage Alaska Restaurants?
Tell us about it!
Enjoy These Stories of Favorite Anchorage Alaska Restaurants
Click below to see what other visitors have to say...

What Are Your Favorite

Anchorage Alaska

Restaurants?

The list of favorites is pretty long -
Do You Remember These?
And we didn't come close to naming most of them.
Anchorage Alaska restaurants are a great escape from long winters. Your favorite places can quickly become almost a part of the family. And when warmer weather finally arrives, your favorite restaurants are part of what's great about Alaska summers… Have you ever sat by the creek at the Arctic Road Runner?
How to Get

People from Anchorage

Talking

Just ask them if they ever visited the old A&W Drive-In where the lions were on display.
Or ask them what burger they like to order at the Arctic Roadrunner. Or ask them how often they visit the Lucky Wishbone.
Most will tell you who had the best burger, the best fries, and where to go when it's time to have a really nice dinner, in or near Anchor town.
How Did It All Begin?
Many of these fun stories about favorite Anchorage Alaska Restaurants include how they got started and other interesting facts that you might not already know.
You may get to know the owners, or their family as they tell you how the restaurant you love came about.

And the pictures that accompany the stories will really remind you of memories you may have forgotten.
So, what special place are you thinking about now?
The White Spot
The original A&W Drive-In
The Arctic Roadrunner
La Cabana
A wonderful steak at Club Paris
Anchorage's Tastee Freez
Benny's Food Truck
And the list could go on and on.
Are you hungry now? We certainly are.

Anchorage Alaska Restaurants

the early days
In 1915, when Anchorage was nothing more than a rough settlement of cobbled together tents, the first settlers used to put syrup on everything they ate, including bread and meat, just to get enough energy to sustain them.
Two Girls Waffle House

circa 1916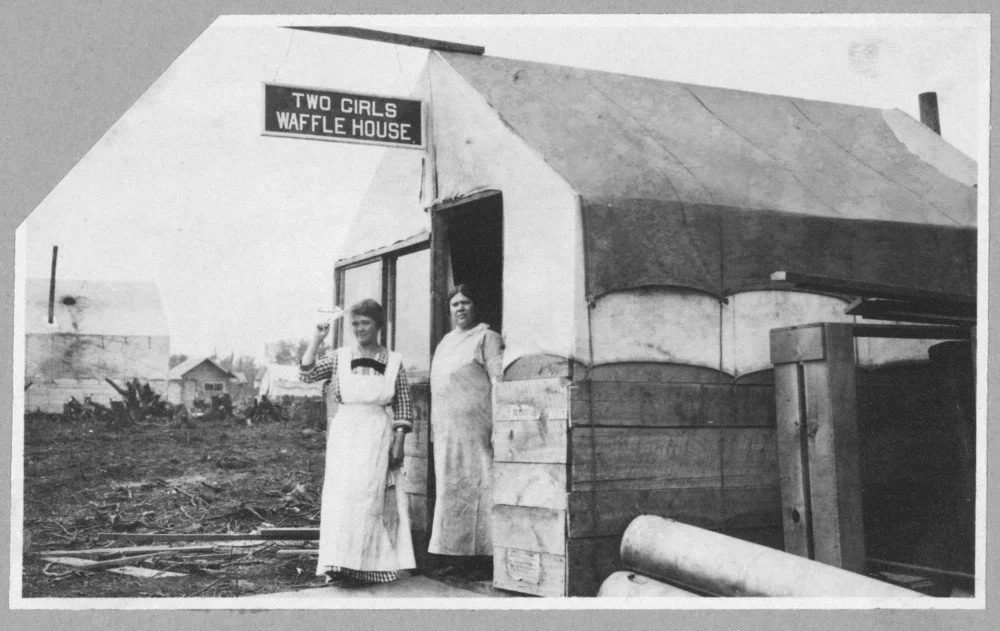 One of Anchorage's first restaurants
Can you imagine how welcome this waffle house was in those early days?
By the way, what was your favorite place to get waffles in Anchorage?

BONUS

Did you know that your Anchorage Memories VIP Club has an entire edition devoted to just some of your favorite Anchorage restaurants?
Peggy's Airport Café
A&W Root beer
Nikko Garden
Benny's Taco Wagon
Woolworth's Lunch Counter
and more.

Click on the following link

Take a look at Anchorage Restaurant Memories and enjoy.
All About the Lucky Wishbone
Anchorage Memories interviewed Patricia Brown-Heller, one of the daughters of Lucky Wishbone owners, George and Peggy Brown.
The following is an except from that interview.

Anchorage Memories – Mike and Mary:
The Lucky Wishbone first opened for business on November 30, 1955. What was their first day like?
Pat:
We brought in a whopping $80 the first day!  
Sven quickly decided he wasn't fond of the business and sold his share.  
Dad's mom, Dagny, helped out with babysitting and cooking the first few years. After the last child, Corky, was born, the family moved from the tiny house next to the restaurant to a new split-level in College Village.  
Dad again did most of the construction. The house and the restaurant all survived the 1964 Earthquake.
To read the entire story, click on the following link

Take a look at the Lucky Wishbone Story and enjoy

Except from Gwennie's 

Old Alaska Restaurant Story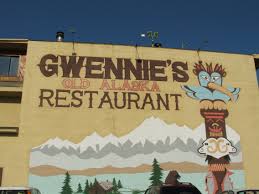 Anchorage Memories – Mike and Mary:

Your Gwennie's Restaurant menu was so popular. How did you come up with the items to serve?


Gwennie:

I worked at the Paris Island Marine Corps Base and cooked breakfast for the Marines.

It was so much fun and I learned a lot about breakfast.

I love reindeer sausage, crab, shrimp and all the rest of the seafood.
For the rest of Gwennie's story
Click on the following link:

Read about Gwennie's Restaurant in Her Own Words and enjoy.
Anchorage Memories VIP Club

"I've learned a lot about my hometown of Anchorage, and you've jogged memories of things I haven't thought about for years. I can only say YAY!"  Juanita.
BONUS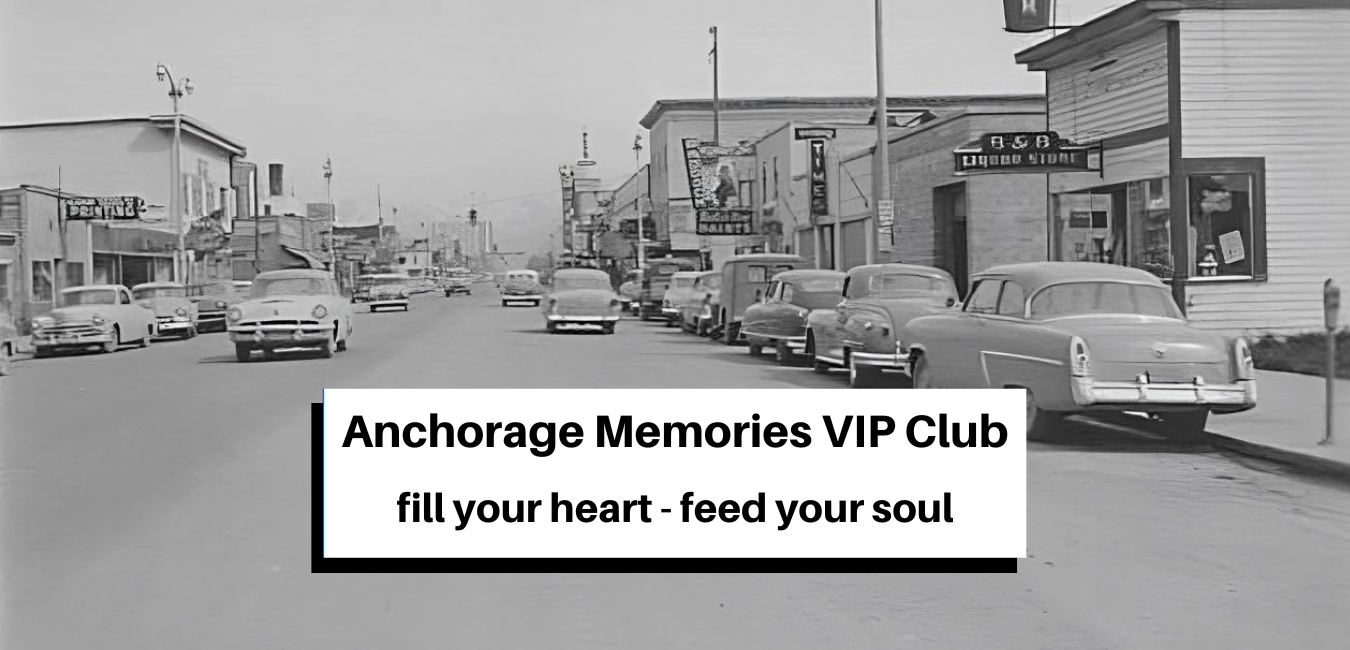 Join your free Anchorage Memories VIP Club

A treasure chest of precious memories, delivered right to your email in-box three times each month.

PLUS

Discover Alaska Facts and History
and

Meet Anchorage Pioneers

PLUS you'll receive your free Anchorage e-book when you join
Click on the following link