Anchorage Alaska Earthquake 1964

Gripping stories of survival during the Anchorage Alaska Earthquake 1964, the biggest quake ever in North America.

It shook for 5 minutes
As you read these stories, you'll meet people who were children, teens, or adults living in Anchorage when the earthquake struck on an otherwise quiet afternoon.
And you'll learn what they experienced.
5:36pm, Good Friday,

March 27, 1964
It was a quiet afternoon like any other, until suddenly the earth began to shake. 
At first, it was just a quake like the many others we experienced in Anchorage.
But it quickly became violent as it slammed, convulsed, and began ripping apart buildings, roads, and sidewalks.
The noise was deafening. You could hear what sounded like a powerful wind and a loud train as it roared by.

There was no place to hide.
It seemed as though it would never end. That it would go on and on until the earth was but a memory.
Can you imagine what that must have felt like?
Mike and Mary of Anchorage Memories are both survivors of the 1964 earthquake, and what they experienced was horrifying and unreal.
"We were literally shaking to the core of our being. And what we saw, felt, and heard will never leave us."

When it was finally over, the world learned that the quake was a magnitude 9.2 and that it had lasted an incredible 5-minutes.
The aftershocks were terrifying.

One hundred and thirty-nine people lost their lives, some in the tsunamis that followed, hitting British Columbia, Washington, Oregon, and Northern California.
Anchorage Alaska Earthquake 1964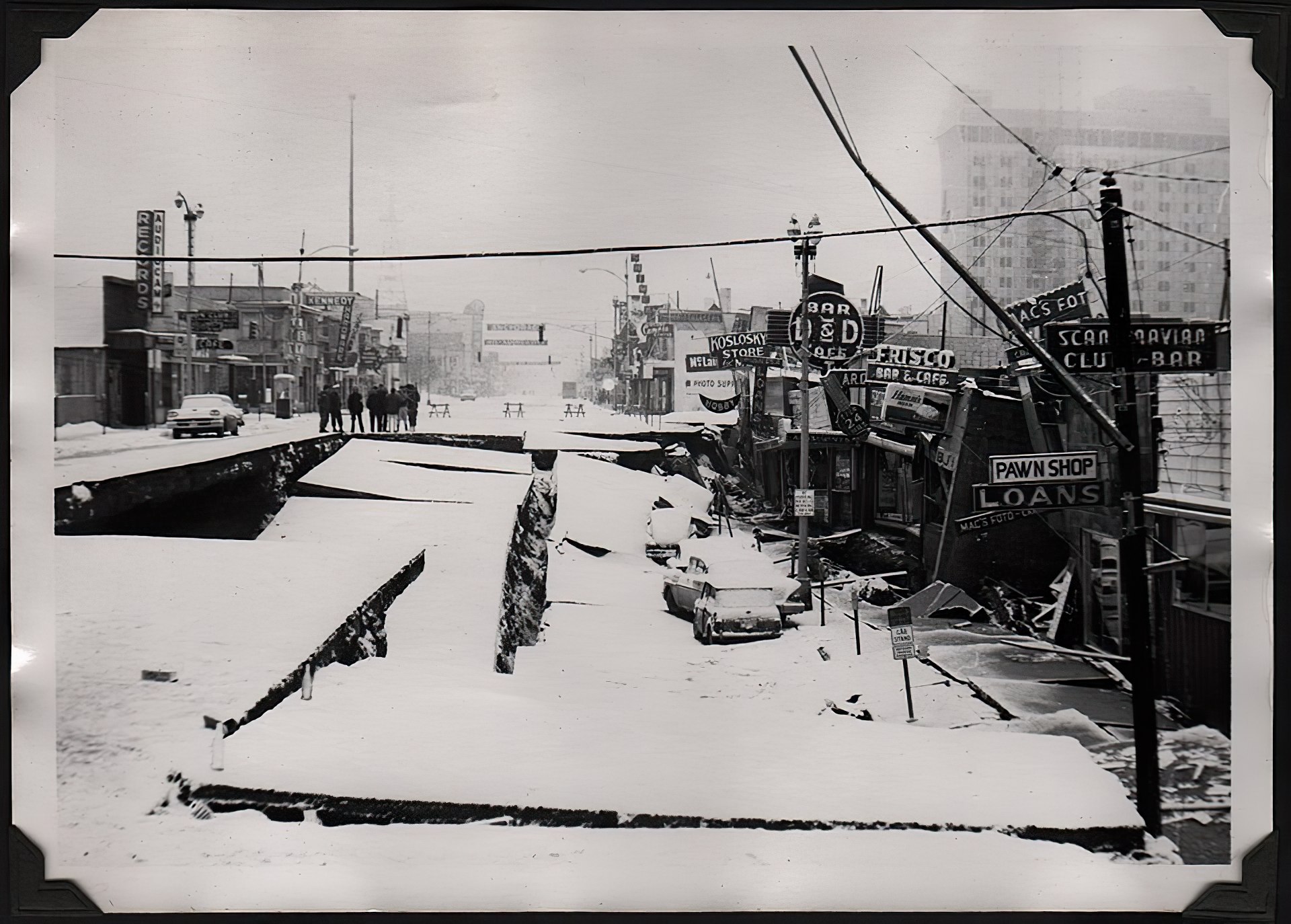 Photo by Ed Rosek
BONUS
Do you remember what life was like in Anchorage following the 1964 earthquake?
In this edition of the Anchorage Memories VIP Club, we remember what our lives were like after the earthquake.
It was life-changing. It was an experience none of us will ever forget.

Click on the following link to read the story
First-Hand Accounts

Read the memories below for a first-hand look into this fantastic event as you experience it through the eyes of survivors who were living in Anchorage when the Alaska earthquake struck.
Do You Have A Story About the Anchorage Alaska Earthquake 1964?
Share it!
Read these Anchorage Alaska Earthquake 1964 Stories
Click below to see stories from other visitors to this page...

An Incredible Story of Survival

A Must Read
Mary of Anchorage Memories was a teenager when the quake hit.
Her book captures her amazing story.
Click on the following link:

Anchorage Alaska Earthquake 1964


Scroll Down for Incredible Pictures

and First Hand Accounts

Club Paris and Rexall Drug Store

Across From the JC Penney Building

Photo by Helen Bucy
Awesome power of the 9.2 quake
The picture above shows huge concrete slabs that fell off the JC Penney building and came crashing down on the street below, crushing cars and trapping people during the Anchorage Alaska earthquake 1964.
Does Anyone Know this Small Boy?
One story tells about a little boy separated from his family right in front of the Rexall Drug store (pictured above) following the quake.
In the confusion, and not knowing what to do, the shop owner placed the boy in the store's picture window where passers-by would see him. As a result, the boy's parents found him.

Downtown Book Cache
Photo by Diane Smith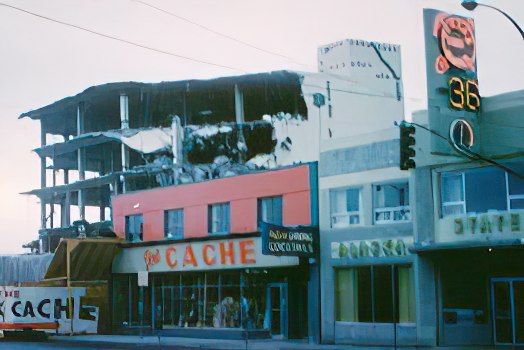 JC Penney building is in the background
The damaged downtown Book Cache, pictured above, was all that remained of a favorite destination for Anchorage shoppers.
After the quake, some areas looked more like a scene from a war movie, than the town of Anchorage.
Quick to reopen, the Book Cache location pictured above became a meeting place.
And the question on everyone's lips was "where were you when the quake struck?"
BONUS
Take a look at these rare
The images captured in these photos give you a glimpse of the destruction in Anchorage.

The Four Seasons

(still under construction)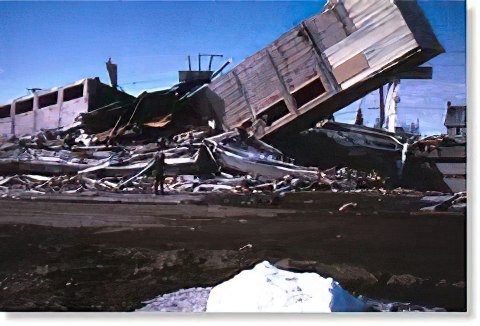 Four Seasons never rebuilt.
Still under construction when the massive quake struck. The elevator shaft is all that remained.

After the Quake


Destruction on 4th Avenue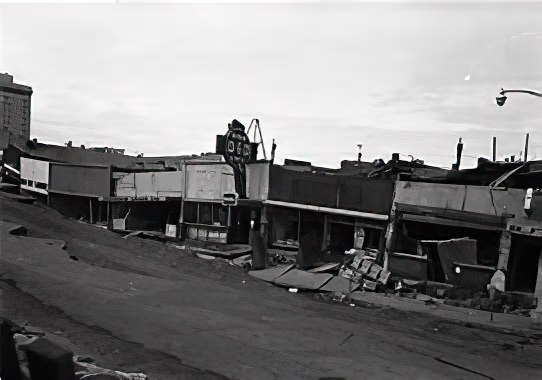 Only the shells of buildings remained
The eerie picture above looks more like a ghost town than Anchorage's 4th Avenue.
This image is a striking reminder of the incredible destruction endured during the Anchorage Alaska earthquake 1964.
Can you even imagine how the people who were in those businesses, on the sidewalk, or even driving by, must have felt when those first powerful jolts began shaking everything apart?
To this day, many of those who survived, still deal with Post Traumatic Stress Disorder as a result of their experience on that day and the difficult days that followed.
The powerful aftershocks from the quake had everyone on edge.

Government Hill

Elementary School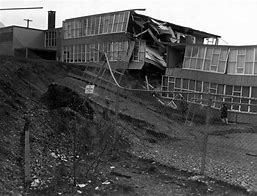 Thankfully, the children were not in school
The 1964 earthquake struck on Good Friday, March 27th.
And because of the holiday, children were not in school.
Looking at the picture above, we can thank God that no children were in that building during the quake..
In the days and weeks that followed, Anchorage school officials had to come up with new places to continue schooling for many of the town's children, including elementary, junior high and high school students.
It was yet another reminder that we survived an astonishing force of nature.
Destruction

on 4th Avenue
The stories of survival are amazing
For those who were living in Anchorage when the quake struck, the picture above shows a familiar sidewalk where many had stood to watch the Fur Rendezvous winter carnival, the month before the quake.
And then, in just five minutes, it was all gone.

For a time after the quake, many wondered if Anchorage would ever be the same.

Reconstruction Begins
Bringing back a part of Anchorage
This section of 4th Avenue shown above had sunk below street level, destroying many businesses during the quake.
But those who lived in Anchorage were determined to rebuild.
Looking at the picture above, it's hard to believe that they were able to clean up all the devastation, let alone rebuild.
Today, 4th Avenue is a thriving part of Anchorage life.
For those who survived the quake when reconstruction began, it brought a glimmer of hope for a brighter future.
Smiles began to return.
BONUS
1964 Earthquake

Narrated Newsreel
Turn up the sound

and click on the video below

The newsreel footage above, narrated by Ed Herlihy, vividly shows the destruction that occurred during the 9.2 magnitude earthquake.
As explained in the film, this earthquake was 35 times as strong as the San Francisco earthquake in 1906. Can you even imagine that?
Conservative estimates for the damage were around $500 million dollars. Of course, that was in 1964 dollars.
There was so much destruction that Federal Disaster funds were not enough to cover the cost.
Following the quake, much-needed supplies were flown in to Anchorage's Elmendorf Air Force Base, including a complete portable hospital from Seattle.
Anchorage Alaska Earthquake 1964

While Anchorage has its share of quakes, the one on Good Friday, 1964 was much more intense and destructive than any other – before or since. 
And those who experienced the terror and devastation first hand, still vividly recall their experiences – and always will.
Anchorage Memories thanks all the survivors who contributed their stories.

What You Just Learned
The Anchorage Alaska earthquake 1964 was a magnitude 9.2, or 35 times more powerful than the 1902 earthquake in San Francisco.
The shaker lasted nearly 5 minutes.
At the time, estimates of damage were somewhere around $500 million dollars. In today's dollars, we're looking at $4,787,255,806 and some change.
From reading the first-hand accounts on this page, written by survivors of the earthquake, you learned what they saw, heard and felt as the shaking continued.
Some lost their homes, others their lives.
As you learn about this horrific event, it's easy to see how Alaskans responded. They quickly stood up proudly, helped each other and together, they rebuilt Anchorage, the town they love.
Memories of the Anchorage Alaska Earthquake 1964, live on.
Anchorage Memories VIP Club

"I've learned a lot about my hometown of Anchorage, and you've jogged memories of things I haven't thought about for years. I can only say YAY!"  Juanita.
BONUS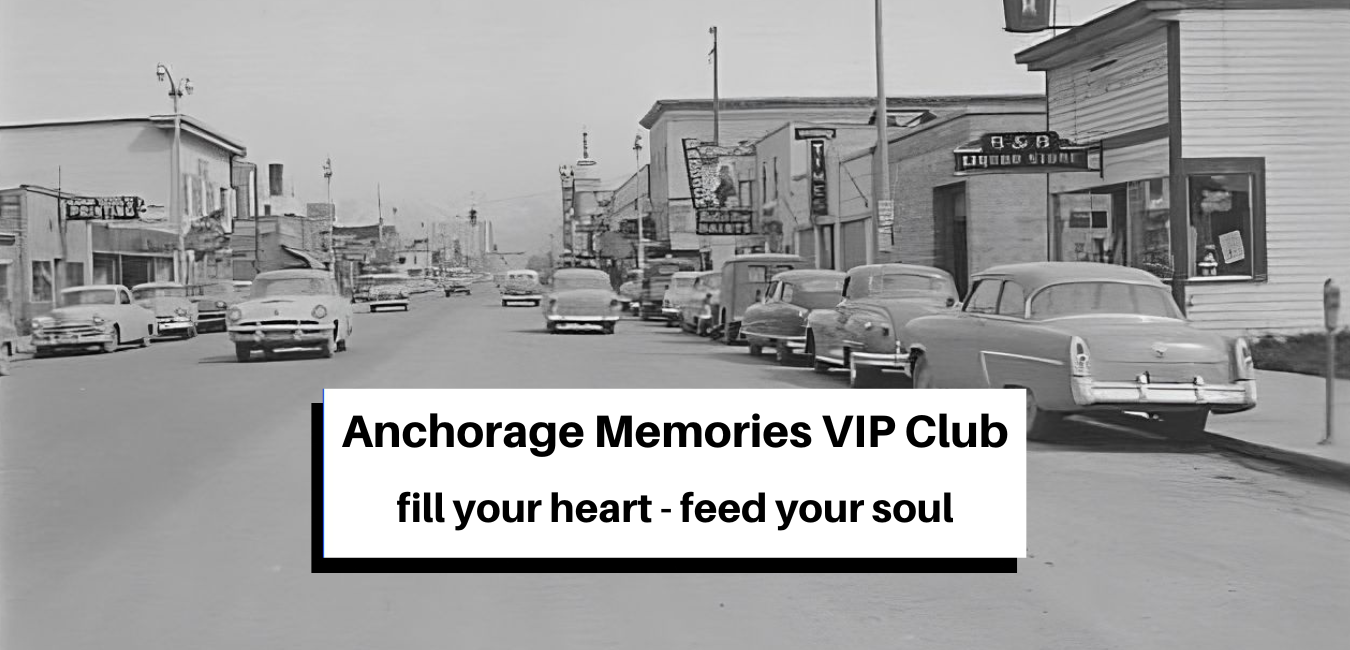 Join your free Anchorage Memories VIP Club

A treasure chest of precious Anchorage memories, delivered right to your email in-box three times each month.

Plus

Discover Alaska Facts and History
and

Meet Anchorage Pioneers
Plus, just for you:

Right after you join
you'll receive "Nostalgic Anchorage Stories"
as a special thank you

Click on the following link:

"I thoroughly enjoy Anchorage Memories,
it is absolutely magnificent" Robert