1964 Alaska Earthquake Stories

Powerful accounts, from survivors of the 9.2, Good Friday March 27, earthquake that shook Alaska for 5 minutes.

1964 Alaska Earthquake Stories -

Hey, I like this website

then let us know
by clicking the "Like" button
Thank You!
Scroll Down for Amazing Stories,

Pictures and a narrated Newsreel


A Special Note
This page and all the 1964 Alaska earthquake stories you are about to read, were written by actual survivors.
What you read on this page and in each story was experienced first hand. We are the survivors.  

Do You Have A Story About the 1964 Earthquake?
Share it!
Fascinating Stories
Click below to see stories from other visitors to this page...

An Incredible Story of Survival


Mary of Anchorage Memories was a Teenager


when the quake hit, she was in the JC Penney building

The book below is her amazing story - a must read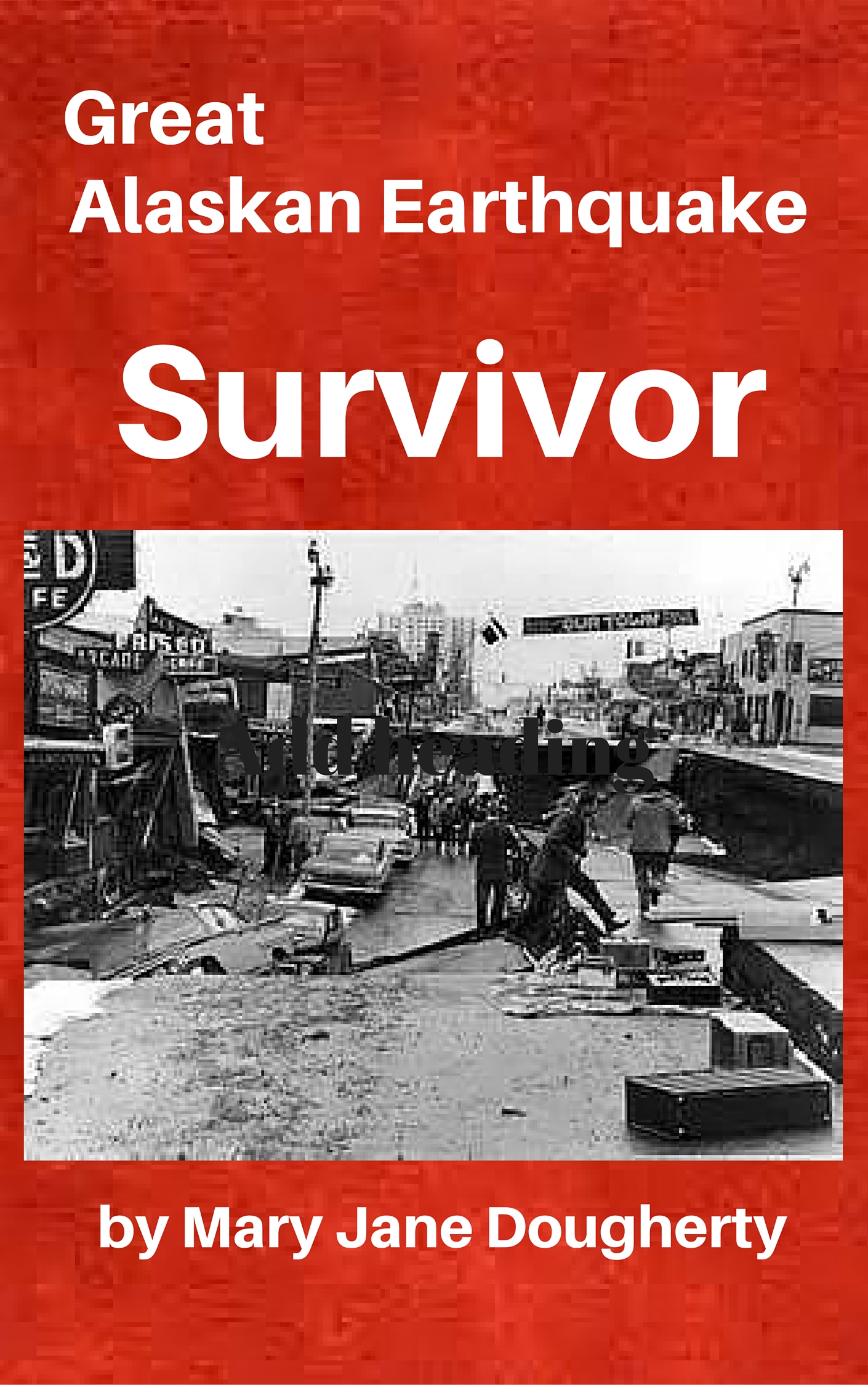 1964 Alaska Earthquake Stories


Scroll Down for Incredible Pictures

and First Hand Accounts

Club Paris and Rexall Drug Store

Across From the JC Penney Building

Photo by Helen Bucy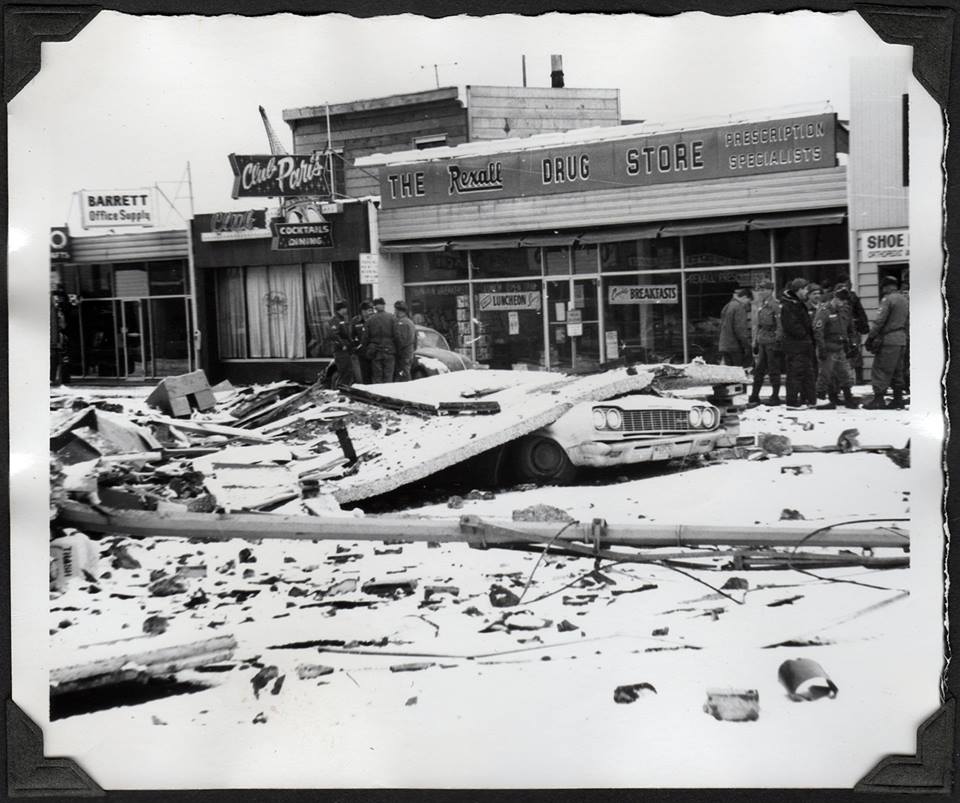 This picture shows the huge concrete slabs that fell off the JC Penney building and came crashing down on the street below, crushing cars and trapping people.
A story is often told about a small boy who was separated from his family after the quake. In the confusion, and not knowing what to do, a shop owner placed the boy in the store's picture window where his family spotted him and the boy was happily reunited with his family.

Downtown Book Cache
Photo by Diane Smith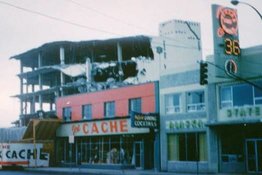 The book Cache pictured above was all that remained of a favorite downtown destination for Anchorage shoppers. After the quake, it was shocking to see areas of our town that were left looking more like a scene from a war movie, than the Anchorage we all knew and loved.

The Four Seasons

(it was still under construction when the quake struck)

The only part of the Four Seasons that was even somewhat recognizable after the earthquake, was the elevator shaft pictured above. All around our town, survivors could hardly believe the damage they were seeing. And to this very day, those images haunt our memories.
That's why the 1964 Alaska Earthquake Stories above are so amazing to read.

1964 Alaska Earthquake Stories
5:36pm, Good Friday, March 27th, 1964
It felt like it would never stop. And when it was finally over we learned that it was a magnitude 9.2 earthquake that had lasted 5 minutes. It was the most powerful earthquake ever recorded in north America.
139 people lost their lives, and the tsunamis that followed hit British Columbia, Washington, Oregon and Northern California.
It's often called, the Great Alaskan Earthquake.

After the Quake


What was Left of 4th Avenue, Anchorage
The haunting picture above looks more like a ghost town than 4th Avenue in Anchorage. This picture is a powerful reminder of the incredible destruction our town endured.
Can you even imagine how the people who were shopping in those businesses or walking on the sidewalk, or even driving by, must have felt like when those first powerful jolts began shaking those buildings apart?
Read the 1964 Alaska Earthquake Stories above and you'll get an incredible glimpse into what it was like.

Government Hill Elementary School


Good thing the school was empty

because of the Good Friday holiday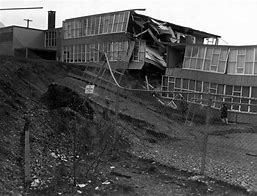 The 1964 earthquake struck on March 27th, Good Friday.
And because of the holiday, children were not in school. Looking at the picture above, we can thank God that no children were in that building when it was torn apart. As you can imagine, Anchorage school officials had to come up with new places to continue schooling for many students, including elementary, junior high and high school students.
For many students, it was yet another reminder that our lives had been changed by an amazing force of nature.

Incredible Destruction on 4th Avenue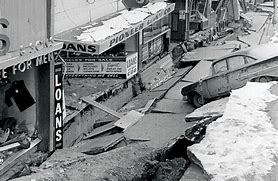 For those of us who lived in Anchorage when the quake struck, the picture above is where many of us had walked along the sidewalk so many times, or stood to watch our winter carnival, the Fur Rendezvous and the many other events that took place on 4th Avenue. And then it was all gone.

For a short time after the quake, we wondered if our town would ever be the same.
Check out the 1964 Alaska Earthquake Stories above and see what the survivors went through.

Reconstruction Begins
Looking at the picture above, it's hard to believe that 4th Avenue was brought back to life and is a thriving part of today's Anchorage life. This section of the Avenue had sunk below street level and businesses were destroyed. But Alaskan's were determined to rebuild.
For all of us who survived the quake, when reconstruction first began, it gave us a glimmer of hope for a brighter future. Smiles began returning to our faces.

1964 Earthquake Narrated Newsreel
Turn up the sound and click on the video below

The above newsreel footage is narrated by Ed Herlihy and vividly shows the destruction that occurred during the 9.2 Good Friday earthquake in 1964.
As explained in the film, the Alaska earthquake was 35 times as strong as the San Francisco earthquake in 1906.
In the above film, you'll also see the destruction in Kodiak, Alaska. First Kodiak was hit by the earthquake, then by 3 title waves that over ran the city. Kodiak lost 40 of it's fleet of 100 fishing boats.
In Seward, 90 percent of the town's industry and jobs were wiped out.
Supplies were flown in to Anchorage's Elmendorf Air Force Base and a complete hospital was airlifted from Seattle.

As the narrator explains, the cost of the quake was conservatively estimated to be at least $500 million dollars. And of course that was in 1964 dollars.
There was so much destruction in the great Alaska earthquake that there were not enough Federal Disaster funds available to cover the need.

1964 Alaska Earthquake Stories


These stories were all written by actual survivors of this horrible earthquake.
While Anchorage and Alaska in general, has it's share of quakes, the one on Good Friday, 1964 was much more intense and destructive than others - before or sense.  And those who experienced the terror and devastation first hand, still vividly recall their experiences to this day - and always will.
As you read the 1964 Alaska earthquake stories above, one of the first things you'll discover is the incredible variety of amazing sights, sounds and feelings that each of us experienced.
You'll also discover that for those of us who experienced it, this horrific earthquake did strange things to our sense of time. It rattled and shook time until it seemed like there was nothing but the earthquake. We were trapped in the seemingly never ending world of an earth that would not stop shaking us to our very core.
And you'll learn the many faces of terror -
The intense and profound shaking began as a cautious curiosity and quickly turned into an intense quest as we tried desperately to just survive the incredible earthquake that would haunt us for the rest of our lives.
Would it Ever End?


To this day, most survivors will tell you that at some strange moment while the earth was shaking, buildings were crumbling, and there was no place to hide, it seemed as though it would never stop. That it would go on and on until the earth was but a memory.
Can you imagine what that must have felt like?
Mike and Mary of Anchorage Memories are both survivors of this earthquake and we can both tell you that on that day when the earth shook like never before, what we experienced was horrifying and unreal. We were literally being shaken to the core of our being. And what we saw, what we felt and what we heard will never leave us.

Scroll up this page and read the 1964 Alaska Earthquake Stories for a special look into this amazing event as you experience it through the eyes of the survivors.

Hey, I like this website
then let us know
by clicking the "Like" button
thank you

This Anchorage Memories website
created by Mike and Mary Dougherty
Copyright © 2016 - 2020
AnchorageMemories.com
All Rights Reserved
Wonderful Anchorage Memories
that fill your heart and feed your soul