The Mother Moose TV Show
by Michael R Dougherty
(California)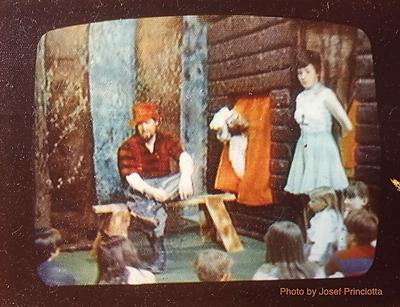 Mother Moose Pilot Episode
In the 1970s, "Mother Moose" premiered on KTVA channel eleven and Anchorage Alaska TV screens were never the same.

Later moving to KENI-TV, channel 2 (now KTUU), the show was created by Larry Beck. Larry was also known as "Alaska's Ambassador of Good Will" because he traveled Alaska and the lower 48 doing live shows about Alaska and reciting Robert Service stories like "The Shooting of Dan McGrew."

On the Mother Moose Show, Larry played the part of "The Old Sourdough" and was joined on the show by Carol Beck (his wife at the time, now Carol Edgar).

Carol played "Miss Northern Lights" and would also put on the huge, hot and heavy Mother Moose costume.


ROCKY and BULLWINKLE
Another fun part of the show was everyone's favorite cartoon, "Rocky and Bullwinkle". Take a moment to enjoy the opening of that super fun cartoon show by clicking on the video below.
"I forgot about the Rocky and Bullwinkle Show until you mentioned it. Thanks for bringing back a memory."
Kevin
Besides Mother Moose and Bullwinkle, the show featured a host of other characters created by Larry and Carol, including "Gorp", "Glacier Gruff", "Oil Finch" and "Wrangell Worm." Alaska children loved them.
Soon after the Mother Moose TV show premiered on KTVA, Larry and Carol took the show on the road by doing live Mother Moose appearances at local grocery stores and other venues.
Today, the Mother Moose Show remains a fond memory for Anchorage children that are all grown up now and may be all over the world, but they're still fans.
BONUS
You'll love this downloadable Mother Moose TV Show art.
Take a look at this
Mother Moose artwork
and enjoy.
As the author of this story, I had a fascinating connection with the Mother Moose Show.
I was at KTVA and helped Larry and Carol secure the Rocky and Bullwinkle cartoons for the show. We also combined the old KTVA children's show set for "The Buckaroos" with the forest set for the Mother Moose show.
And when the Mother Moose show went on the air, I directed countless episodes.
The picture below is a picture of Mary and I's daughter Nikki visiting with Mother Moose. Our family cherishes that picture, and we have a real soft spot in our hearts for Larry and Carol and that wonderful world they created for Alaskan children called "Mother Moose."
BONUS
Join your free Anchorage Memories VIP Club, delivered right to your email in-box each month.
PLUS
You'll receive your free Anchorage e-book when you join.
Check out your
Anchorage Memories VIP Club
and enjoy.