Miss Northern Lights
and Mother Moose
by Michael R Dougherty
(California)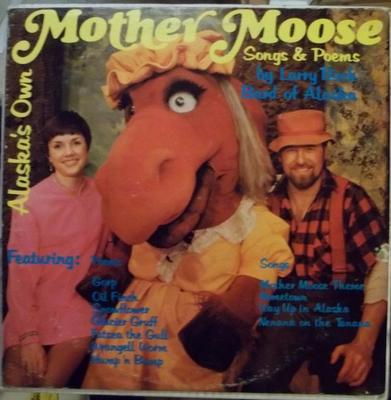 Remember this?

"It's Mother Moose, It's Mother Moose, there by the cabin in the spruce. Miss Northern Lights the eye delights into the cabin the gang invites."

Anchorage Memories caught up with Carol Edgar, Miss Northern Lights herself and asked her all about the Mother Moose show.

Anchorage Memories – Mike and Mary:
Where were you born, and what brought you to Alaska?
Carol Edgar
I was born in Great Falls, Montana.
For a time, the family lived in Asheville, North Carolina. But we moved back to Great Falls in 1952 when my dad went to work with his mother and sister in The Petite Shoppe, a women's clothing store started by my grandmother and aunt in 1947.
I graduated from Great Falls High School and attended the University of Montana.
Anchorage Memories – Mike and Mary:
What kind of work did you do when you first came to Alaska? How and when did you first meet Larry Beck?
Carol Edgar:
In 1967, I worked in the federal pavilion at Alaska-67, the site known for a long time as Alaskaland.
I believe it's now called Pioneer Park. Larry established the Robert Service exhibit at Alaska-67.
Anchorage Memories – Mike and Mary:
What was Larry's background? Where was he born and raised?
Carol Edgar:
Larry was born in 1935 in Oregon.
He was the youngest of a large family. The family was poor and several of his brothers went to Alaska to work.
Before Larry's first year of high school, he went to Alaska to work in his brother Bob's gold mine. He had plans to head back to Oregon, but his brother Don convinced him to stay in Alaska for high school.
Larry lived with Don and his wife and attended Anchorage High School. He had excellent grades, lettered in basketball and football and was a class officer.
He won a Naval ROTC scholarship to Oregon State University. After college, he served in the Navy and was on board the ship that sailed to Sitka for the Alaska statehood ceremony.
Larry lived and worked in Seattle in advertising and sales for years before moving back to Alaska in 1967 for the Alaska Purchase Centennial.
Anchorage Memories – Mike and Mary:
How did you and Larry come up with the idea for the Mother Moose show?
Carol Edgar:
Mother Moose was born several years before the television show.
Larry and I did a couple of years of school tours – doing up to three school assemblies per day.
When we worked with the younger grades, we used
Talkalot the totem pole
and I reached back to my favorite childhood poems and did some of AA Milne's poetry and a couple of the Winnie the Pooh stories.
I had a word that I used under stress: "Gorp". It could mean just about anything, depending on mood and tone of voice.
We were at the Alaska Fur Factory in Anchorage where they showed us some critters made of fur scraps. Larry and I looked at each other and said, "That's Gorp!" We bought several and Larry sat down and penned The Gorp. When it was published, he called it the first of the
Mother Moose Rhymes
. So, Mama was a figment of our imaginations long before her TV debut.
The show came about because we had a client, the Bi Lo Food Stores, that wanted an advertising vehicle.
We had a new advertising agency, Larry Beck and Associates, and Bi Lo was our biggest client.
Believe me, we didn't have any idea what we were getting into with a live show five days a week.
Anchorage Memories – Mike and Mary:
When the Mother Moose show first premiered on KTVA channel 11, Mother Moose was a hand puppet. Who created the puppet, and how did it evolve into a full-sized costume with someone inside? Who were the people who were inside the costume?
Carol Edgar:
Larry knew
Josef Princiotta
as the creator of the first Talkalot the Totem Pole, which was created for a stage show produced by Alaska Airlines.
When we needed a puppet, Larry called Joe and Joe created the first Mama Moose. She was wonderful! But we soon found out that the kids wanted to meet, talk to and hug Mama Moose.
I wasn't a good enough puppeteer to pull that off, so it seemed logical to make a full-size Mama. Once again, we called Joe.
Joe went to Disney for creative support. Only problem: none of the life-size Disney characters at the theme parks talk. So, Joe and Disney created the mechanism that allowed Mother Moose to open that huge mouth and talk.
A wonderful high school gal named
Mary Anne
was the first Mother Moose. She was tall, so Mother Moose was tall. After Mary Anne graduated, we had a couple of others. Our last Mother Moose was
Jackie
who was terrific.
Anchorage Memories – Mike and Mary:
How did you come up with the idea of doing live appearances with Mother Moose at local stores?
Carol Edgar:
The kids wanted to see Mother Moose and the TV studios were not set up for guests. And, once again, the BiLo Stores saw a great advertising opportunity.
Anchorage Memories – Mike and Mary:
What were some other characters on the Mother Moose show?
Carol Edgar:
One of my favorites was
Animal Man
, from the Anchorage Animal Shelter. He would bring at least one animal a week, and we managed to get most of them adopted.
We used Talkalot the totem pole.
Cordova Corky
was a puppet that visited with Larry and MM.
Larry used all the Mother Moose critters that eventually made it into the coloring book. We even had a couple of members of the local news team who made special appearances to talk about elections and public affairs.
Anchorage Memories – Mike and Mary:
The Mother Moose show has a huge fan base. Did you have any idea that the show would be so popular and still be remembered today?
Carol Edgar:
Not a clue!
In fact, we were once told we were doing everything wrong.
Shortly after the show started, a producer from Mr. Roger's Neighborhood came to Anchorage. I think someone at the station said "We have this local kids show. You need to talk to them."
Well, I went to see him and ended up being told how we should be applying child psychology to our scripts (what scripts?) and that I should have an educational background to do a kids' show properly.
I went home pretty depressed. Larry's comments were mostly not printable, but translated to "We did two years' worth of school assemblies and if you can keep the attention of up to 500 kids in a gymnasium for an hour, you know how to entertain kids."
Anchorage Memories – Mike and Mary:
Do you have any favorite behind-the-scenes stories about Mother Moose, or doing the show?
Carol Edgar:
There were little things, like an entire bottle of white glue tipping over during a live craft segment. The camera simply panned away while the white stuff dripped, and dripped and dripped until we could take a cartoon break.
The orphan bear cub that was brought into the studio for a segment. Poor little guy was scared, and he came over to me, went up on his hind legs, grabbed my leg and hung on for dear life with all of his sharp little claws. Smile for the camera Carol!
Being relieved from jury duty because I had to tape Mother Moose. I told the judge that Larry could simply say I was on jury duty and even do a segment about what that meant.
The judge said no way. He would rather not spend the next week explaining to kids why they couldn't come into a courtroom and see Miss Northern Lights.
In the long run, I think I learned as much (or more) than the kids. I love history, so those segments were easy. But I also learned so much more about the culture of Alaska.
I'm glad that we did the show when we did. Yes, it was low-budget and not of the technical quality that you see today, but we were able to tell Alaska's story without having to worry about the political correctness that is so prevalent today.
Anchorage Memories – Mike and Mary:
What would you like to say to all your Mother Moose fans?
Carol Edgar:
I'm glad that Larry, Mama and I were a part of your Alaskan childhood.
We had fun doing the show and always tried to do our best So--------a big thank you for being such wonderful fans.
Anchorage Memories – Mike and Mary:
And a big thank you to Miss Northern Lights, Carol Edgar, for spending some time with us here on Anchorage Memories.
BONUS
Part of the log "Cabin in the spruce" set that was seen on the Mother Moose Show was from another KTVA channel 11 kids' show, "The Buckaroos".
DOUBLE BONUS
You'll love this downloadable Mother Moose artwork.
Take a look at this
The Mother Moose TV Show
and enjoy
Do you remember the Mother Moose TV show? What are your memories?