Norma Goodman and
Theda Comstock
by Michael R Dougherty
(California)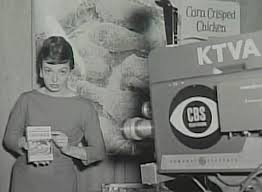 Norma Goodman
They were our friends, whether you knew them or not -

Norma Goodman and Theda Comstock came into our homes Monday through Friday to tell us what was happening in and around Anchorage, Alaska. They introduced us to interesting people, shared a recipe, and brought us the latest news and weather.

Back in the day, when you wanted to watch Anchorage TV, you had two choices. KTVA channel 11, or KENI channel 2 (now KTUU). Interestingly, in today's world of hundreds of stations to choose from, many of us agree that it certainly seemed like we had better TV choices when we only had channel 11 and channel 2.
Norma Goodman presided over a one-hour live show on KTVA channel 11 titled "Hostess House." Her show was primarily an interview show where she talked to her guests in a living room setting. Norma brought us regular Anchorage folks, the town's movers and shakers and celebrities who were in town for one reason or another.
From time-to-time Norma also stood in front of her kitchen set and did cooking demonstrations. Most often the chefs she featured were from local restaurants.
And for many years, Norma anchored KTVA's evening newscast with Ron Moore.
Norma was a professional broadcaster and a pleasure to work with.
Theda Comstock was seen twice a day on KENI channel 2. First, during the daytime on a show called "The Woman's Touch" where guests shared recipes while standing behind a stove and counter in a kitchen setting. Then during the evening news, Theda did the weather.
All the TV viewers in Anchorage thought that Theda had a special gift for writing backwards as she stood behind a glass with the outline of Alaska on it. Theda would write the temperatures around the state while she was giving us the latest weather as we marveled at her backwards writing skills.
But Theda wasn't actually writing backwards. The television illusion was achieved by simply flipping a switch that "reversed" the camera picture.
I worked at KENI-TV for a while and after her program began broadcasting in color, I had the honor of directing her show. Theda was a very talented lady and was easy to work with. If you'd like to know more about Anchorage's Theda Comstock, check out
this link to her obituary.
While I worked at KENI-TV for a short time, I started my career in television at KTVA channel 11, where I became a camera operator on "Hostess House." The very first time I worked on Norma's show I was scared. Here I was, a 19-year-old kid fresh out of East Anchorage High School, and I was working on Norma Goodman's show. Like everyone else in town, I had been watching Norma for years – mostly when I was home sick, or on summer vacation. Norma was a big, Anchorage TV celebrity.
But Norma turned out to be easy to work with, and she was a total professional.
Some years later, I began directing Norma's show.
Most articles you read about Norma Goodman mention that the name of her show was changed from "Hostess House" to "The Norma Goodman Show." That change came about when I became the Program Director for KTVA. One day, I sat down with Norma and told her that most people referred to her show as the "Norma Goodman Show", so I wanted to change the show's title. Norma thought about it a moment and said, "you're right, OK, let's change it."
Again, while I was the Program Director, I brought up the idea of changing the KTVA news to "Eyewitness News." That change included an entirely new set and matching yellow blazers for the entire Eyewitness News team, including Norma Goodman because she had also become a news anchor, along with Ron Moore.
As I wrote this post, it occurred to me that Norma Goodman and Theda Comstock were not only two special ladies that we enjoyed watching on Anchorage, Alaska television – but they really were our friends.
We invited Norma and Theda into our homes, and we felt like we knew them. Like our friends, we enjoyed having them come into our living rooms – even if they were on TV. And when they left us, it was very hard to say goodbye.
I can't imagine a time when we will ever see a Norma Goodman, or Theda Comstock on Anchorage television again. I suspect that Cindy Suryan, on KIMO channel 13, came the closest. Not only that, but I think Cindy also knew both Norma and Theda.
Bonus
Theda Comstock's full name was:
Theda Lee Elbrader Comstock.
Older Alaskans will remember that Theda was originally known as Theda Conley until she married KENI-TV news anchor Daryl Comstock.
DOUBLE BONUS
Theda's theme song was "Toy Parade" by Burt Kaempfert. You can find it on YouTube.
TRIPLE BONUS
Norma Goodman's grown children give you this behind-the-scenes look at "Alaska's First Lady of Television".
Take a look at
The Norma Goodman Story
and remember.