Breakfast in Bedlam
by Michael R Dougherty
(California)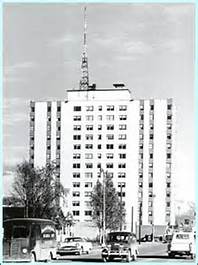 KTVA McKinley Building Studios
It may have been the most creative and interesting way for Alaskan's to wake up in Anchorage television history.

"Breakfast in Bedlam", with hosts Josef Princiotta and Merrill Mael, premiered on KTVA channel 11 in 1965. The show was broadcast live from 7:00am to 9:00am Monday through Friday.
Back then, KTVA's studios were still located on the first floor of the McKinley building, (now the McKinley Tower Apartments) located at 337 E. 4th Avenue in down town Anchorage. And because the 1964 Alaska earthquake had damaged the building, the only tenants remaining were KTVA channel 11, KNIK-FM and the occasional homeless person that would wander in off 4th avenue.
Hosts Josef Princiotta and Merrill Mael were remarkable.
Merrill Mael began his broadcasting career back in 1939 at KEVR and KOL radio in Seattle. In 1941, Merrill was an announcer at NBC in Hollywood. When he first came to Alaska he worked at KBYR, then KFQD.
Josef Princiotta is and was a very accomplished artist and sculpture. Among his many accomplishments, Josef worked as an artist/animator on the short-lived NBC network television series "Turn On" produced by George Schlatter as a follow-up to his highly popular "Laugh in" show. Josef also created sculptures around Anchorage and did the 7 life-size sculptures included in the sidewalk marque, outside Caesar's Palace in Las Vegas.
So, these two very talented men set out to wake up South central Alaska like never before.
Their commercials were shot on black and white Polaroid film and during the show they took live camera shots around mirrors and through tubes to create unexpected images during their broadcast.
I remember being in the studio during one broadcast when a black and white studio camera developed a "burn" where the image in front of the camera was "burned" into a white image, frozen on the camera. Josef had the camera on Merrill. And with the white image of Merrill burned onto the screen, Josef moved the camera to one side, so the audience was seeing both Merrill and his "burned" image on the screen at the same time. Merrill reacted by pointing to the studio monitor and saying "look, I'm beside myself."
Hosts Josef Princiotta and Merrill Mael were not confined by the rules of television of that time. Some of their set-ups were remarkable.
To follow reports of the launch of a space capsule, Josef created a diorama using a large sheet of black paper with dozens of pinholes in it and a plastic Gemini capsule model hung by a thread. The black and white studio camera image gave the audience a "live on location look". They also used the sound that NASA had provided from a radio link with the capsule.
Breakfast in Bedlam also used puppets that Josef created – A wolf, a frog, a gold miner, 3 birds and a moose.
Besides creating puppets for Breakfast in Bedlam, Josef Princiotta also created the Mother Moose hand puppet. He also created the full body
Mother Moose
costume for Larry and Carol Beck that would premiere on Anchorage TV screens on KTVA channel 11 some time after Breakfast in Bedlam.
Always an artist, Josef also provided art lessons for the Breakfast in Bedlam audience. Using Herb Shaindlin as his model, Josef sculpted a bust of Herb in stages, during several shows.
Other show features included Merrill Mael interviewing Anchorage movers and shakers and celebrities traveling to Anchorage. Merrill gave stability and humor in a style that played well against Josef.
When KTVA finally moved out of its 1964 earthquake damaged studios and into their Spenard studios, Breakfast in Bedlam made the move too.
But technology made it possible for the show to get a portable black and white video camera, tape machine and a van, so they were able to shoot on location. But not just in and around Anchorage.
Using 16mm film, a Bolex Camera and a Nagra tape recorder, Josef traveled to Russia in the summer of 1966, to film "Man-On-The-Street" interviews for the planned 1967 Alaska Purchase 100th. Anniversary.
Also in 1966, I had gone to work at KTVA and was now a camera operator for Breakfast in Bedlam. And because Merrill Mael showed up every day to do the show in a white shirt and tie, I began wearing a white shirt and tie behind the camera. My style of work clothes soon became expected of all the television studio crew members.
Josef and Merrill had offices across the street from the Westward hotel in down town Anchorage. And when
the Beatles
made their famous stop-over in Anchorage, on June 27, 1966, Josef went across the street to the hotel and interviewed the Beatles. As a parting gift, the fab four gave Josef an autographed Beatles album.
The next morning, Josef and Merrill auctioned off the autographed Beatles' album on Breakfast in Bedlam.
When Breakfast in Bedlam had reached the end, KTVA started broadcasting a new live local program called "The Morning Show" hosted by Anchorage radio personality Roger Latham. The Morning show featured a popular segment called "The Trading Game" and also incorporated a lot of music and comedy. I was also a camera operator for that show and even created and starred in some sketch comedy for the program.
BONUS
You'll love this look at The Morning Show in this edition of the
Anchorage Memories VIP Club
.
Take a look at
Anchorage Morning Show Memories
and enjoy.
Roger Latham and I went on to co-host "The Varsity Show", Anchorage's teen TV dance program on KTVA channel 11.
But nothing could ever touch the creative magic of Breakfast in Bedlam.
A special thank you to Josef Princiotta for providing information and suggestions for this story.
Thank you, Josef.