4th Avenue Theatre Memories
Our Movie Palace

Your 4th Avenue Theatre memories are precious. Enjoy this past edition of the Anchorage Memories VIP Club as it takes a look at this popular movie house.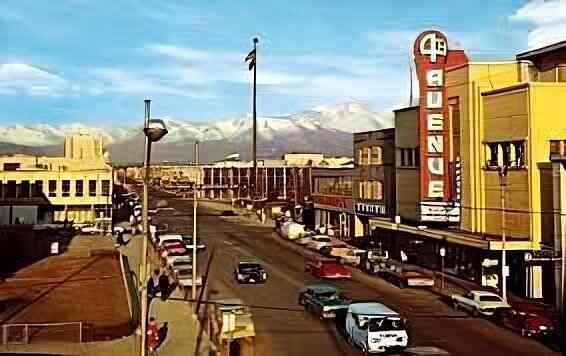 It was our movie palace
Take a look at this edition
of the
Anchorage Memories VIP Club

click on the following link

Anchorage 4th Avenue Theatre Memories
Reading this special edition will help you remember all those happy times.

Anyone who lives in Anchorage, Alaska, used to live there, or visited Anchorage from another town in Alaska, will tell you, the 4th Avenue Theatre was everyone's favorite place to see a movie.
It was a palace. It was our movie palace.
Going to see a movie at the 4th Avenue was an experience. A grand experience. From the moment you stood on the sidewalk in front of the theatre, looking at movie posters promoting coming attractions, you could hardly wait to go inside.
And you knew you were about to enter a special place and experience something that would capture your heart and your imagination.

4th Avenue Theatre Memories

As a young boy, Mike of Anchorage Memories, loved going to the 4th Avenue Theatre. "I really enjoyed the Alaska murals, the Big Dipper and the North Star on the ceiling and that wonderful grand staircase leading to the balcony."
Later, Mary and Mike enjoyed many dates in the theatre and when they were married and had children, Nikki and Christopher, their family loved seeing movies at the 4th Avenue Theatre.
As you look back at going to see a movie in Anchorage, Alaska, what are your memories of the 4th Avenue Theatre?
And what are some of the movies you saw at the 4th Avenue?
Mike of Anchorage Memories recalls seeing "Lawrence of Arabia", "The Unsinkable Molly Brown" and a re-release of "Gone with the Wind".

Those Long Winters

and Long Summer Days
It seems like going to see a movie in Anchorage is like going to an event.
Maybe it's those long winters and all the darkness. And perhaps it's those long summer days. Or both.
Just the idea of getting out with friends or family to see the latest movie release was great fun.
Dinner and a movie? Lunch and a movie?
Remember stopping at Woolworths to purchase some candy and one of those great big bags of popcorn to take to the theatre for your snack treat?
And there was something about getting your ticket from that fun ticket booth before you entered the theatre. That ticket was your passport to a wonderful experience.

Your Memories
Sometimes, just reading or hearing about something, brings back memories you haven't thought of in years. And that's a wonderful thing.
Imagine being there. You find yourself right in front of the 4th Avenue theatre, just waiting to go inside to see a movie as the warm glow of the neon sign welcomed you.

Maybe you remember seeing your friends there too.
And the concession stand with all those delicious choices and your favorites too. Can you smell that incredible aroma of fresh popped corn? Oh, my.
And what about those oversized auditorium seats? Who did you think they were there for? Larger people, or for two people, so they could share a seat?
Then there was that magnificent staircase leading upstairs and to the balcony. As you looked, you could easily imagine a movie star or a princess walking slowly down those plush steps as their gloved hand glided gently down the beautiful handrail.
And remember being seated in the auditorium as the lights began to dim, the curtains parted, and that silver screen was suddenly filled with those wonderful movies?
4th Avenue Theatre Memories
BONUS
Did you know that the 4th Avenue wasn't the first movie house in Anchorage?
There were actually two movie theatres on 4th Avenue, before the 4th Avenue was opened.

You may recall the Empress Theater which as a little farther down the street to the west. But did you know there was another theatre as well? 
It was called the Harmony theatre. There isn't much known about the Harmony, but that theatre and the Empress were built in about 1916 when there wasn't much to do in the tent city that sprang up on Ship Creek Flats.
So, every movie that played the Empress or the Harmony, was seen by a full house.