Theda Comstock
and the Emerald Ring
by Cindy Pendleton
(Anchorage, Alaska)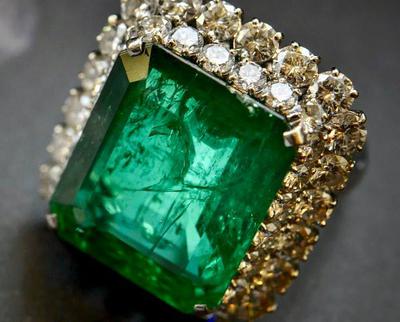 A $2,500 emerald
"It was a cold and snowy night" in Spenard, Alaska, 1969.

Along with her husband, Daryl Comstock (D.M. as he was known on KENI -TV), Theda was a business partner with my late, husband Bob and me. "Cine-Sound", was a filmmaking venture, and back in the 60s, TV commercials were our bread and butter.
It was a weekend night, in one of those Januaries when a cold snap was in full bloom, and we were enshrouded in bone chilling -20 degree temps.
We were shooting close-ups of jewelry as part of a commercial for Ellen's Jewelers. Theda had stopped by the jewelry store on her way home that Friday, and signed out several expensive pieces of jewelry to photograph on Sunday afternoon.
The 4 of us met at Daryl and Theda's to film the close-ups. Filming went well, with the shot of a fabulous emerald and diamond ring, worth over $2,500 being the finale.
After the shoot, as Theda and I were admiring this gorgeous piece of jewelry, she spotted a crack running through the emerald. As the realization that this may have happened as the result of the cold weather transport sank in, Theda turned pale.
All four of us were horrified at the thought that we could have been so careless! Theda, classy lady that she was, took immediate responsibility.
Needless to say, none of us were looking forward to Monday morning when she would return the jewelry, point out the cracked gem, and make arrangements to pay for the ruined ring in installments, as we did not have that kind of cash flow.
I waited anxiously as Monday morning came and went.
Later that day I got a phone call from a very relieved TV lady. When she showed the jeweler the ring, and confessed about the crack, he laughed and said that one of the ways to tell a true emerald were the fissures and flaws in the gem.
Apparently the flaws were there all the time, and we only noticed them once the ring was under the intense lighting needed for filming.