President Nixon Meets Emperor Hirohito in Anchorage, Alaska
by Michael Dougherty
(California)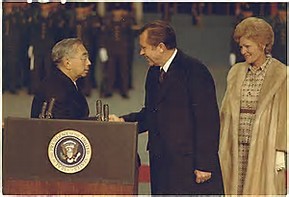 A Historic Meeting in Anchorage
On September 26, 1971 Anchorage, Alaska television professionals showed the world an historic event. Scroll down to see the video.

President Nixon met Emperor Hirohito at Elmendorf Airforce Base. This was a historic meeting, because it was the very first time that a member of the Japanese Imperial Dynasty had ever visited America.

Their historic meeting was televised to a world-wide audience. In the United States it was broadcast by the Today Show on NBC, Good Morning America on ABC, CBS News and by networks around the globe.

And Anchorage, Alaska television professionals were behind the scenes, providing the broadcast.

While the television cameras and production equipment were provided by the Canadian television network, CFTO, the director was from KENI-TV (now KTUU) and the camera operators were from KTVA channel 11, KIMO (now KYUR) channel 13 and KENI-TV.

I was the camera operator from KTVA, (I actually won an Emmy for my camera work in the 80's on another TV show) and during this historic broadcast, the director told me to keep my camera focused on a "two shot" of President Nixon and Emperor Hirohito.

I happened to be in Seattle shortly after the event and while visiting a grocery store I noticed that a shot from my camera of Nixon and Hirohito had made the cover of TV Guide.

If you were living in Anchorage during this historic event, you may remember that it was an exciting time.

Following brief remarks from President Nixon and Emperor Hirohito at Elmendorf, the two were taken by car to the home of Walter J. Hickel, who had been Secretary of the Interior under President Nixon. Around 35,000 Anchorage residents and visitors lined the route of the motorcade.

Happily, you can see the historic meeting of Nixon and Hirohito in the video below -


Anchorage Memories Newsletter
, your fun, nostalgic, monthly magazine brings you memories of Anchorage back in the day.
Plus
you get a free Alaska book when you join! Check out
Anchorage Memories Newsletter
right now.
Do you like this website?
let us know by clicking the Like button

Sep 14, 19 10:23 AM

The Varsity Show ebook brings you a fun look at Anchorage, Alaska's teen TV dance show.

Sep 11, 19 10:38 AM

About Mike and Mary and how they preserve your Anchorage Memories on this website in stories, pictures and video.

Sep 11, 19 10:13 AM

Anchorage Coke Show Memories takes you back to 1959 to 1969 when Anchorage Alaska DJ Ron Moore played the hits from high atop the Bun Drive-in.
This Anchorage Memories website
created by Mike and Mary Dougherty
Copyright © 2016 - 2019
AnchorageMemories.com
All Rights Reserved
Wonderful Anchorage Memories
that fill your heart and feed your soul