Cruisin with GTO Joe

You'll love Cruisin with GTO Joe in Anchorage, Alaska and remembering those fun times.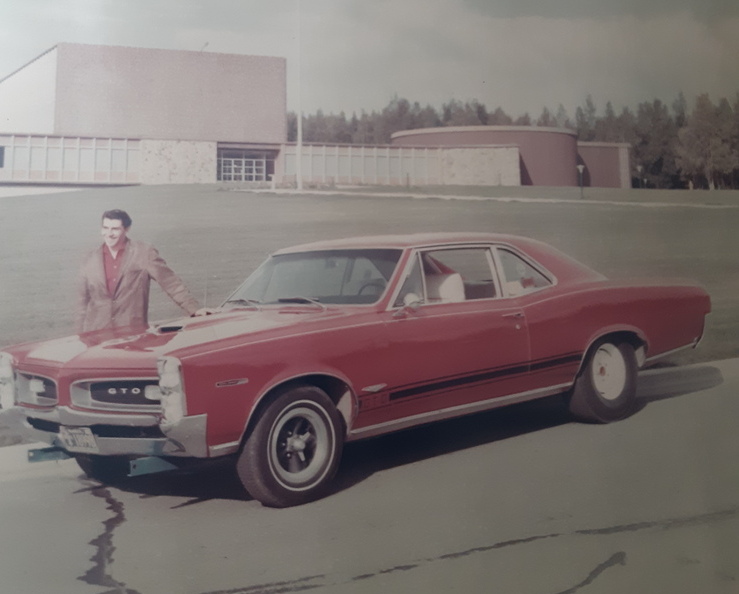 Joe and his stock GTO
"Excellent story on GTO Joe!"
Anonymous

Do you remember GTO Joe in Anchorage?
He cruised around town in his customized GTO and he was a regular in the parking lot of the Bun Drive-In during the Coke Show radio program.
His real name is Joseph M. Weatherford, but we all know him as GTO Joe.
Anchorage Memories caught up with GTO Joe and you'll love meeting the man and his car.

Anchorage Memories – Mike and Mary:
What brought you to Anchorage?
GTO Joe:
That kind of goes back to me being a newspaper boy in 1959.
I grew up in Oregon in Roseburg and I delivered newspapers for the Oregon Journal. 1959 was the centennial year for Oregon and the paper had a centennial edition of the newspaper.
If we paper carriers sold ten copies of that issue we had our name put in a drawing for a trip to Alaska. My name was drawn and the trip to Alaska took us to Ketchikan and Juneau. There were about twelve of us that won the trip.
In Alaska we did get to meet Governor Egan and presented him with a Turkey platter, welcoming Alaska to statehood from Oregon.
That trip got me to liking Alaska.
When I graduated from high school in 1962 I joined the Air Force. Every time I had a chance to request a duty station I chose Alaska as my first choice.
After completing my Electronic training at Keesler AFB I got my wish and was shipped to Elmendorf AFB. I arrived there in October 1963.
After finishing three years service at Elmendorf, I was discharged in August 1966 and remained in Anchorage and started the fall semester at Alaska Methodist University, now Alaska Pacific University.
Anchorage Memories – Mike and Mary:
How did you first get involved with GTO cars?
GTO Joe:
This started while I was in the Air Force.
I had a job running movie projectors at the Billiken Drive Theatre on Muldoon Road in Anchorage.
It was quite a distance from my barracks to the Drive In.
I would get off of my Air Force job about 5:00pm and I would stop by the Bun Drive-in for a bite to eat and listen to the Coke show. At that time, I was driving a 1950 Pontiac that had a straight 8 for an engine. It had rusted out floor boards, and was all faded black paint, but it got me to work and back without any problems.
Some time in the late summer of 1965 I got a cash settlement from a life insurance policy. I think it amounted to about $7000. So I opened up a bank account in Anchorage. Since I had my room and board taken care of by The Air force, most of the money that I made at the Billiken Drive-in also went into the bank.

Sometime in November 1965 I was talking to one of my fellow airmen about a car he was going to buy. It turned out to be a GTO.
Until that time I had never even heard of a GTO. So I decided to go into Anchorage and see what he was talking about. I went to the GM dealer and there in the front of the building was a GTO waiting for service. I liked the looks of it and went in and talked to a salesman and ordered a new custom 1966 GTO.
Not only that, but I ordered it with a 389 ci engine, 4 speed manual Muncie transmission, 4 barrel carb, with positrac rear end. I also ordered white interior seats and Montero red paint on the exterior.
To my surprise the car arrived just before Christmas 1965. I went down to pick it up and got a very extensive explanation of all the features of the car.
That is how I got introduced to GTOs.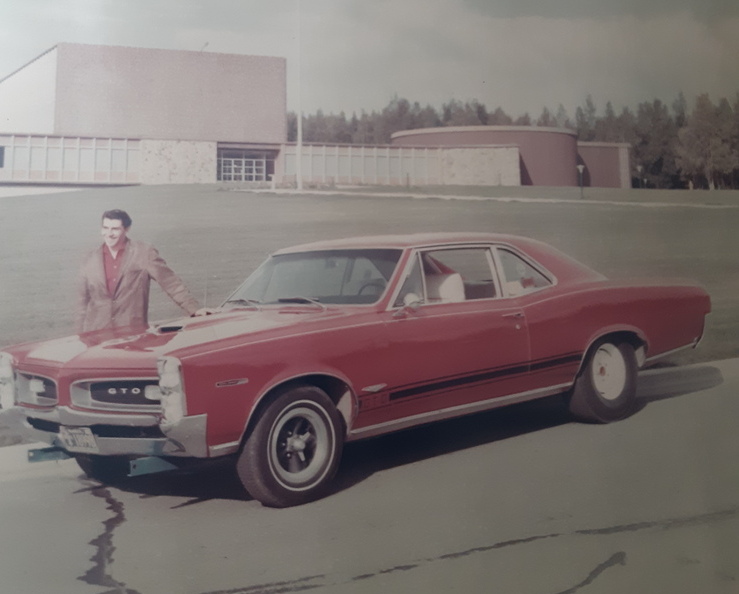 In front of Grant Hall at Alaska Methodist University
Anchorage Memories – Mike and Mary:
Tell us about the GTO pictured above.

GTO Joe:
The GTO in the picture is the same car that I received in December 1965.
However, this picture was taken in the summer of 1967. Note the mag wheels on the front, the racing stripe on the lower door and the cheater slicks on the rear wheels.
I had also installed a set of Hedman headers and the tow-bar hookup points on the front.
Another thing that is just barely visible in the picture is a decal of a tiger head just in front of the hood scoop. The gas companies were saying "put a tiger in your tank" so I thought I'd put a tiger under the hood.
Other things that I had done over the winter was to pull the engine out and ship it to Radkee machine shop in Portland, Oregon to have it balanced and blueprinted.
I had also acquired a high performance cam from Royal Pontiac in Michigan.
The hood scoop is chromed and open into the three two barrel carbs that I had overhauled in the basement of the college dorms over the winter.
The whole reason for doing all of these mods was because I had gone to the Polar Drag Strip with a factory stock car and I got beat.
Needless to say, when I returned with the mods, I didn't get beat anymore.

Anchorage Memories – Mike and Mary:
Your full name is Joseph M. Weatherford. How did you get the name, GTO Joe?
GTO Joe:
That takes me back to when I was working in the Air Force and also at the Billiken Drive-In Theatre.
Before I had a GTO. I was stopping at the Bun Drive-in for something to eat in between jobs. At that time, I Was driving that 1950 Pontiac. Usually, I would go inside the restaurant to eat and talk to who ever else would be there. Sometimes I would see Ron Moore, Herb Shaindlin, or other people I had met around town that frequented the Bun.
Another thing that was occurring at that time were the "GO-GO Dancers".
They didn't have any at the Bun, but they were in some nightclubs around town.
Shortly. after I got my GTO, I was in the Bun parking lot during the Coke Show and a couple of girls in a Rambler pulled in and put a sign in their front window for Ron to see that read, "Rambler A-GO-GO". The next night they were back, and another car pulled in with a sign that said "Chevy A-GO-GO". And then There was a "Cadillac A-GO-GO" and it seemed like every car was A-GO-GO. So, wanting to join in on the fun, I made up a sign that read "GTO Joe".
That is how I got the name GTO JOE. Of course, Ron Moore was talking about all the happenings in the Bun parking lot, and we all got to be good friends.
Not long after that, Ron pulled in for the Coke Show and I noticed his license plate read "MOR RON". I ask him how he got that, and he told me personal license plates were available to anyone. I think I waited until my plate renewed and got my "GTO JOE" plate.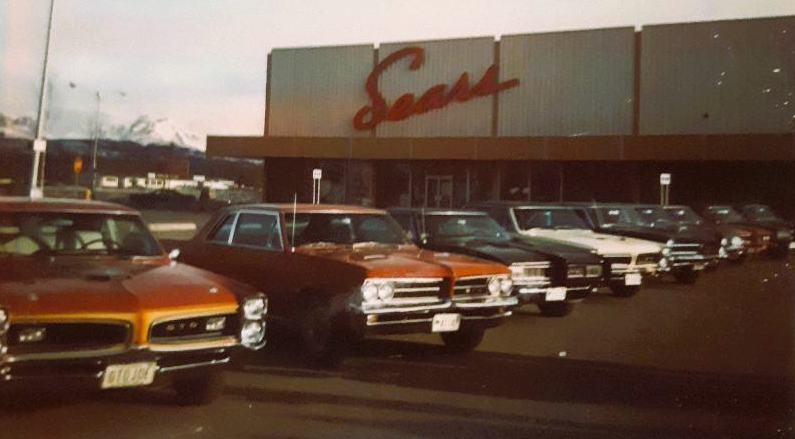 Anchorage GTO Car Club
Anchorage Memories – Mike and Mary:
Did you hang out with other custom car owners in Anchorage?
GTO Joe:
Well I did hang out with other car owners, but they all had GTOs.
Above is a picture of some cars in the Sears parking lot across from the Bun Drive-In. The gathering was organized as the "GTO Club".
The club didn't last very long as changes in jobs and life in general got in the way. We did have one rally out to Thunderbird Falls and had a fun time there. 
Anchorage Memories – Mike and Mary:
Mary of Anchorage Memories recalls riding in your GTO. Did you have many Anchorage folks wanting to take a ride in your car?
GTO Joe:
That was a long time ago, right at 55 years.
I had many people take a ride in my GTO. However, I cannot remember their names or faces.
Anchorage Memories – Mike and Mary:
You did some drag racing with your car. What can you tell us about that?

GTO Joe:
I was racing my GTO at Polar Drag Strip during the summer of 1967 and generally did not drive it on the Anchorage street's during that time.
After the spring semester at AMU was over I had to find a place to stay. So I rented a cabin on Boniface Parkway. It was a little two room shack with a bedroom, a kitchen Living room, and a bathroom. It also had a ramp for working on my car with a shallow pit.
Over the winter of 66-67 I had acquired a 1957 Chevy pickup, so I had transportation while the GTO engine was out being worked on.
I used the pickup to tow my GTO to the drag strip. The truck was painted orange. I think it had been an Air Force truck before I got it. Whoever had it before me had souped up the engine, which was a straight six with a 3/4 cam and three one barrel carbs. It actually ran very well.
I also started working at United Auto Supply during the day and continued working at the Billiken Drive-in at night.
I was back to working two jobs for the summer and stopping at the Bun for a bite to eat between jobs. Occasionally I would drive the GTO to the Bun and harass Ron Moore by revving the engine under the chicken coop. When I got parked, I would turn on my four-way flashers and Ron started calling me "Lightning Bug GTO JOE".
I did manage to win at the drag strip on the 4th of July 1967. That day, I received a trophy for "Jr Stock Eliminator".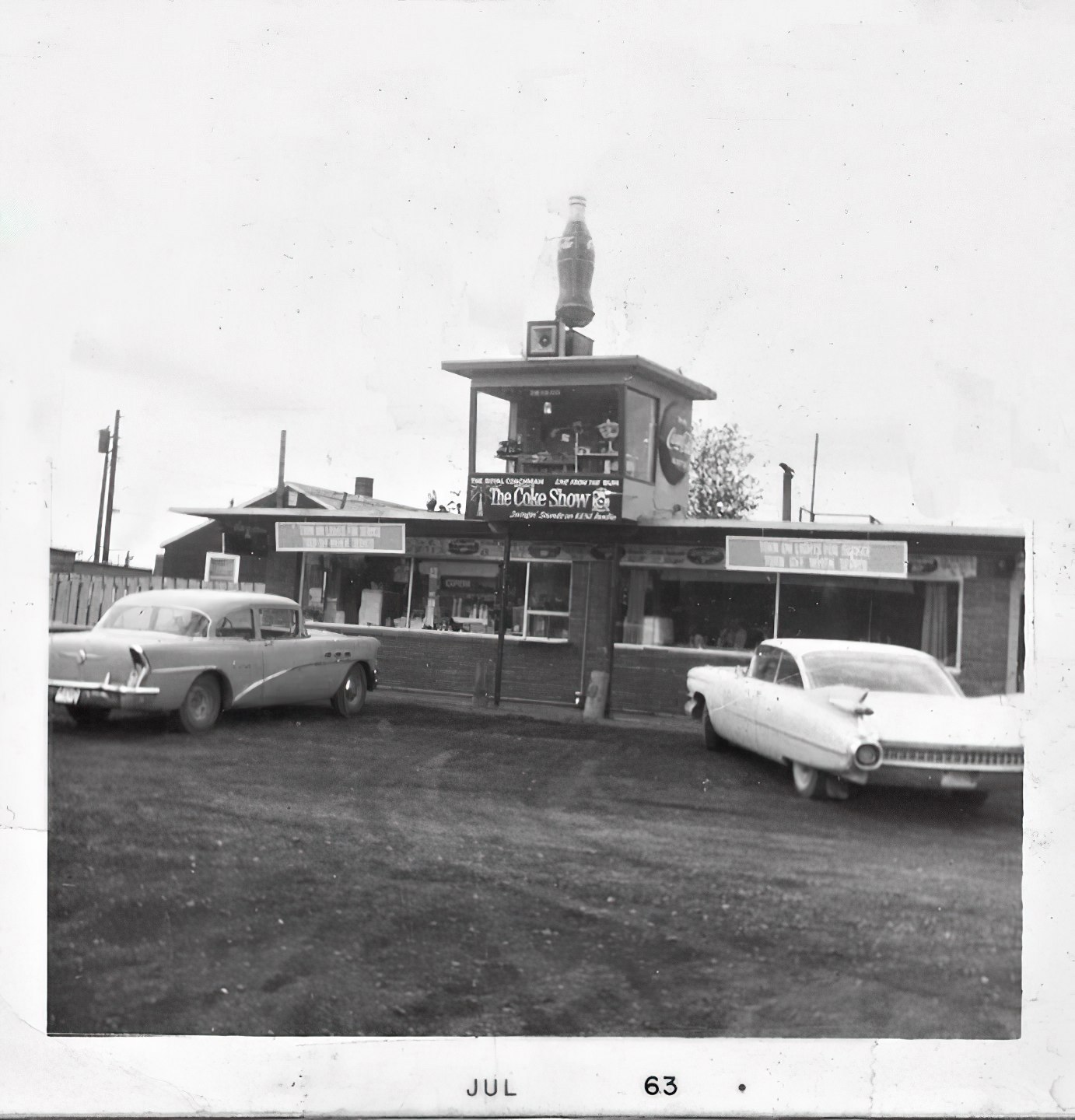 The Bun Drive-In and the Coke Show
Anchorage Memories – Mike and Mary:
Anchorage DJ Ron Moore hosted the Coke Show radio program. The show originated from the small studio known as the "Chicken Coop" or the "Royal Roost" that was set up on the roof of the Bun, looking out over the parking lot below.
Ron loves cars and because he was known as the "Royal Coachman" on his radio program, whatever car Ron was driving was called the "Royal Coach".
While you were hanging out at the Bun Drive-In during the Coke Show, did you get to know Ron?

GTO Joe:
The simple answer to that is, yes.
We were both at the Bun Drive-in almost every night during the week. I can't remember if he did the Coke Show on the weekends or not, if he did, I would have been there.
We got to know each other sometimes in the Bun before he went on the air or during the show with me in the parking lot with my GTO and Ron in the Chicken Coop.
BONUS
Yes, you can listen to the Coke Show once again!
You'll love this edition of the Anchorage Memories VIP Club.

On Christmas Eve, 1959, a small booth sitting on the roof of the Bun Drive-In, a burger place in Anchorage, Alaska, became home to a new radio program called, The Coke Show. And it was a huge hit.
Local teens loved it and tuned in to hear popular music, make requests and dedicate songs.
Anchorage favorite, Ron Moore hosted the program and kept things going at a fun pace.
Turn back the clock and return to the Coke Show

Click on the following link:
Take a look at Coke Show Memories and remember when

Cruisin with GTO Joe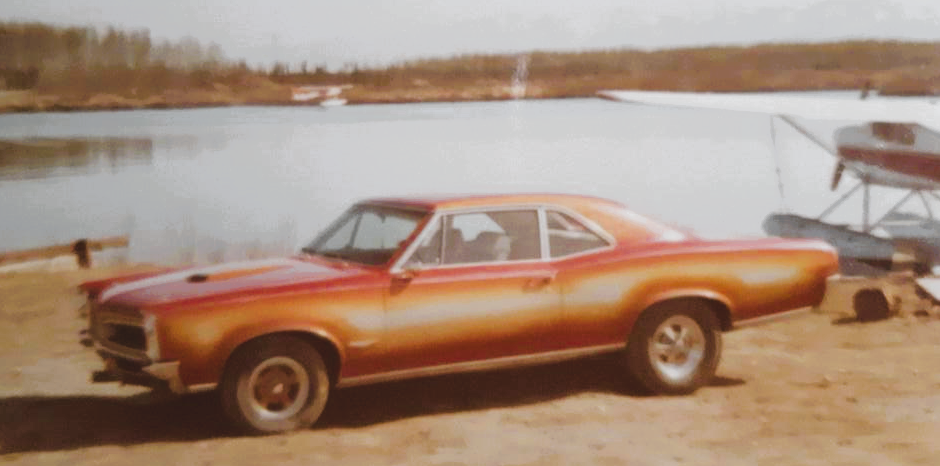 Spenard Lake 1969
Anchorage Memories – Mike and Mary:
When you drove your GTO around Anchorage, did you go to places like Goose Lake and Spenard Lake?
GTO Joe:
Yes I did.
I was at the Coke Show several times during the week, then downtown to cruise up and down 4th Ave to see who else was out cruising around. And to Goose Lake in the summer to get a little sun and do a little swimming.
Anchorage Memories – Mike and Mary:
What would you like to say to all the people who remember GTO Joe?

GTO Joe:
I would like to say that I had fun during the few years I was active as "GTO JOE".
I met a lot of people during those days and was helped by nearly as many. 
When I left Alaska, I had to sell my GTO, and now I wish I hadn't done that.     

A Final Note:
We remember those happy days when GTO Joe and other custom car owners drove around Anchorage.
They were regulars when Ron Moore was doing the Coke Show, playing great music and taking dedications from "high atop the Bun Drive-In".
Like many of you, we remember hearing about GTO Joe, and we recall seeing his car driving around town.
Thank you, Joe, for the great Anchorage Memories.

BONUS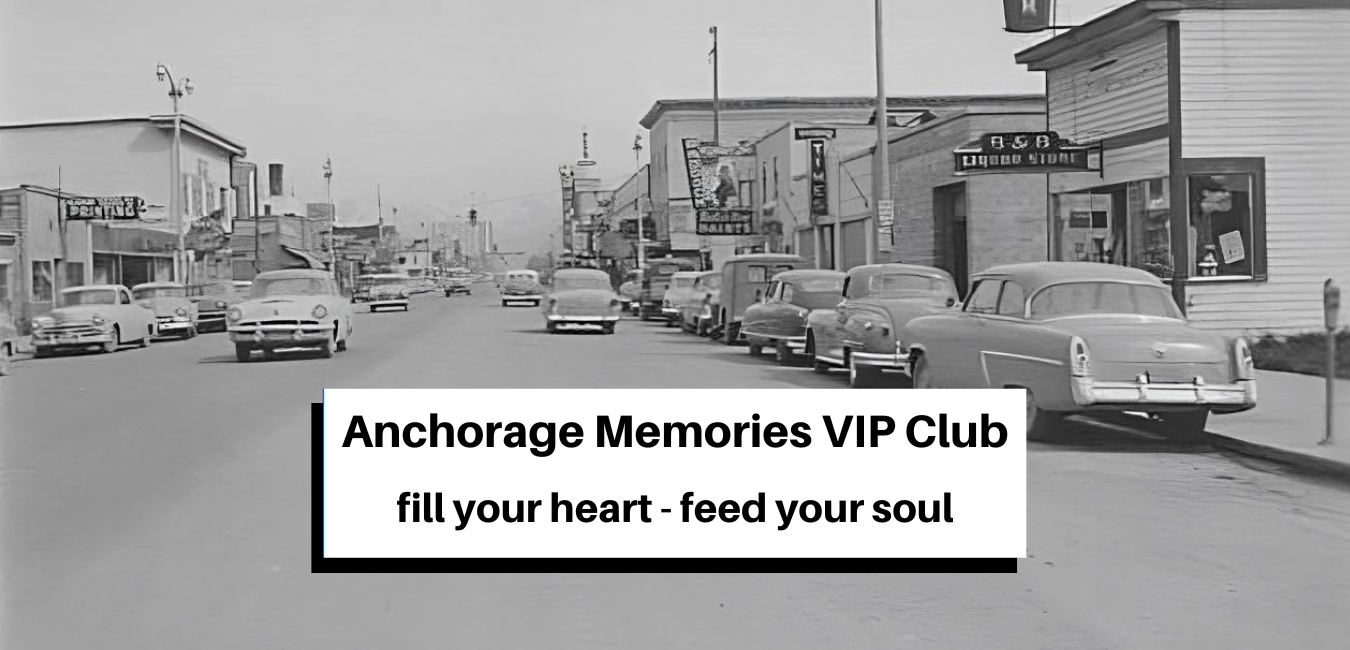 Join your free Anchorage Memories VIP Club

A treasure chest of precious Anchorage memories, delivered right to your email in-box three times each month.

Plus

Discover Alaska Facts and History
and

Meet Anchorage Pioneers
Plus, just for you:

Right after you join
you'll receive "Nostalgic Anchorage Stories"
as a special thank you

Click on the following link:

"I thoroughly enjoy Anchorage Memories,
it is absolutely magnificent" Robert