Coke Show Memories takes you back to 1959 thru 1969 when Anchorage Alaska DJ Ron Moore played the hits from high atop the Bun Drive-in.

And Ron took "The Coke Show" to new heights, literally, when the show originated from, as Ron used to say, "high atop the Bun Drive-in"  at 601 Northern Lights Boulevard (later named "Wooly Bully Blvd" by Ron and the gang).
The Coke Show studio was a small booth, affectionately known as the "Chicken Coop." The tiny booth included a microphone, small mixer and two broadcast turn tables for playing all the latest hits and requests.
You could easily see the Chicken Coop as you drove by the Bun Drive-in. It was like a living promotion for the very popular nightly show featuring Ron Moore and callers requesting songs, making dedications, or just wanting to say hello to Ron.

On his radio show he was known as "The Royal Coachman" and to Anchorage, Alaska teens and adults too, Ron Moore was it.
Ron played all the latest rock and roll hits of the day with an occasional "blast from the past."
Our site visitors will love reading your memories about Ron's show, so put together your story and give us all the details.
Do You Have A Great Coke Show Memory?
Share it!
Coke Show Memories from Other Visitors
Click below to see contributions from other visitors to this Coke Show Memories page...

---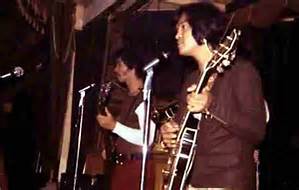 *And here's an "oldie but a goodie", the Pulsating Heartbeats hit song "Anne"
A Coke Show favorite

---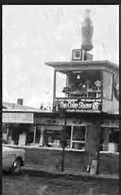 Bun Drive In
From high atop the Bun Drive-in
My name is Michael R Dougherty, also known as Mike. Me and a friend named Bob Martin had become a part of what Ron affectionately referred to as The Varsity Show Crew.
The Varsity Show was a live, local teen dance program hosted by Ron Moore and seen every Saturday on KTVA channel 11 in Anchorage.
And as local teens, Bob and I were very interested in learning everything we could about television and radio. So Ron invited us to be a part of the Coke Show.
Our job was to set up the booth before each show, get records ready to play as we sat next to him in the Chicken Coop, and answer the phone when he was too busy. And on occasion, Ron would invite us to talk on the air with him.
Ron gave Bob and I our "on-air" names. I was "Mighty Michael" and Bob was "Rapid Robert."

I've included some of my memories and encourage you to post your Coke Show memories too.
When you think of Anchorage radio stations, from 1959 through 1969 you probably remember tuning your dial at home and in your car to KENI radio so you could listen to Ron Moore.
Varsity Show


---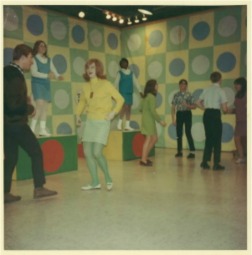 The Varsity Show
Remember The Varsity Show?
Ron also hosted this fun show -

It was Anchorage's very own teen dance show on KTVA channel 11.

Now you can post your Varsity Show memories and read other Varsity Show stories.
You can remember the  Varsity Show right now.

Wonderful Anchorage Memories that fill your heart and feed your soul -
Return to the Home page from this "Coke Show Memories" page