4th Avenue Theater Anchorage
by Michael R Dougherty
(California)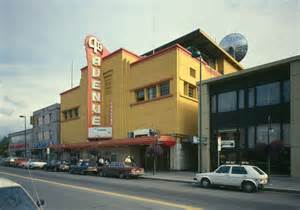 A Grand Movie Palace
It was the perfect place to see a movie in Anchorage, Alaska.

Remember the first time you went to see a movie at Anchorage's famed 4th Avenue Theater.

It was a fun experience to just stand there on the sidewalk, and look at the colorful posters showing you what was playing and what would be playing in the weeks and months to come.
And as you approached the box office to get your movie tickets, you knew you were about to enter a special place.
With tickets in hand, you happily entered the theater.
Suddenly, you were aware of the delicious aroma of fresh popped movie theatre popcorn. And your eyes begin to take in the incredible sight of the theater's beautiful Art Deco style. Some say that the style was also Streamline Moderne and Art Moderne. But one thing is certain. The 4th Avenue Theater in Anchorage, Alaska was a special place to see a movie.
Then, before you looked at the rest of the theatre, you walked through those plush curtains to see what was playing.
And as you did, previews of that fun John Wayne movie "North to Alaska" began to play up on that silver screen.
As you took your seat, you looked up at the impressive Alaska murals that graced each side of the screen. And there was that beautiful North Star and the Big Dipper on the ceiling.
Now turn up the sound and click on the video
"North to Alaska" was a perfect movie to see at the 4th Avenue Theater
.
Construction of the theater began in 1941, but was stopped because of World War II. It was later completed in 1947. And the new theatre was a welcome addition to Anchorage.
What was your favorite treat when you went to see a movie?
Popcorn, soda, Flicks, Bon Bons, Jujubes?
The original 4th Avenue Theater didn't have a concession stand.
Cap Lathrop, who built the theater, didn't think a concession stand would be appropriate. Aren't you glad a concession stand was added later?
Back in the theater, do you recall those extra large auditorium seats? I've heard different stories about why there were some oversized seats. One was that they were to accommodate larger theater goers, and another story was that the oversized seats were for a lady and her gentleman to share.
Remember when you took a break and walked out of the auditorium, through those plush curtains and into the lobby?
There it was, that wonderful concession stand filled with delicious treats.
And just off to the right of the concession stand was that grand staircase. A staircase so grand that it belonged up there on the screen with Scarlett O'Hara gliding down it's carpeted steps.
Once you were on the second floor, the Art Deco design continued to make you feel as though you were a special guest in a palace somewhere in Alaska.
The balcony was remarkable, and for many in Anchorage, it was the first theater balcony they had ever sat in to watch a movie.
While Anchorage had several other movie theaters, including the Denali Theater, and the Impress, none were anywhere near as beautiful or special as the 4th Avenue Theater.
In 1960, the 4th Avenue ran the Disney movie, "Toby Tyler" starring Kevin Corcoran and a chimpanzee named Mr. Stubbs.
The theatre had been advertising the movie for some time. So, when the big Saturday afternoon Anchorage premier arrived, our mom drove us downtown and dropped us off next to the sidewalk outside the 4th Avenue theatre, where a considerable crowd had already formed.
By Anchorage standards in those days, it was a mob scene with kids of all sizes jammed in front of the theater box office waiting to get their movie tickets.
Many years later, on a date with my future wife Mary, we discovered that both of us were in that mob outside the theater waiting to see "Toby Tyler."
For those of us who lived in Anchorage, Alaska back then, the 4th Avenue Theater holds a special place in our hearts.
It was Anchorage's movie palace – it was our movie palace.
The last movie Mary and I saw in that grand theatre was a re-release of "Gone with the Wind".
Mary and I took our daughter Nikki and son Christopher to see the movie at a theater that meant so much to Mary and me when we were growing up in Anchorage.
These days, when we see a movie on TV, we ask each other, "did you see this at the 4th Avenue Theater in Anchorage, Alaska?"