List of More Alaskan Stories
This List of more Alaskan Stories helps you find fun Alaska stories you will want to read.
---
Scroll Down Below to Read the Stories
and Post Your Stories and Comments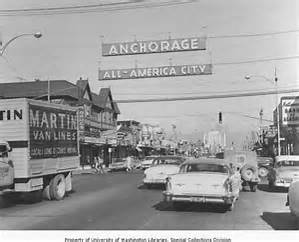 More wonderful Alaska stories you're sure to love

Anchorage Memories.com is all about bringing nostalgic Alaska stories from you to our website visitors. And this page is filled with Alaskan stories for you to enjoy.

To post your own Alaskan story, click on the link to the story, and then At the bottom of the story you will discover a link you can click on to add your very own story or comments.
Do you have questions about how to post your stories here on Anchorage Memories.com?
Click here to check out our Frequently Asked Questions, FAQ page.
List of More Alaskan Stories


fun stories from our website visitors just like you

Palmer Alaska, Wasilla Alaska Stories


My Alaska Cabin Adventure - Mike falls down the stairs

Anna, a Bluebell Flower and a Rainbow Trout - an amazing Alaska fishing story

The Wasilla Ogre and the Fool - a way to-close encounter with the Wasilla Ogre

Dog Sledding in Alaska - My Amazing Ride - you never forget your first dog sled ride
List of More Alaskan Stories


Fun stories about life in the last frontier
Kenai Alaska, Soldotna Alaska Stories


Never Whistle at a Moose - if he didn't like the song I was whistling, I was toast

Sledding on Thin Ice - a fast toboggan run down a steep hill too close to Moose River
Alaska Adventures


The Cordova Ice Worm Festival - how the Cordova Alaska Iceworm Festival began

The 1963 Cordova, Alaska Fire - experience this devastating fire through the eyes of a 16 year old survivor

The Double Musky Inn - discover the crazy but true story of how a now world famous Alaska landmark got started

Hollywood North - Alaskan Produced Movies - yes, Alaskans produced these movies

Davy Crockett in Alaska? - a young Alaska hunter with a BB gun

Joey Bear and Joe - tales of an Alaskan character

Alaska--All the Colors of White - a poetic look at Alaska's colorful seasons

Commercial Fishing in Alaska Part 1 - at 16, Mike goes out to sea

Commercial Fishing in Alaska Part 2 - Mike meets a jelly fish, his adventure continues

How to get a Moose to say Cheese - was he about to get stomped by a moose?
Alaskan Railroad Stories


Anchorage's Mini Railroad - travel the rails on a wonderful childhood memory

A the Alaska Railroad Brat - enjoy the adventures of an "Alaska Railroad Brat" and the great Alaska Railroad

Riding the Laundry Train Car - yes, we had to ride on a bag of dirty laundry
Northern Lites


Northern Lites is a fun collection of very short stories about Alaska memories
List of More Alaskan Stories


Great stories that will take you back to days gone by
1964 Good Friday Earthquake Stories


Imprinted Forever by the 1964 Earthquake - from an apartment at 13th and Cordova an 11 year old remembers

I was 13 and my Little Brother was 10 - the vivid memory of the Good Friday earthquake in Turnagain

Mommy's House Broken - the 1964 Alaskan earthquake through the eyes of a 3 year old girl

1964 Alaskan Earthquake Memories - a birthday celebration is cut short when the ground starts shaking

A teenager in Fairbanks During the 1964 Earthquake - a wild ride at the Piggly Wiggly grocery store

Cordova Alaska and the Great Alaskan Earthquake - memories of surviving the 1964 quake in Cordova

I'll Never Forget - he was 6 years old when the 1964 earthquake struck. A grown man now recalls that day.

I Remember 64 - the Good Friday earthquake thru they eyes of an 11 year old boy

The Fireball XL5 Great Alaskan Earthquake Connection - a nostalgic look back

Shaking on Boniface Road - one survivor's story about living in a mobile home

The Big Alaska Earthquake Part 1 - a fascinating story of survival in Valdez

The Big Alaska Earthquake Part 2 - the story of survival continues

Home Alone - her parents were not home and the quake felt like the end of the world

Alaskan Earthquake - No Place to Hide - would the shaking ever stop?
Alaskan Cuisine - Alaska Food Recipes


Alaska's Best Chili - Mike, Tom and their dad accidentally create Alaska's best chili

Aluminum Foil is Good! - Outdoor cooking Alaska style

Snow Ice Cream - a simple, but yummy recipe using fresh snow
List of More Alaskan Stories


A fun way to remember Alaska
Do you or did you live in Alaska? Have you visited Alaska?
Post your stories to preserve your precious memories right here on AnchorageMemories.com
It's Easy, It's Fast, It's Fun
Click on one of the appropriate story links to your left, then go ahead and post your stories.
Do you have questions?
Take a look at our Frequently Asked Questions FAQ page, or you can Contact Us and we'll get back to you right away.
Here's to all those wonderful Anchorage Memories
Return to the Home page from this "List of more Alaskan Stories" page