Kings of Sole

How do you make money "under" a fish cannery in Alaska?


Kings of Sole -

You'll love this

short story

and it's a good

lunchtime read

Back in the summer of 1963, author Michael R Dougherty and his brother Tom decided to try their luck at catching sole, "under" a fish cannery in Cordova Alaska.
What followed was a unique Alaskan fishing adventure.
Kings of Sole
The picturesque commercial fishing town of Cordova, Alaska is the setting for this fun short read.
And whether you fish or not, you'll enjoy this story.
As a teen, you probably had some adventures of your own. And now, as an adult, you can look back, laugh and maybe even say "what was I thinking?"
Well, author Michael R Dougherty and his younger brother Tom had a very special adventure when they decided to fish for Sole - under an Alaska cannery.
Cordova, Alaska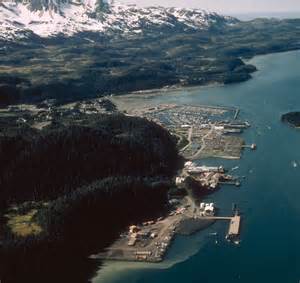 The setting for this real life adventure is Cordova, Alaska. Set on Prince William Sound, the town of Cordova's economy is based in large part on commercial fishing. Salmon, Halibut, Crab and other types of fishing boats head out into the beautiful water's of the sound every season.
Local schools even close early for the summer because lots of students help in their families commercial fishing business.
And because of the fishing fleet, local canneries stay busy canning fish of all kinds.
In another of Michael R Dougherty's books, "My Alaska Commercial Fishing Adventure" Mike tells the story of when, at 16 years of age, his dad got him a job on a Cordova Purse Seiner.
Real commercial fishing in Alaska is one thing, but trying to make a few dollars by fishing "under" a cannery is another.

"Kings of Sole" is a Good Lunchtime Read. It's a short story that you can enjoy at home on your laptop or on the go with your favorite mobile device.
Biggest Halibut

Caught in Alaska

While Mike and his brother Tom were fishing for smaller Sole, there is a much bigger version of that fish in Alaska waters.
Imagine this. The largest Halibut ever caught in Alaska weighed in at around 533 pounds and was brought in near St. Paul Island in the Bering Sea in 2003. Now that's a lot of Halibut.
Sole are much smaller than Halibut, but they taste wonderful and are a restaurant favorite.
So grab your copy of "Kings of Sole" and enjoy the true story of two brothers and their summer of 1963 adventure in Cordova, Alaska.
Hey, I like this website
then let us know
by clicking the "Like" button
thank you

This Anchorage Memories website
created by Mike and Mary Dougherty
Copyright © 2016 - 2020
AnchorageMemories.com
All Rights Reserved
Wonderful Anchorage Memories
that fill your heart and feed your soul