Humorous Stories from Alaska T- Shirt

This Humorous Stories from Alaska T-Shirt has a unique, colorful and super fun design.
Mary of Anchorage Memories is modeling a medium size of this fun and unique, one-of-a-kind Alaska T-shirt
"Humorous Stories from ALASKA... and beyond"
This unique Alaska T-Shirt that's based on the book of the same title by Anchorage Memories website co-creator and humorist, Michael R Dougherty -
"I first came to Alaska with my family when I was only 3 years old" says Mike, "and after enjoying so many adventures growing up in Alaska, I decided to share all my stories in a fun book. And that's how "Humorous Stories from ALASKA... and beyond" first came about".
Now, we've created this great T-shirt with our graphics -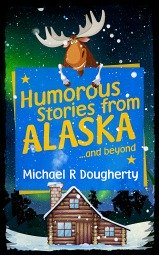 Check out the book cover graphics - this is exactly what's on this T-shirt.
We also use this graphic for my live show "Humorous Stories from ALASKA... and beyond" and we always get comments and questions from people about Alaska.
And we always have people in our audiences who come up and tell us that they visited Alaska... and they loved it.

Humorous Stories from Alaska T-Shirt Details

Made of comfortable Gilden preshrunk Ultra Cotton and available in men's sizes -
Your T-Shirt Size Chart
Chest Size (Men's Sizes)
Small              34 - 36
Medium           38 - 40
Large              42 - 44
X Large           46 - 48
XX Large         50 - 52
T-shirts are Gilden, Preshrunk, Ultra Cotton
Available only in the U.S.
Mary models here in a men's medium size

** Change the size below to the size you wish to order before you click the buy button
The price above includes taxes and shipping
"My Dog Ate My Alaska T-Shirt" Guarantee
Your very special 30 day satisfaction guarantee
Even if your dog eats your swell Alaska T-shirt, CD, movie or book within 30 days of your purchase from Anchorage Memories - We will give you a 100 percent money back refund - no questions asked.
---
It's All About Alaska

Your friends and family will enjoy seeing this Humorous Stories from Alaska T-shirt, and you'll likely have people asking you about Alaska, or telling you that they went on an Alaska cruise and loved it.
That's the experience we've had - and it's lots of fun.

A happy audience member
How many times have you found yourself being asked about Alaska once people know that you live there, used to live there, or visited the 49th state?
People are just very curious about Alaska. They want to know if you've seen the Northern Lights, if it's "dark there all the time" or if it's "light out all the time"? Have you ever seen a moose, do you ski to work and - can you really see Russia from your front yard.
Alaska is so far away and there is a wonder, a magic, a romance about the last frontier.
Humorous Stories from Alaska T-Shirt

Have fun with this T-shirt and be sure to tell your family and friends about it too - hay, they'll probably want one too.
Wonderful Anchorage Alaska memories that fill your heart and feed your soul -
Return to the Home page from this "Humorous Stories from ALASKA T-Shirt" page