Do You Remember?
How much do you remember about places, events, and people in Anchorage?

Star, the Reindeer
Fur Rendezvous Parade featuring a local favorite
It all started around 1962, when Oro Stewart, of Stewart's Photo on 4th Avenue, decided she wanted a reindeer.
Then Oro and her husband Ivan got special permission to keep a reindeer in Anchorage.
Star was a female reindeer and got her name because of a white puff of fur in the shape of a star between her eyes.
The original star lived to be 23 years old. Since then, there have been 7 reindeer named Star.

The Royal Pad

and the

Cinnamon Cinder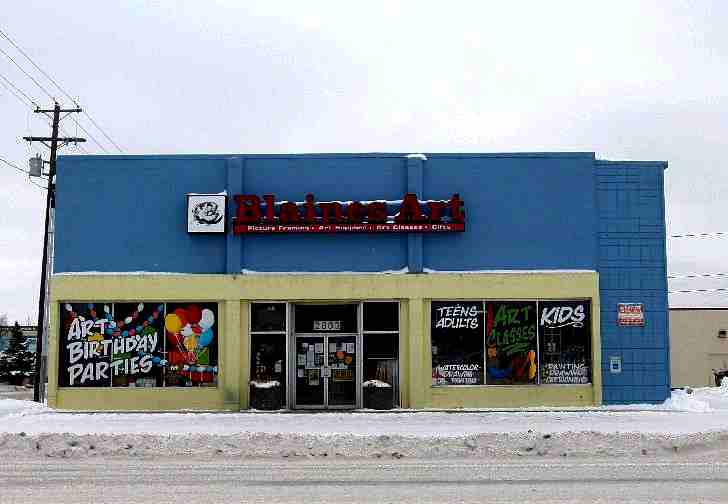 Blaine's Paint Store, Northern Lights and Spenard Road.
Do you remember?

Anchorage DJ, Ron Moore, the Royal Coachman, used the top floor of Blaine's Paint Store (pictured above) as the location for his popular teen nightclub, "The Royal Pad".
Then in in 1965, a high school student named Jim Harlan turned the location into a teen nightclub called the "Cinnamon Cinder".
In 1966, when Harlan left for college, he turned the club over to Larry Snipes and Terry Shank.
The First Z.J. Loussac Library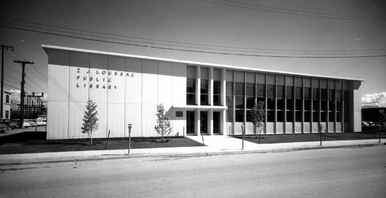 Z.J. Loussac Library 1955, photo by Ward Wells
The original Z.J. Loussac Library was located on the northeast corner of 5th Avenue and F streets.
At that street corner, the library served the Anchorage community from 1954 to 1985.
Zadrich Joshua Loussac (also known as Zachary and "Zach") first came to Anchorage in 1916.
BONUS
To learn more, click on the short video below

Do You Remember?
KENI Radio
KENI Radio building
KENI radio (owned by "Cap" Lathrop) first signed on the air on May 2, 1948, as Anchorage's second radio station. KFQD was the first in Anchorage and Alaska.
KENI radio was originally located in the 4th Avenue Theatre building. It later moved to its own building (pictured above) at 1777 Forest Park Drive, overlooking Westchester Lagoon.

BONUS
You'll enjoy this look (and listen) back with two Anchorage DJs in the 1970s. The KENI DJ is doing his show from the KENI studios pictured above.
Click on the video below.

Site Summit Missile Launches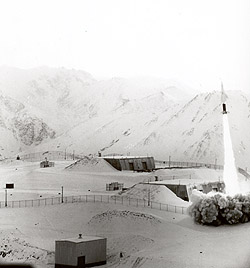 First Missile Test 1960
On the top of the Chugach mountains, the military built a Nike – Hercules missile defense location called Site Summit.
Do you remember that in 1960, school students all over Anchorage watched the first missile launch as they looked toward the mountain range?
As a student at Clark Jr. High School, Mike of Anchorage Memories recalls when all the students were taken outside to the front of the school where teachers told us where to look at the top of the mountain.
When the missile was launched, it was a remarkable site.
Missiles testing continued yearly in November and December from 1960 to 1963. After that, the population growth of Anchorage made further testing unsafe.

The Center Movie Theater
Center Movie Theater located in Spenard
Do you remember this?
The Center Movie Theater, located in Spenard, was first opened in 1955.
Did you see movies there?

BONUS
You'll love this memory-filled look back at Anchorage Movie Theaters including the Empress, 4th Avenue, Denali and more.
Check out
Anchorage Movie Theater Memories
right now.
High School Memories
West High School
Anchorage's first high school classes began in the pioneer school house back in 1915.
Later came Anchorage High School, West, then East High Schools.
The First Blanket Toss

During the Fur Rendezvous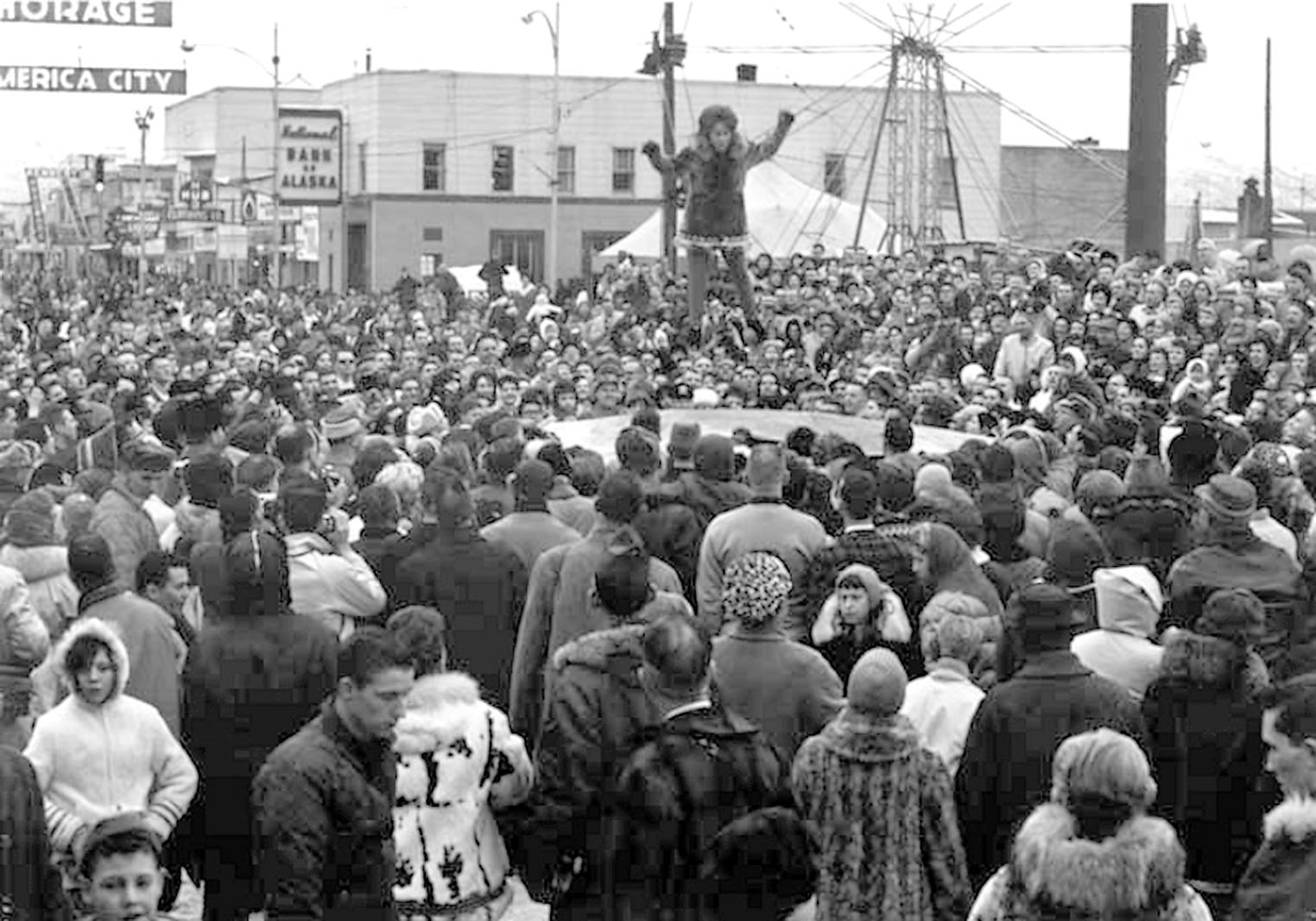 Rondy fun on 4th Avenue
1950 was the first year for the Blanket Toss in the Fur Rendezvous winter carnival.
Alaskan natives from Nome and Diomede Islands were flown in that year to demonstrate the blanket toss to happy Rondy attendees. Are you in the crowd seen above?

BONUS
Check out the 1965 Fur Rendezvous film below to see the Blanket Toss in action as well as footage of the parade and that year's Grand Marshall, Michael Landon, "Little Joe" on the Bonanza TV series.
Click on the link below.

Skiing on Romig Hill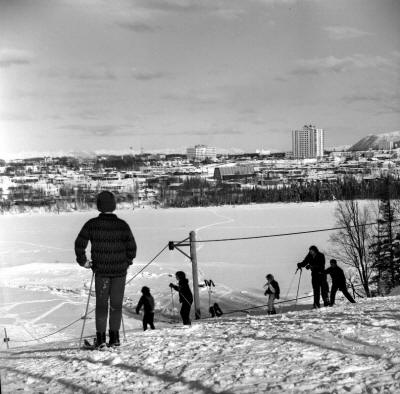 Skiers enjoy Romig Hill Ski Slope 1963
Do you remember that before Westchester Lagoon, there was a ski hill with a rope-tow where you could spend the day enjoying a great winter sport?
Behind the skiers was West High School.
The picture above was taken in 1963.

BONUS
Romig Hill is named after Joseph Herman Romig, M.D., a Moravian Missionary Society Medical Missionary.
On October 1, 1925, Romig came to Anchorage to be the Railroad surgeon at the Alaska Railroad Hospital on 2nd Avenue between A and B Streets, in Anchorage.
From 1937 to 1938, Romig served as the Mayor of Anchorage.
From 1939 to 1940 he was the Chief Surgeon at Providence Hospital
Romig Hill is where the Romig family lived in their cabin.

Roller Skating Memories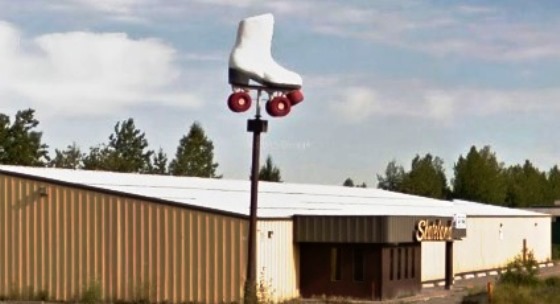 Dimond Skateland
What are your memories of going roller skating in Anchorage?
What was your favorite link?

In the picture above, the giant roller skate was created by Anchorage artist, Josef Princiota.

All Year Long

An Anchorage favorite
Anchorage welcomed it's first Tastee Freez, located on Northern Lights Blvd., in the late 1950s.
Lynn Cluff purchased the Tastee Freez in 1962. She also purchased two Ice Cream trucks and had them driven up to Anchorage over the very muddy Alcan Highway.
In those days, the Anchorage Tastee Freez was not open during the winter.
But in 1963, Lynn decided to keep her store open all year long.
And yes, folks from all over town happily visited her Tastee Freez to get a frozen treat, even when it was 20 below.
First Color TV Broadcast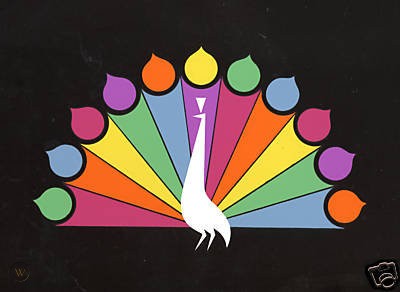 Do you remember?
It was June 18, 1966, when then KENI-TV channel 2 (now KTUU) became the first TV station in Anchorage, or Alaska, to broadcast in color.
The first color program was "That Girl" starring Marlo Thomas in an episode titled "Don't Just Do Something; Stand There".
Anchorage Celebrations

for Alaska Statehood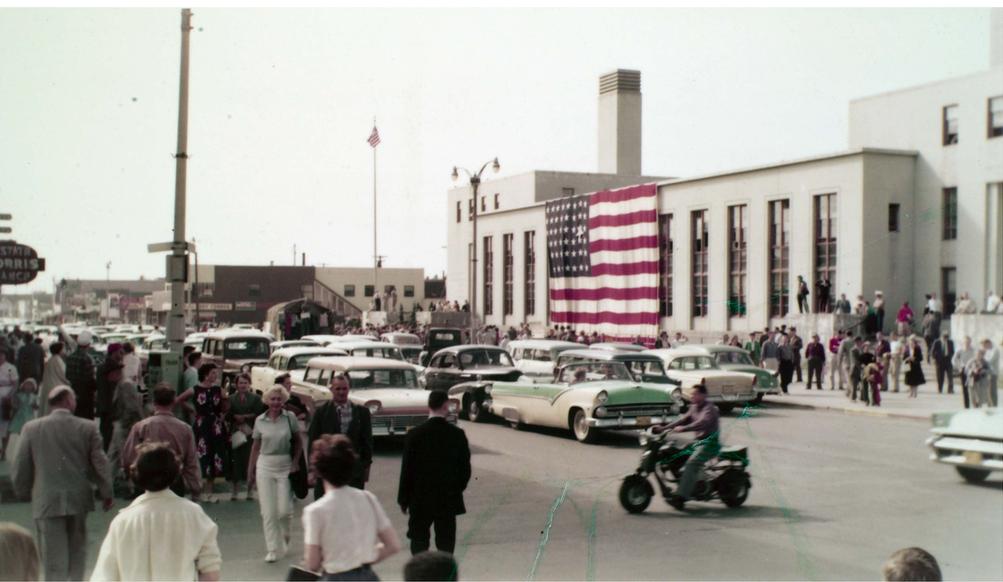 The Federal Building on 4th Avenue
On June 30, 1958, the Bill allowing Alaska to become a state, passed the United States House and Senate.
Notice the huge American flag on the side of the Federal Building in downtown Anchorage?
If you look closely, you'll see that a "49th" star was added to the flag to show the world that Alaska had become the 49th state.
To celebrate, there were parades, fireworks and a huge bonfire. Were you there?

But it wasn't until January 3, 1959, that President Dwight D. Eisenhower signed the Bill, officially making Alaska the 49th state.
Remember the Book Cache?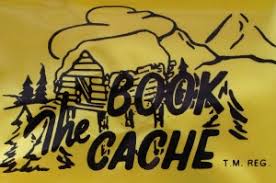 An Anchorage favorite
In the early 1960s, the Book Cache opened at 436 5th Avenue, where it quickly became an Anchorage favorite.
But the store didn't actually get its start at the 5th Avenue location.
Do you remember where this Anchorage icon started serving our town?

Anchorage Memories VIP Newsletter

"My sister sent me the Anchorage Memories VIP Newsletter a few weeks ago.
And I want to thank you for the connection to my past. I grew up in Anchorage and left for college in 1967.

My last visit to Anchorage was for a West high school class reunion over 20 years ago.
So, thanks for putting all this together."
Vivien
BONUS
Join your free Anchorage Memories VIP Newsletter
A treasure chest of precious memories, delivered right to your email in-box each month.

PLUS

You'll receive your free Anchorage e-book when you join.