Celebrating Alaska
Celebrating Alaska is a digital slideshow filled with stunning scenery of the 49th state.
You'll enjoy beautiful pictures like this
Celebrating Alaska
FREE Shipping

How would you like to relax and escape to Alaska any time you want to?
This special DVD Slideshow brings you nearly 19 minutes of stunning scenery from the Great Land, including pictures of wildlife and soothing vistas. And it's all accompanied by relaxing guitar music.
You can watch while you exercise, relax, or you can share your Alaska with family and friends.
Do you still live in the 49th state, or did you move to another state?
Now, even if you're away, anytime you want, with this slideshow, Alaska is only a moment away.

Celebrating Alaska - What You Get


In a DVD Package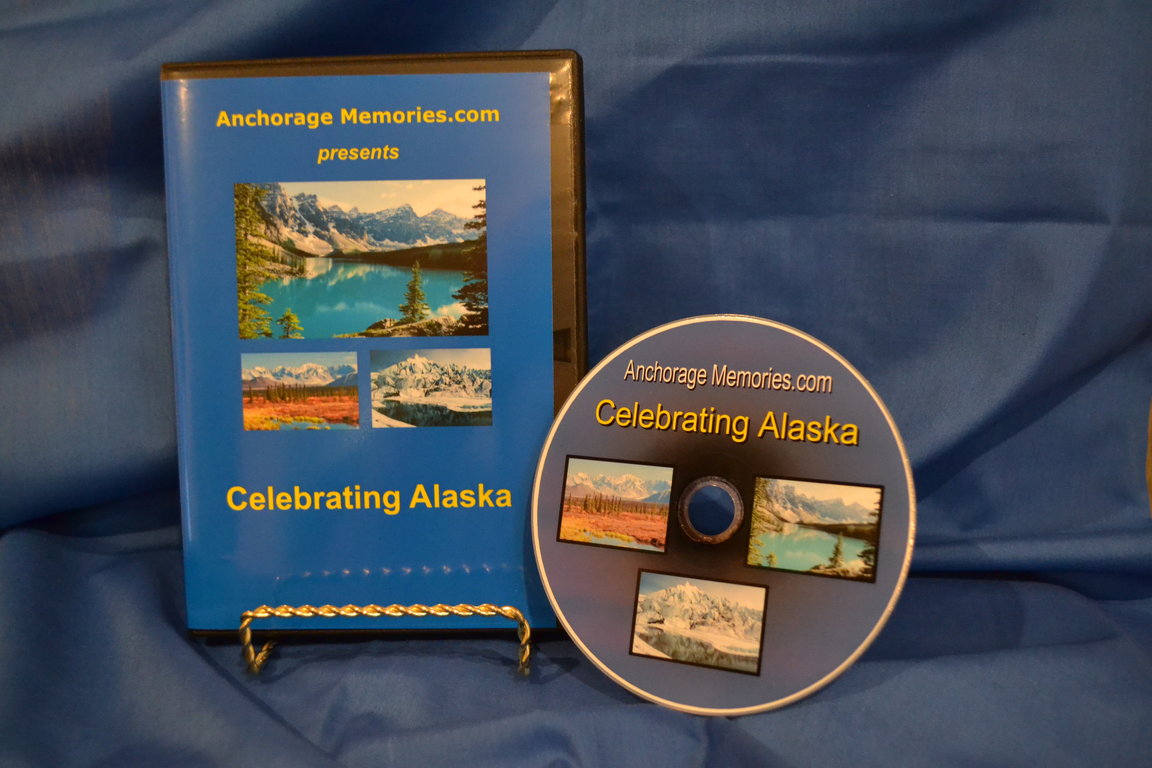 140 beautiful pictures on the DVD

Soothing vistas
Stunning Alaska scenery

Amazing glaciers
Your Celebrating Alaska DVD slideshow brings you 140 beautiful photographs and soothing guitar music that takes you on a relaxing journey through wonderful pictures of some of Alaska's most stunning scenery.
My Dog Ate My DVD 100% Guarantee


Your very special 30 day satisfaction guarantee
---
And here's our money back guarantee to you
Even if your dog (or pet moose) eats your DVD,

you have a full 30 days to receive a 100% refund
no questions asked

Visitors and tourists are literally astonished by the beauty and majesty they see at every turn in the Great Land.
And Alaskans never grow tired of the incredible scenery that surrounds them in their everyday lives.
So imagine being able to watch this special Alaska DVD anytime you want, to relax and escape to Alaska by way of this special video.
Now when your family or friends ask you about Alaska, you can show them the beauty of the 49th state with this wonderful DVD.

An Incredible Gift
Imagine giving this beautiful DVD as a special gift to family and friends -
People are fascinated by Alaska. And where ever you go, when people discover that you live in the Great Land, or used to live there, they want to know about Alaska.
Celebrating Alaska makes the perfect gift for anyone who's curious about our 49th state.
And for anyone who's either going on a cruise to Alaska, or has taken the cruise, this DVD slideshow is a great way for them to enjoy the scenery and sweeping vistas that are the Great Land.
In this DVD slideshow you'll enjoy 140 scenic photographs of Alaskan scenery including mountains, rivers, lakes, glaciers, fireweed, wildlife and amazing sunsets.
Including nearly 19 minutes of carefully selected pictures accompanied by soothing guitar music.
The perfect way to relax, or to watch while you exercise.
And your Celebrating Alaska DVD slideshow comes in a case that makes it easy to display.
The perfect Gift
Now, with this beautiful DVD slideshow, you can easily give your family and friends the gift of Alaska.

---
Can You Even Imagine a More Beautiful Place?
Everywhere you go in the Great Land and everywhere you look, the 49th state has some of the most stunning scenery to be found anywhere
Now, with this beautiful DVD Slideshow, you can enjoy that scenery anytime you want to. Just insert the DVD into your DVD player, sit back and enjoy the soothing guitar music and majestic photographs that will transport you to the Great Land.
Wonderful Anchorage Memories that fill your heart and feed your soul -