Anchorage Fur Rendezvous
Memories

Let these Anchorage Fur Rendezvous memories take you back and fill your heart with happy memories of Rondys gone by with nostalgic pictures, videos, and stories you'll love.

Remember When?

KENI-TV Fur Rondy Coverage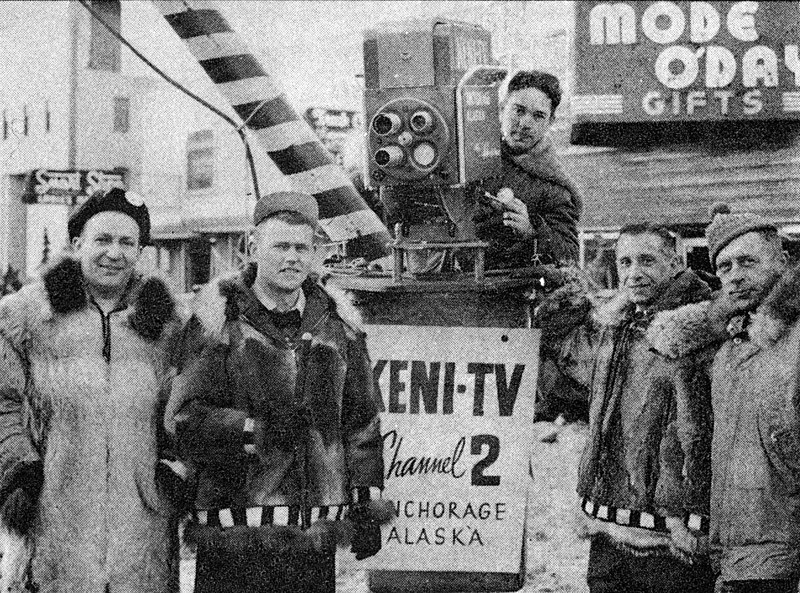 Left to right are KENI General Manager Al Bramstedt, News Anchor Ty Clark, Camera Operator Jim Balog, Bill Stewart and Host Orville Lake.

Remember the
KENI-TV Rondy Sled Dog Race theme song?
It was De Selvera's "Sleigh-Ride in Alaska" (1959).
Enjoy this vocal version and remember when.
Just click on the link below
What Are Your Fur Rendezvous Memories?
Share your memories!
Enjoy these Fur Rendezvous Memories
Click below to see stories from other visitors to this page...

Fur Rondy

1946
Photo by Gene Gough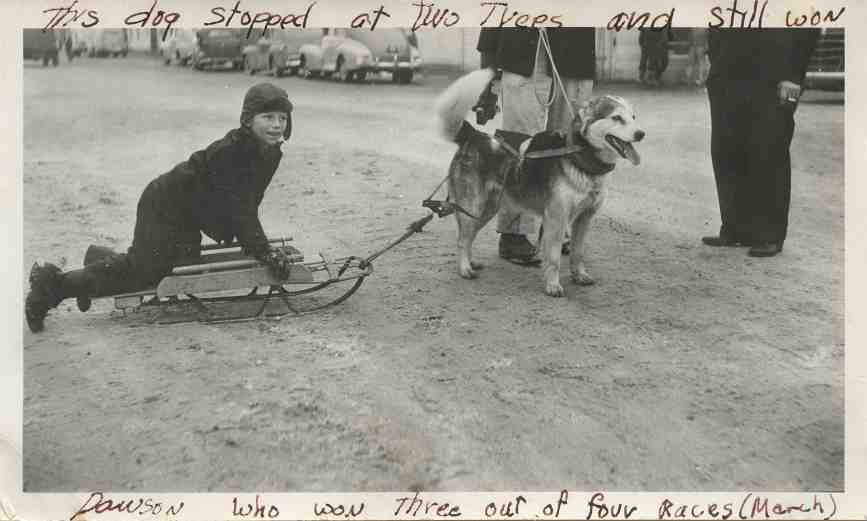 Rondy fun for all ages
The following 3 minute

1959 Anchorage

Fur Rendezvous Film

has no sound

Are you, your family

or friends in this film?

Back in 2012, the Fur Rendezvous Festival was selected as the number one Winter Carnival in the world, by National Geographic Traveler.
The name "Fur Rendezvous" came into being when fur trappers got together to sell their furs and kick up a little snow as a way to shake off the long winter in early Anchorage.
In Alaska, everyone knows that late February is time for fun.
Now, people from all over the world converge in Anchorage, Alaska for events like:
And the World Champion Sled Dog Races
And much more fun, food, and games
1964 Rondy Parade

and Sled Dog Race

This color super 8mm film

has no sound

Do you know anyone

in this film?



Anchorage Fur Rendezvous Memories
Have you ever ridden a Ferris Wheel in the winter when it was below zero outside?
That's just one of the fun, and unique attractions Mike and Mary, the authors of Anchorage Memories.com remember enjoying.
One year Mike and his brother Tom and their band "The Matadors" played on the Melodrama stage during Rondy for a delighted crowd.
And each year, Anchorage's popular 4th Avenue Theater played a movie to compliment the Fur Rendezvous.
One year Mike and Mary remember seeing the Charlie Chaplin silent movie "The Gold Rush." Another time, the 4th Avenue played "Joniko and the Kush Ta Ka" an Alaskan movie produced in Juneau, Alaska by filmmaker, Chuck Keen.
And one year they screened a locally produced movie about an Iditarod dog sled team titled "Hot Foot to Nome."
We'd love to read your Anchorage Fur Rendezvous Stories.

Great Memories
People from around the world travel to Anchorage, Alaska each year to experience North America's number one winter carnival.


Alaska is a special place and Anchorage's winter carnival is a great experience.
To learn more, visit the Greater Anchorage, Inc website.
BONUS
Join your free Anchorage Memories VIP Newsletter.
A treasure chest of precious memories, delivered right to your email in-box each month.

PLUS

You'll receive your free Anchorage e-book when you join.