Amazing Alaska Adventures
You'll enjoy these exciting and Amazing Alaska Adventures that are great lunchtime reads.
And it's free.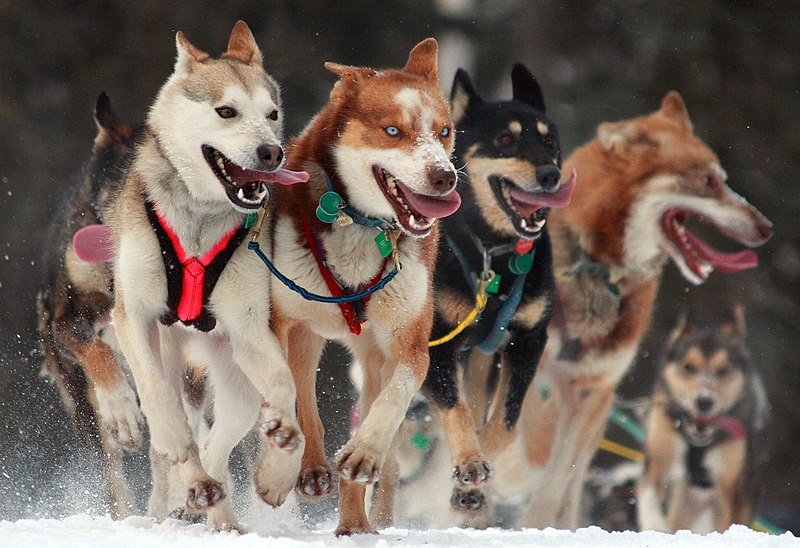 Have you ever been dog sledding in Alaska?
From Mike's e-book:
"As we started picking up speed I remember the feeling of the cold evening air on my face, and how it seemed like we were going very fast. I could hear the dog's paws as they ran and pulled the sled which was now filled with my skinny 10-year-old frame.

And I remember the blue evening shadows as we raced across the snow-covered Goose Bay Road."
Amazing Alaska Adventures

Do you enjoy adventure?
Then this e-book is for you.

The Great Land of Alaska, the last frontier, is a wonderful place where you can still experience the adventures of a lifetime.
Author Michael R Dougherty first came to Alaska when he was just three years old… and he brought his mom and dad with him.

In Mike's book, you'll enjoy stories like these:
The 1964 Great Alaska Earthquake – No Place to Hide
Sledding on Thin Ice

From Mike's e-book:
"As we started down the hill, our toboggan was really picking up speed, and it sent us flying. Then to our horror, we suddenly realized that we were headed straight for those two trees at the river's edge.
We began screaming our heads off in fear as we braced ourselves and rocketed toward a collision with Mother Nature."
Amazing Alaska Adventures

The wind rushes across your face as the sled dogs run faster and faster.
In Alaska, you could be mushing your team on a winter night under a sky filled with colorful Northern Lights.
You could be fishing along the banks of a swift moving river where you might catch your limit of Rainbow trout.
Or you could be camping out under the stars on a fine summer night on a small Alaska island.
In Alaska, adventures come in all sizes. But somehow, those adventures are exceptional when you're in the Great Land.
From Mike's ebook:
"But about halfway across, my booted foot slipped off the wet log and suddenly, my body lost its balance. I then fell off the log and into the cold, fast-moving water of Ship Creek where my world instantly changed.
I didn't know how to swim at all, but there I was in a deep and fast-moving pool of water, churning around, and completely submerged. I didn't know where up was, so I couldn't find the surface. I remember that as I frantically looked around, I could see bits of wood and bark churning around with me. I had suddenly been swept up into a cold and dangerous slow motion ballet."
Time for Adventure
As a boy, living near the Kenai River, Mike tells the story of the time he looked up and saw a Moose just a few feet in front of him.
In 1963, Mike's world turned upside down when an inferno of a fire burned down an entire city block in the town of Cordova, Alaska where Mike, his mom and dad and sister Anna and brother Tom were living. The fire claimed their home.
From Mike's e-book:
"Then word circulated through the crowd that they were going to use a case of dynamite to try to stop the fire.
At the right moment, we were told to brace ourselves for the dynamite explosion.
And even though I was ready for it, the force of the explosion nearly knocked me to the ground."

As a teen, Mike and his brother Tom went fishing "under" a cannery and were able to sell their catch to a local restaurant.

And when Mike was just 16 years old, he went out to sea on Prince William Sound as part of the crew on an Alaska commercial fishing boat. It was the hardest and most dangerous work he has ever done in his life.
From Mike's e-book:
"The cabin floor consisted of nothing but two by fours with standing water between them. That meant I had to sit on the very edge of my bunk, slide out of my hip waders and then slide into my sleeping bag on my bunk.
But as I would soon learn, I would be so bone tired at night that I wouldn't care how or even where I slept, as long as I could get some sleep."

Just one year after the Cordova fire, Mike was in Anchorage and experienced the 1964 Great Alaska earthquake. The quake was a 9.2 shaker that lasted a full five minutes.
From Mike's e-book:
"Just to my left was a valley covered with trees that were now swaying violently from left to right as if they were waves in an angry ocean. Behind me was open land covered with small trees and brush.
In front of me was a skinny little tree with a trunk about as big around as a garden hose. As silly as it seemed, I somehow staggered over to the tree, fell to my knees, put my hands around the skinny tree trunk and held on for dear life.
I quickly noticed how weird the ground felt below my knees and thought to myself, "this is what it would be like to try to stand on Jell-O."
In front of me was the apartment complex where my family lived. And right in front of me was a laundry building with a very tall, brick smoke stack. As I looked forward, the brick smoke stack was swaying wildly from the left to the right."
The above are only a few of the many Amazing Alaska Adventures you'll experience in this book.
And remember, Amazing Alaska Adventures is free.