Alaskan Railroad Stories

Ride the rails with these Alaskan Railroad Stories that will bring back wonderful memories of riding the train in the last frontier for transportation or incredible scenic tours. Including videos.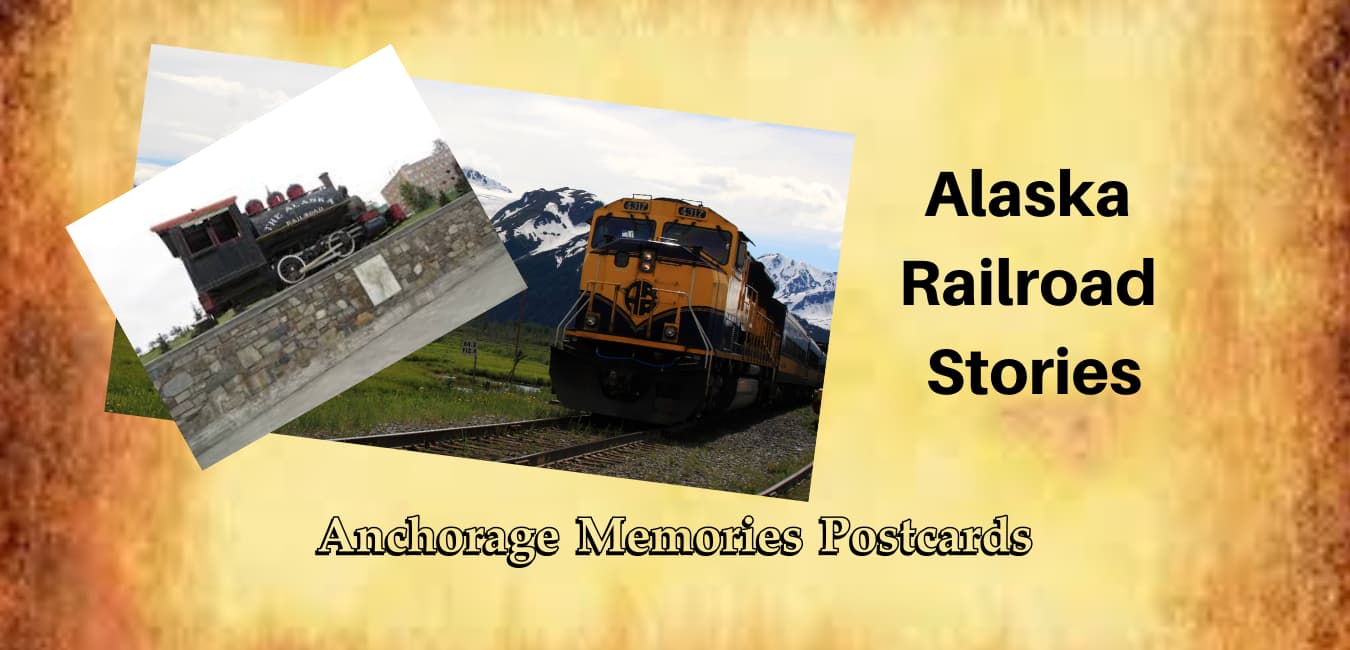 Do You Have A Great Alaskan Railroad Story?
Share it!
Read Fun Alaska Railroad Stories Right Here
Click below to see stories from other visitors to this page...

A The Alaska
Railroad Brat

My dad was an officer for The Alaska Railroad. As a railroad brat, I had access to a free pass as did several of my friends. I don't remember who …
Riding
the Laundry Train Car

There was only one place for my brother and I to sit on this run of the Alaska Railroad. It was on a pile of dirty laundry in the luggage car. Yes, …
Experience

the Gold Rush

in Skagway

Alaska White Pass and

Yukon Route railroad
Click on the video below

Enjoy Anchorage to Seward

July 2008

Click on the video below

Alaskan Railroad Stories
Imagine this
From your train station to peaceful railway journeys through beautiful valleys surrounded by majestic Alaskan mountains and over swift running streams and rivers.
The railroad is an amazing way to see incredible scenery and to be transported from one place to another in the 49th state.

Alaskan Railroad Stories
Have you ever gone to the Alaska State Fair in Palmer, Alaska by riding the train?
Or maybe you've taken the train through the tunnels to Whittier, Alaska. The Alaska Railroad is near and dear to the hearts of Alaskans.
Mary and I often talk about the trains in Alaska because our friends in the "lower 49" enjoy hearing about how you can stand beside the tracks out in the middle of nowhere and the train will stop and pick you up.
Tourists love the Alaska train because they can sit in the Observation Dome cars as they ride the train through Mount Denali park, or along one of the many other scenic routes.
For many who call the great state home and live out in "the Alaskan bush" the train is a connection to civilization, supplies and medical services. They can ride the train on in to Anchorage, have dinner, take in a movie, pick up supplies, take care of some business and then take the train back home.
Mary's Train Heritage
As co-creator of this website, Anchorage Memories.com, Mary has a real connection to the railroad. Her mother, Fedoria and her father, Simon Samis both worked on the train out of Anchorage.
And her family often road the train to get to the Alaska State Fair in Palmer.
As a result, Mary and I frequently ride a vintage railroad near our home as a nice Sunday outing with lunch in the dining car and a peaceful, scenic trip through orange groves and rural communities. It's not the same as Alaska, but it's a nice "tip of the hat" to those Alaska railroad days.
Can I Submit My

Alaskan Railroad Stories?

What are your stories and memories of the 49th state's railway?
Did you take the train to the Alaska State Fair? Did you travel through Mount Denali Park by train? Or did you have another adventure while riding the Alaska's train?
Our website visitors would love to read your stories. Just scroll up to the easy form above and start sharing your memories.

BONUS
Join your free Anchorage Memories VIP Newsletter.
A treasure chest of precious memories, delivered right to your email in-box each month.

PLUS

You'll receive your free Anchorage e-book when you join.