Alaska Humor Speaker Michael R Dougherty
Alaska Humor Speaker Michael R Dougherty presents"Humorous Stories from ALASKA and beyond" a funny live show about his families adventures in Alaska.
Turn up the sound and enjoy the video below

Mike telling "Dynamite and the Alaskan Outhouse"
---
"Mike is an exceptional entertainer. His storytelling skills help his audience visualize Alaskan life, and his wholesome, welcoming style holds his audience's attention throughout. Great fun." John
---
A super fun live show about Mike's adventures growing up in Alaska.
Have you ever wanted to visit Alaska?
Whenever people discover that Mike grew up in Alaska, they tell him that they either want to visit Alaska, or that they've been on an Alaska cruise and loved it.
Mike's live presentation is a super fun experience that will happily transport your imagination to Alaska and may even remind you of when you were growing up.
"I enjoyed Mike's show tremendously, I've been to Alaska and his show brought back great memories." Judy

Alaska Humor Speaker Michael R Dougherty

---
"Mike's stories touched my heart and I recalled my childhood days." Jeanie
You'll be captivated by Mike's fun stories the moment his show begins -
"Mike had me the moment he began speaking" Rose
You'll love hearing his stories like:
"The Popeye Affect"
"A Chocolate Bar in the Medicine Cabinet"
"Dynamite and the Alaskan Outhouse"
Alaska, also known as "the last frontier", is an incredible place filled with amazing beauty, magnificent coastlines and majestic mountains. And Mike's super fun stories bring Alaska right to you.
An Added Bonus

---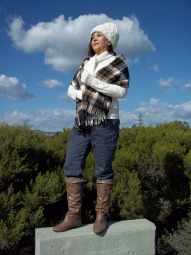 Mary
When Mike presents his live show for your group, you'll get to meet Mike's wife Mary who was born and raised in Anchorage, Alaska.
Mary is one quarter Alaskan Indian and her mother was born and raised in her tribal village of Point Possession, just across Cook Inlet from Anchorage where explorer Captain James Cook landed and "took possession."
Mary's rich Alaska heritage brings you even closer to Alaska.
Mike's show is a live presentation your group will love and smiles are guaranteed.
How can you book Mike to tell his super fun Alaska stories?
Just Contact Mike about performing his fun show for your group.
Do you know what an Alaskan looks like?
Get ready to smile and enjoy the video below for a sample of Mike's show.
---
Mike's live show is a great way to visit Alaska, and it's way cheaper than taking a cruise.
You can easily Contact Mike and book a fun performance right now.
Can't book Mike right now?
Get his fun book "Humorous Stories from ALASKA... and beyond" as an instant download.
You can be reading Mike's fun book minutes from now.

Wonderful Anchorage Memories that fill your heart and feed your soul -
Return to the Home page from this "Alaska Humor Speaker Michael R Dougherty" page