Alaska Adventure Books
You'll love these one-of-a-kind Alaska Adventure Books that bring the history, wonder, and humor of the 49th state right to you. Great lunchtime reads.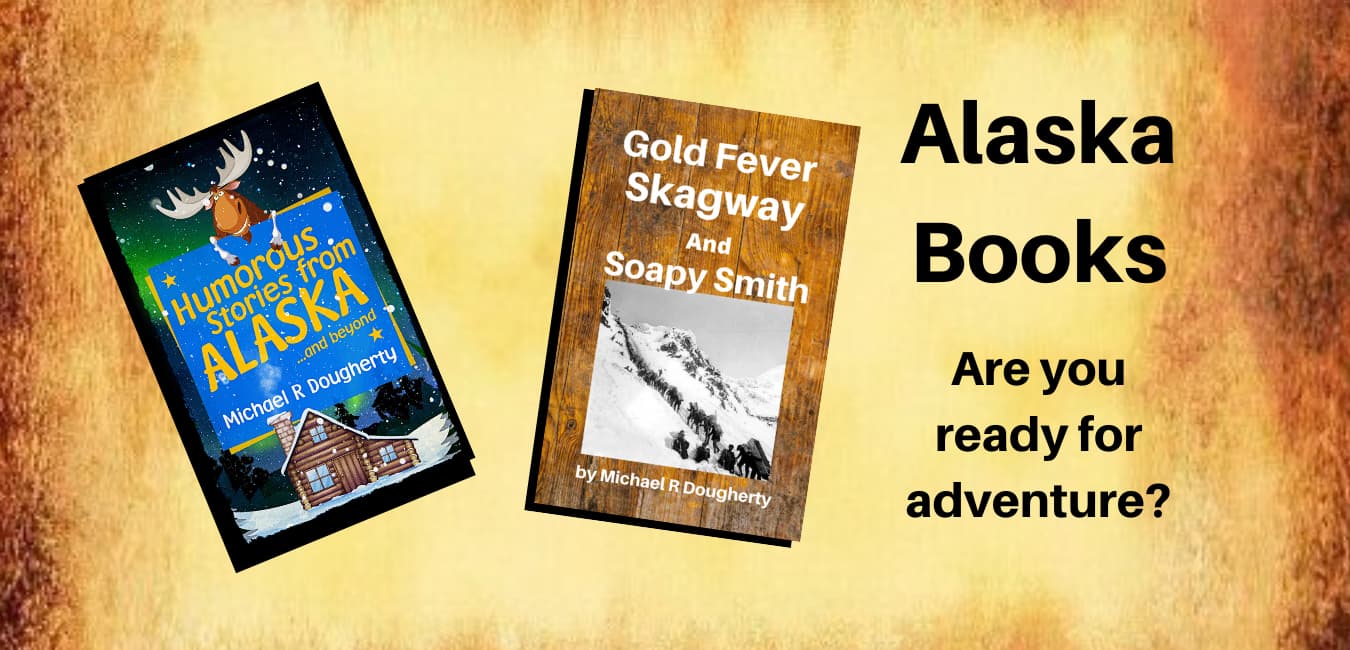 Written by Michael R Dougherty

"Humorous Stories from ALASKA…

and beyond"

Are you ready for some Alaska fun?
Guaranteed to make you smile.
Every story is an Alaska adventure that the author's, Michael R Dougherty and Mary Jane Dougherty actually experienced in the Great Land.
From Mike's ebook:
"As I walked down a snow-covered hill, I wasn't even watching where I was going. Instead, I was looking straight down at my boots and kicking up snow with every step. There I was, not paying any attention to anything and whistling my fool head off.
Then, for some reason, when I got to the bottom of the hill I looked up -
What I saw made me stop cold in my tracks, snap back into reality, and quit my loud annoying whistling."
Gold Fever, Skagway and Soapy Smith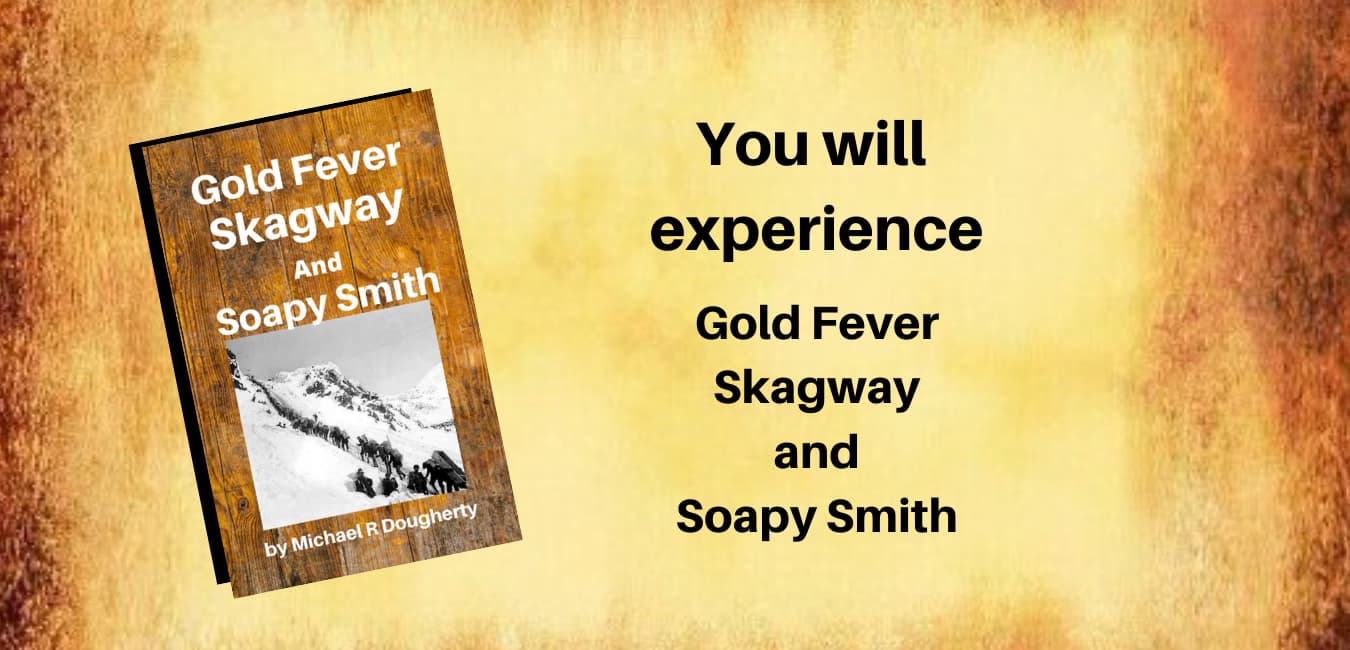 Click on the Short Video Below
A Short Story from Michael R Dougherty
Imagine it's 1897 and Gold Fever has gripped you to the core of your very being.
How would you like to go on an incredible journey?
"Gold Fever, Skagway and Soapy Smith" is an adventure-filled short story that takes you to the gold strike and the rough town of Skagway, Alaska where you come face-to-face with Soapy Smith.
Click on the following link to learn more

Alaska Adventure Books

Take You There
There is something about Alaska.
With its rich history, the last frontier is a vast land where the incredible beauty of nature is on full display. Where the nighttime sky fills with millions of stars and the Northern Lights at play. And where you can wake up to fluffy white snow as it floats down to cover the land in a royal blanket of white.
Yes, Alaska is a land of adventure. And in the books above, you'll experience the Alaska that most only dream of.
Funny Alaska Stories bring you up close to the funny side of living in the Great Land.
You'll visit a Christmas tree lot on a cold night as the stories author's Michael R Dougherty and Mary Jane Dougherty try to keep from freezing while they pick out a Christmas tree.
Gold Fever, Skagway and Soapy Smith will take you to the 1800s Alaska Gold Rush and the boom town of Skagway where you'll encounter a con man named Soapy Smith. History comes alive.
Choose your Alaska Adventure Book and settle in for some good reading.

Anchorage Memories VIP Club

"I've learned a lot about my hometown of Anchorage, and you've jogged memories of things I haven't thought about for years. I can only say YAY!"  Juanita.
BONUS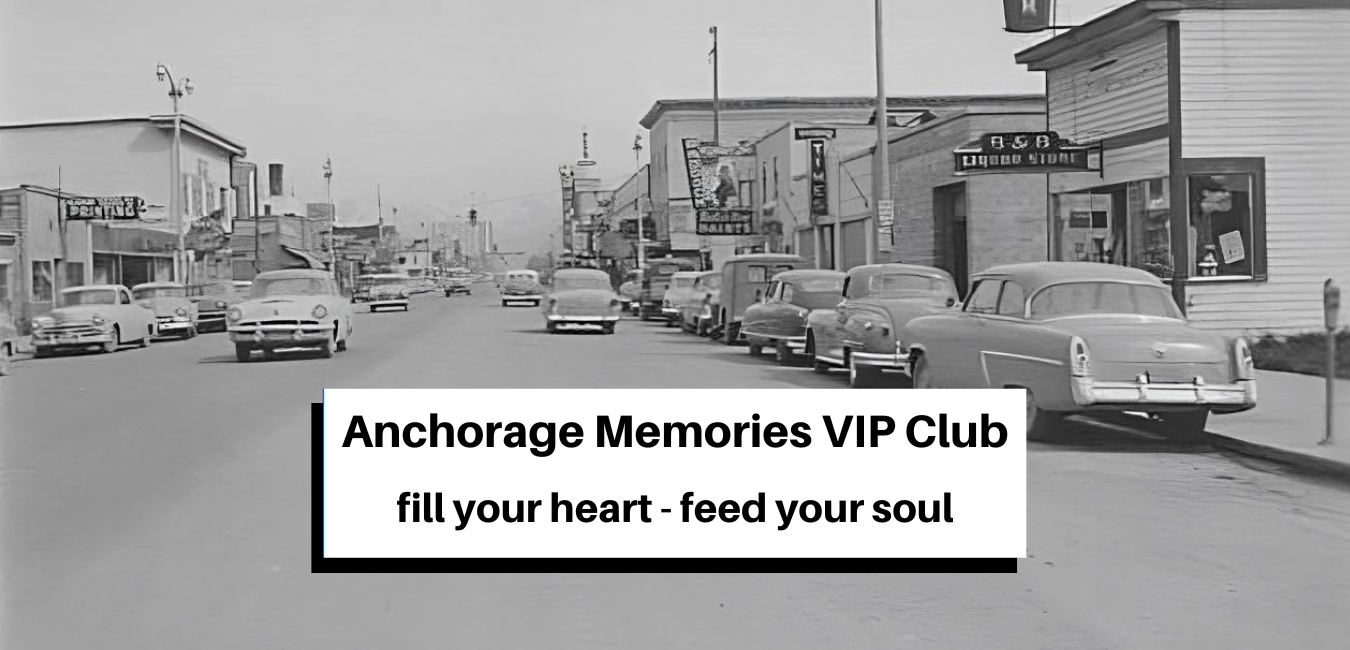 Join your free Anchorage Memories VIP Club

A treasure chest of precious memories, delivered right to your email in-box three times each month.

PLUS

Discover Alaska Facts and History
and

Meet Anchorage Pioneers

PLUS you'll receive your free Anchorage e-book when you join
Click on the following link